Customer Logins
Obtain the data you need to make the most informed decisions by accessing our extensive portfolio of information, analytics, and expertise. Sign in to the product or service center of your choice.
Customer Logins
US states forge ahead on plans to limit power plant carbon emissions

Most of the continental US states that responded to an IHS Markit survey are forging ahead with plans to employ the Trump administration's rule to limit power plant releases of carbon dioxide until they are directed otherwise.
But none of the affected states appear to be in a rush to submit these plans before the 8 July 2022 deadline, even though they expect President-elect Joe Biden to take steps to either rewrite or withdraw the Affordable Clean Energy (ACE) regulation. This is despite not knowing how Biden plans to undo the rule, or how a federal appeals court will rule on challenges to it.
Released in 2019, ACE replaced the Obama administration's more stringent 2015 Clean Power Plan—which set the first carbon dioxide limits for existing coal-fired power plants—with standards based on a list of technologies that the US Environmental Protection Agency (EPA) has identified for upgrading plant equipment and improving operations. The ACE rule did not set a numerical standard for power plants.
The exclusive survey found that this list of states includes Maryland, Illinois, and Pennsylvania that are opposing the federal regulation in the US Court of Appeals for the District of Columbia Circuit, but also Texas, West Virginia, and Kentucky that are backing it in court. It also includes states like Arizona that are not involved in the lawsuit.
Except for Alaska and Hawaii, each of the 48 contiguous states have an 8 July 2022 deadline to submit plans to EPA that spell out how they intend to curb carbon dioxide releases from coal-fired power plants. EPA said it would write separate regulations for Hawaii and Alaska but has not taken any steps along those lines.
Power plants were responsible for 1,706 million metric tons (MMt) or 35%, of total carbon dioxide emitted in 2019 in the US, according to IHS Markit data. Coal-fired power plants were responsible for the lion's share of power plant carbon dioxide emissions, totaling about 996 MMt during that period.
Once fully implemented, the ACE rule—by EPA's own calculations—is expected to reduce carbon dioxide emissions by less than 1%, mostly through making power plants more efficient. The ACE rule did not impose any numerical binding limits in contrast to the Clean Power Plan, which required a 30% cut in carbon emissions.
The 2015 Obama administration rule would have achieved this targeted cut in the nation's coal-fired fleet's emissions via fuel switching to natural gas, shifting to renewables, co-firing with biomass, and using interstate trading programs like the Regional Greenhouse Gas Initiative (RGGI). However, market forces since 2009 have resulted in retirements of coal-fired power plants, due in part to utilities switching to the much cheaper and relatively cleaner natural gas.
Replacing ACE
During the runup to November's presidential election, Biden declared he would make America a "clean energy superpower." Since being elected, Biden has made climate change one of his administration's top four priorities and pledged to generate carbon-free electricity by 2035.
However, Biden has not explicitly called for rolling back the ACE rule as he has for repealing weakened fuel economy standards.
Even as he announced the appointment of North Carolina Environment Secretary Michael Regan to head EPA on 19 December, Biden stopped short of saying exactly what he would do with the ACE rule.
"Transforming the American electricity sector to produce power without carbon pollution will be the greatest spur to job creation and economic competitiveness in the 21st Century, not to mention the benefits to our health and our environment," Biden said, reiterating a campaign pledge.
With coal-fired generation shuttering for the past decade and retirements expected to continue independent of ACE, the overall impact of the rule is expected to be limited, according to Patrick Luckow, IHS Markit associate director for global power and renewables.
More importantly, "it's a hard place for states to be, not knowing what Biden will do with ACE," Luckow said.
Former EPA Acting General Counsel Kevin Minoli said there will certainly be a lot of people who call for the "repeal" of the ACE rule. "In most situations it makes little to no sense to do that by repealing the regulations that are on the books and starting over from scratch. Rather, using what is in existence as the starting line will most often get you to the finish line of a final rule much faster," said Minoli, who is currently a partner with the Washington D.C. office of Alston & Bird LLP.
But Boston-based Clean Air Task Force, which is representing an American Lung Association-led coalition of environmental groups that filed the initial lawsuit against ACE in a federal court, said the groups support replacement of the rule.
The current rule is unlawful and no more than "a life extension program for coal in the guise of a climate plan," Conrad Schneider, the task force's advocacy director, said.
Biden "has given every indication that his administration will take early and strong steps on climate," Schneider said. "Because fossil fuel-fired power plants are the most significant stationary source of carbon dioxide, a bold rule limiting their greenhouse gases must be a top priority."
Not waiting around
But, apparently, most states aren't waiting to see what will happen.
IHS Markit conducted a survey in mid-December of all 50 states, and of the 31 responses received, 18 states said they are working on plans under ACE, but would adapt accordingly when they receive direction from the Biden administration.
Indiana is forging ahead with writing a rule to implement its ACE plan, which its Department of Environmental Management (IDEM) said would take at least two years to complete. "This process is ongoing, and IDEM is not in a position to predict what will happen at the federal level prior to the plan submittal deadline," the state said in an email.
The Indiana agency was unwilling to predict what would become of ACE under a new federal administration. "If the rule is remanded or replaced, there will be a public process to weigh potential options for the control of carbon dioxide," IDEM spokeswoman Sarah Bonick told lHS Markit.
Arizona, though not involved in the litigation, said three of its major utilities—Arizona Public Service (100% clean energy by 2050), Tucson Electric Power (70% renewable power for retail customers by 2035), and Salt River Project (90% of carbon oxide emitted by 2050)—have voluntarily agreed to cuts in their carbon dioxide emissions.
EPA already has indicated in its regulation that it is expecting California, Idaho, Maine, Rhode Island, and Vermont to submit negative declarations, meaning these states don't have any coal-fired power plants to which the rule applies. California, Idaho, and Rhode Island reaffirmed this in emails to IHS Markit, as did Alaska.
In addition, Oregon told IHS Markit it would not submit a plan. New York State said it too expects to submit a negative declaration because its last coal-fired power plant will cease operations at the end of 2020. Likewise, Connecticut's Department of Energy and Environment expects it will be submitting a negative declaration because its last coal-fired power plant in Bridgeport is slated to close by 1 July 2021.
New Jersey said it has exceeded the requirements for the ACE rule, but Department of Environmental Protection spokesman Larry Hajma stopped short of saying whether the state was continuing to work on a plan or would submit a negative declaration. Hajma said the state already has its own ambitious plan in place to reduce power plant emissions.
Washington State didn't say whether it was writing a plan but added that it isn't worried about ACE-related burdens as its only coal-fired power plant is slated to close in 2025. Colorado said it is working on its own regulations and isn't dependent on the federal rule.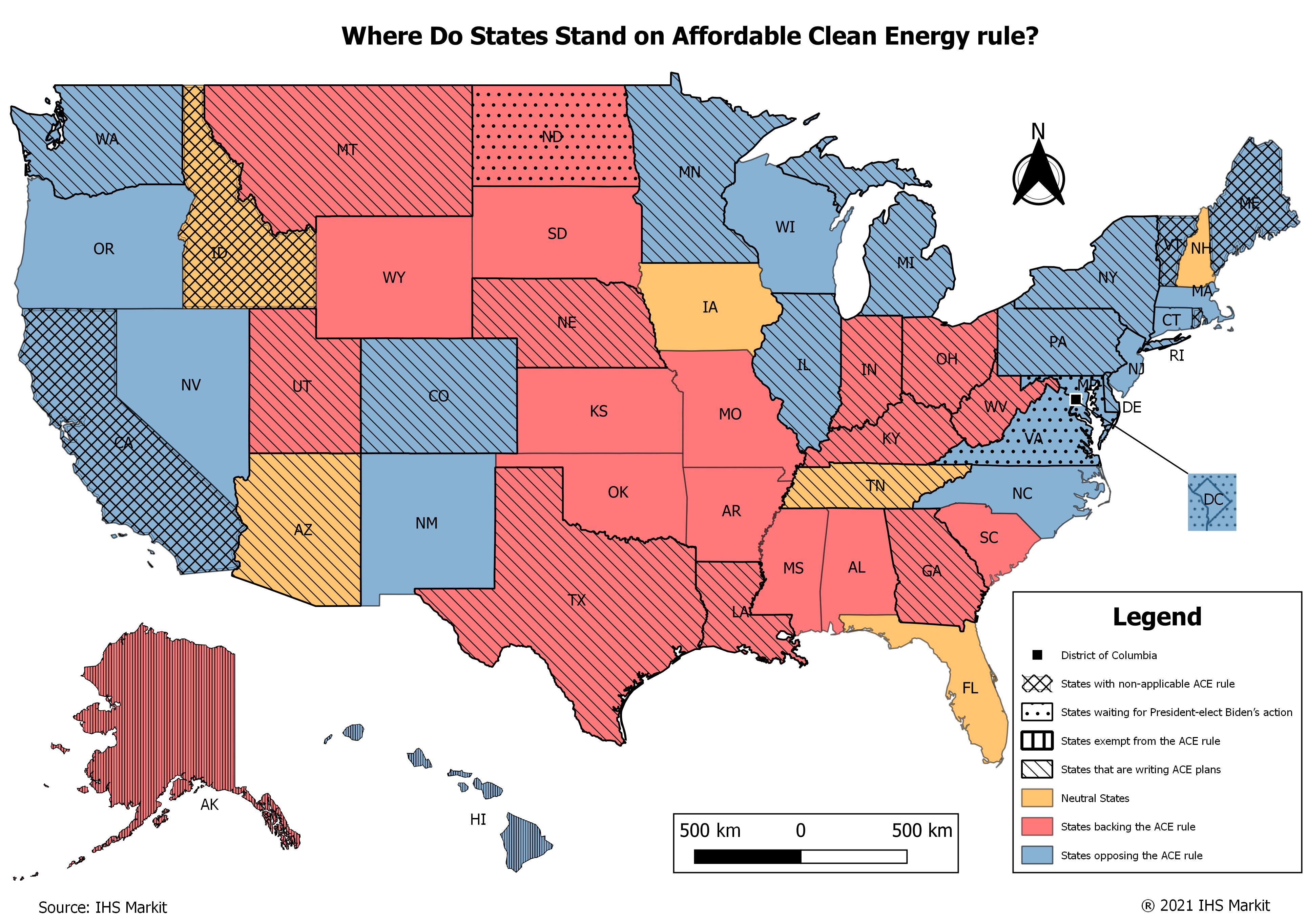 'Wait and see' approach
Thomas Lorenzen, a former Department of Justice attorney who is now a partner with the Washington D.C. office of Crowell & Moring LLP, said he wasn't surprised to learn that states are working on their plans.
"After all, it is the rule on the books," Lorenzen said.
But, at least four states told IHS Markit they remain on the fence. Maryland said it would take a "wait and see" approach about ACE and the litigation to overturn it before expending time, energy and resources on developing a plan.
"We have not started working on a plan for a lot of the reasons you mentioned; mainly we don't think it makes sense to expend the time and resources on a plan right now," Maryland Environment Secretary Benjamin Grumbles told IHS Markit in an email.
Likewise, North Dakota Department of Environmental Quality's David Stroh, who is overseeing the rule's implementation, said the state was pausing its work on the plan until the future of the rule becomes clearer.
North Dakota asked power plants in the state to respond to a questionnaire about their emissions and technologies by February 2021, Stroh, a state agency's environmental engineer, said. However, the state "anticipates the pending rule litigation or the administration change to impact the current rule. Considering this recent news, we have now told them to hold off on their responses," Stroh said.
Additionally, Stroh said: "Regardless of the ACE rule's future, we are actively engaged with the power plants in North Dakota to better understand their operations regarding greenhouse gas emissions. We believe we are in a good position to address the requirements of the current rule or any new rule."
Virginia's Department of Environmental Quality is evaluating its options to comply with ACE, but said its own state law and its participation in RGGI will help it reduce greenhouse gas emissions, according to spokeswoman Irina Calos. Meanwhile Kentucky's Energy and Environment Cabinet expressed uncertainty with federal regulations though it said it would comply with the ACE rule and submit a plan.
IHS Markit's Luckow said states can't go wrong with reviewing data about the technologies that power plants are using and their emissions profile.
No state is rushing though
Crowell & Moring's Lorenzen said he believed that major coal-producing states or states that rely heavily on coal-fired generation may try to get their plans approved before the Trump administration leaves office.
That's not exactly how things are panning out though, according to IHS Markit interviews following the survey.
According to EPA, only West Virginia, which was the second-largest coal producing state in 2019, is doing so. The state will be the first among the ACE-compliant states to submit a final partial plan for its 807-MW Longview coal-fired plant in the next few weeks. However, West Virginia Department of Environmental Protection has indicated in a draft partial plan that it will submit a complete plan for its remaining 18 plants by the due date of 8 July 2022.
Wyoming, which the US Energy Information Administration (EIA) ranks as the top coal-producing state, did not respond to the survey. However, Pennsylvania and Kentucky, which are fourth- and fifth-ranked in coal production, said they would respond by the July 2022 ACE deadline with a complete plan for their coal-fired power fleets.
Illinois, which the EIA ranks as the third-largest coal producing state but is opposing the ACE rule in court, said it is currently developing a plan for the rule after gathering a good deal of information about emissions and technologies from 39 affected coal-fired power units.
"The Illinois EPA will do what is necessary to remain in a position to submit a plan for the ACE rule, if and as necessary. Illinois EPA is prepared to comply with any new proposals from the Biden administration," agency spokeswoman Kim Biggs said.
Likewise, Louisiana, Texas, Utah, and Pennsylvania, which each boast sizable coal-fired generating power plants, also told IHS Markit they will submit their plans when due.
"Utah is not obligated to submit the designated facilities plan for ACE until the summer of 2022. We will need that time to do the appropriate technical analysis," Jared Mendenhall, a spokesman for the Utah Department of Environmental Quality, said.
Likewise, Louisiana Department of Environmental Quality spokesman Gregory Langley said the agency's air quality assessment group is working on a plan for ACE. "I can't tell you what the plan's elements are, as it is still in progress. We are working with the electric generating units and expect to have the plan ready by 2022 when it is due," Langley added.
Attorney Lorenzen said he expects most states, despite their declarations, to wait on further clarity from the incoming administration as it may expand the current list of candidate technologies and approaches for power plants to use.
In contrast to the Obama rule, ACE bars the trading of carbon dioxide credits and averaging carbon dioxide reductions across coal-fired units and forbids states from including carbon-capture and storage technologies as one of the approaches to limiting emissions. The rule also won't allow utilities to co-fire biomass, or woody pellets, to reduce their carbon footprint.
This is the result of the Trump EPA's narrow reading of Section 111(d) of the Clean Air Act, which underpins the ACE rule. The ACE rule only permits electric utilities to limit carbon dioxide emissions within the fencelines or boundaries of affected coal-fired units.
Despite the limitations on electric utilities, a West Virginia-led coalition of 20 states is backing ACE in the D.C. Circuit against a petition filed initially by 23 states and eight cities led by New York State. Nevada withdrew as a petitioner but then intervened on behalf of the remaining challengers.
The coalition backing ACE for the most part involves states such as West Virginia, Kentucky, Indiana and Texas that produce coal and rely on coal-fired generation, and includes Alaska, which is exempt from the regulation. In contrast, the coalition opposing the rule includes Hawaii, which like Alaska is exempt, as well as California, Rhode Island, Vermont, and Maine that have no coal-fired power plants.
In addition to states, a number of groups representing manufacturers and power plants as well as environmental groups also are involved in the litigation.
The D.C. Circuit held oral arguments on the challenges to ACE in October, and now all parties are awaiting the court's ruling, which could be issued anytime this year.
Bring everyone to the table
Now that Biden has assembled his climate team with former EPA Administrator Gina McCarthy, the architect of the Clean Power Plan, as the White House climate coordinator alongside Regan as head of EPA, observers expect action on power plant carbon emissions.
Biden's team is most likely to try and balance the needs of states, tribal nations, industry, and environmental groups, as the nation seeks to reduce carbon dioxide emissions, Alston & Bird's Minoli said. "A future where one state imposes the most restrictive regulations and the next state imposes none creates an unlevel playing field on which people will be playing the same game by different sets of rules," he added.
The Clean Air Task Force's Schneider sees states' efforts as complementing any forthcoming federal regulation.
"Far from limiting EPA's actions, these efforts create the opportunity for more comprehensive and efficient national power sector regulations (and/or legislation) to realize greater carbon reductions, harmonize these requirements, and create a level playing field across the US," Schneider said.
RELATED INDUSTRIES & TOPICS
{"items" : [ {"name":"share","enabled":true,"desc":"<strong>Share</strong>","mobdesc":"Share","options":[ {"name":"facebook","url":"https://www.facebook.com/sharer.php?u=http%3a%2f%2fcleanenergynews.ihsmarkit.com%2fresearch-analysis%2fus-states-forge-ahead-on-plans-to-limit-power-plant-carbon.html","enabled":true},{"name":"twitter","url":"https://twitter.com/intent/tweet?url=http%3a%2f%2fcleanenergynews.ihsmarkit.com%2fresearch-analysis%2fus-states-forge-ahead-on-plans-to-limit-power-plant-carbon.html&text=US+states+forge+ahead+on+plans+to+limit+power+plant+carbon+emissions+%7c+IHS+Markit+","enabled":true},{"name":"linkedin","url":"https://www.linkedin.com/sharing/share-offsite/?url=http%3a%2f%2fcleanenergynews.ihsmarkit.com%2fresearch-analysis%2fus-states-forge-ahead-on-plans-to-limit-power-plant-carbon.html","enabled":true},{"name":"email","url":"?subject=US states forge ahead on plans to limit power plant carbon emissions | IHS Markit &body=http%3a%2f%2fcleanenergynews.ihsmarkit.com%2fresearch-analysis%2fus-states-forge-ahead-on-plans-to-limit-power-plant-carbon.html","enabled":true},{"name":"whatsapp","url":"https://api.whatsapp.com/send?text=US+states+forge+ahead+on+plans+to+limit+power+plant+carbon+emissions+%7c+IHS+Markit+ http%3a%2f%2fcleanenergynews.ihsmarkit.com%2fresearch-analysis%2fus-states-forge-ahead-on-plans-to-limit-power-plant-carbon.html","enabled":true}]}, {"name":"rtt","enabled":true,"mobdesc":"Top"} ]}