Customer Logins
Obtain the data you need to make the most informed decisions by accessing our extensive portfolio of information, analytics, and expertise. Sign in to the product or service center of your choice.
Customer Logins
US government lacks "systemic picture" of climate-risk insurance affordability and availability, groups say

The US government has no systemic approach for assessing whether insurance is available or affordable to its communities most exposed to climate risks, several trade and nonprofit groups said, adding that more reliable data is needed to provide a holistic picture of the problem.
Responding to the US Department of Treasury's Federal Insurance Office (FIO) August request for comment on the insurance sector's response to climate-related risks and its impacts on marginalized populations, Public Citizen said most of this information is residing with states, which are the primary regulators of the insurance sector, or gleaned through anecdotal reports.
In that 31 August request, the FIO, responding to President Joe Biden's directive on climate financial risk, asked for factors it should consider when identifying and assessing the potential for major disruptions of insurance coverage in US markets that are particularly vulnerable to climate change impacts.
The FIO acknowledged that climate-fueled risks pose a threat to the financial system as a whole and is attempting to get a handle on how best to address this threat through this data collection request.
Dual role
The insurance sector plays a dual role as an investor and underwriter of risk in the financial market. An S&P Global Sustainable1 analysis showed that the insurance sector maintains significant investments in carbon-intensive and climate-vulnerable industries, while at the same time facing liability risks from underwriting property and assets that are damaged by climate-fueled wildfires, hurricanes, droughts, and flooding.
While FIO does not possess or claim to have regulatory authority over the insurance sector, most commenters agreed that the US Congress authorized the agency to collect data and to highlight the information gaps about climate risks that marginalized communities. Some like the National Association of Professional Insurance Agents (PIA) objected to this request, saying this is the domain of state insurance regulators.
Incomplete picture
Groups like Public Citizen and American Property Casualty Insurance Association (APCIA) are aware that FIO's authority is limited.
"But it can lead by highlighting the gaps that exist and recommending how to fill them," Public Citizen Climate Program Managing Director David Arkush and Policy Counsel Yevgeny Shrago wrote in their comments.
The National Association of Insurance Commissioners (NAIC) has developed an Insurer Climate Risk Disclosure Survey that six states—California, Connecticut, Minnesota, New Mexico, New York, and Washington—use to collect information from insurance companies that annually report $100 million or more in premiums and annuity considerations.
But Shrago said this survey doesn't provide a complete picture of the costs incurred by consumers. The survey provides information about the steps a company is taking with respect to its governance and operations.
'Fine-grained' data
Public Citizen recommends FIO use the authority that US Congress gave it under the 2010 Dodd-Frank Wall Street Reform and Consumer Protection Act to request data, Shrago told Net-Zero Business Daily.
It added that FIO can do so by working with the states to collect data from insurers on rate increases, rates of nonrenewals, and claims denials and underpayments in climate-impacted areas.
Moreover, Public Citizen said the data should be "fine-grained" enough to provide information at the census-tract or community level.
"If states do not cooperate, FIO should issue a data call to gather this information itself," the group said.
New York, Connecticut paving the way
The APCIA, which is the primary national trade association for home, auto, and business insurers, said collaborating with the 15 states that already require reporting in line with the guidelines laid out by the Task Force on Climate-related Financial Disclosure, is "a good starting point" to determine the sufficiency of data.
New York State became the first to issue climate risk guidelines for the insurance companies operating within its boundaries. In those guidelines, the New York Department of Financial Services urged insurance companies operating within its precincts to go beyond business-as-usual assessments in factoring climate impacts.
The Connecticut General Assembly in June became the first legislature to pass a law requiring insurers to factor climate risk and incorporate the state's 45% GHG reduction target by 2030 into their decision-making. The state is still in the process of writing the rules to implement the law.
According to the APCIA, the most significant disclosure challenge is the lack of consistent and reliable emissions data from other business sectors such as banking and sources that prevents insurers from properly pricing risks. The group also suggested the FIO harmonize its data collection efforts with the US Securities and Exchange Commission that is expected to propose a rule for disclosing climate risk by the year's end.
Treat affordability and availability separately
While equally supportive of collecting data, Boston-based Liberty Mutual cautioned FIO against lumping availability and affordability of insurance together.
Liberty Mutual agrees that the FIO should identify those insurance market areas with what it calls an "outsized exposure to climate-related perils," but then it should identify where coverage is "truly unavailable" or not sold at all.
When assessing affordability, the company reminded FIO that affordability considerations for consumers must be balanced against solvency concerns.
"Pricing is driven by a myriad of factors including competition in Property & Casualty markets (which are typically highly competitive), the risk of loss, insurer solvency considerations, and state rate review," Liberty Mutual wrote.
The APCIA and Liberty Mutual contend that the federal government should work with state and local governments on policies to identify the most significant climate-related risks and take steps to mitigate them so they become insurable.
Boost resilience
APCIA gave the example of business and housing development patterns that it said have exacerbated climate-related risks through policies encouraged by all levels of government.
In the short-term, Liberty Mutual said the federal government should consider community-based investments in climate resilience to mitigate the effects, while APCIA said the government should consider a risk-based pricing framework as an efficient market-based tool for encouraging mitigation efforts.
As noted by the attorneys general of New York, Connecticut, Massachusetts, Maryland, and Oregon, the FIO's focus on vulnerable communities is both consistent with Biden's May 20 order on climate financial risk and the administration's broader commitment to addressing environmental justice in the climate change context, as spelled out in the 27 January directive on tackling climate crisis.
The attorneys general said "increasing, and increasingly costly, climate harms threaten consumers' access to affordable private insurance options, putting greater pressure on states and the federal government to act as insurers of last resort or to cover uninsured losses."
Ripple effects
They also noted that rising premiums and withdrawn coverage could also have ripple effects that adversely affect the US financial system as a whole.
From 1987 to 2004, the attorneys general wrote, "property insurance losses due to natural disasters averaged $23 billion per year; in 2005, losses rose to $83 billion, of which $60 billion was due to hurricanes Katrina, Rita, and Wilma alone."
As of 8 October, the US had experienced suffered 18 weather and climate-related disasters this year—such as wildfires, flooding, severe storms and cyclones and drought—with losses exceeding $1 billion, the National Oceanic and Atmospheric Administration National Center for Environmental Information reported.
As the chart below shows, people living along the Gulf Coast and southeastern part of the country suffered most from tropical storms and hurricanes. People living in California suffered from heat waves and wildfires. They also happen to be low-income, belong to minority groups, lack a high-school education, or are aged 65 and above, as EPA's climate justice report shows.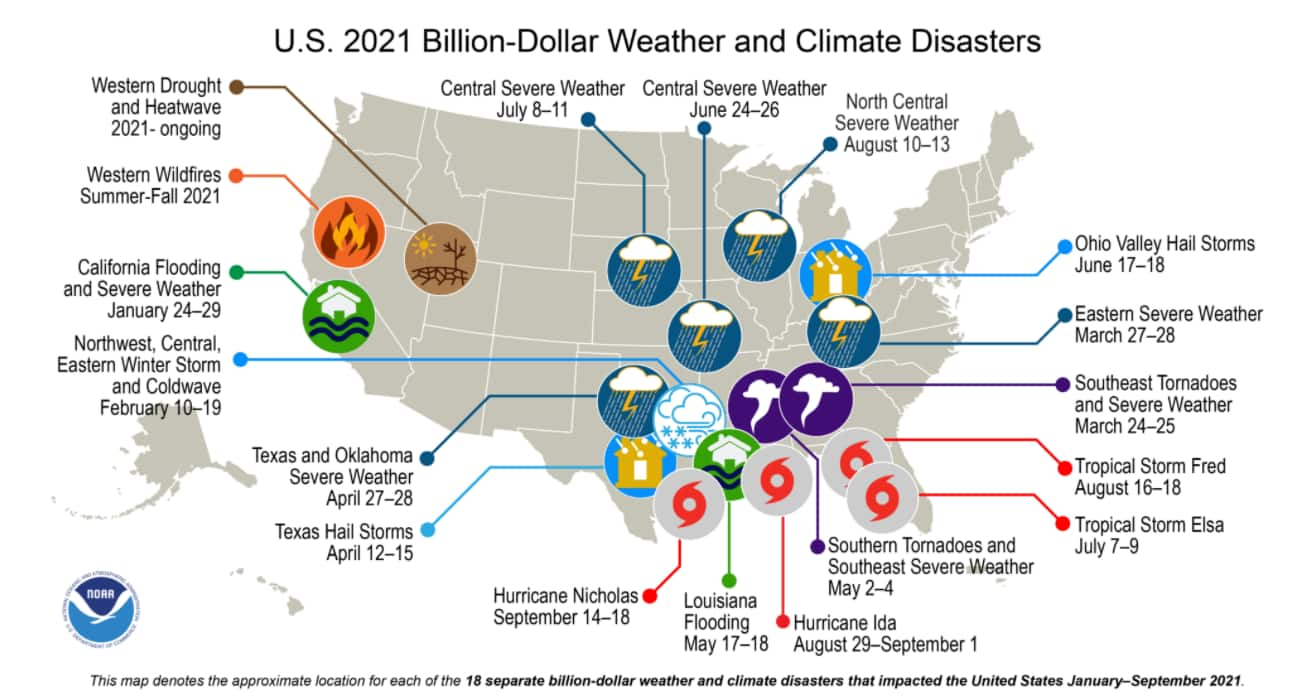 Source: NOAA
{"items" : [ {"name":"share","enabled":true,"desc":"<strong>Share</strong>","mobdesc":"Share","options":[ {"name":"facebook","url":"https://www.facebook.com/sharer.php?u=http%3a%2f%2fcleanenergynews.ihsmarkit.com%2fresearch-analysis%2fus-government-lacks-systemic-picture-of-climaterisk-insurance-.html","enabled":true},{"name":"twitter","url":"https://twitter.com/intent/tweet?url=http%3a%2f%2fcleanenergynews.ihsmarkit.com%2fresearch-analysis%2fus-government-lacks-systemic-picture-of-climaterisk-insurance-.html&text=US+government+lacks+%e2%80%9csystemic+picture%e2%80%9d+of+climate-risk+insurance+affordability+and+availability%2c+groups+say+%7c+IHS+Markit+","enabled":true},{"name":"linkedin","url":"https://www.linkedin.com/sharing/share-offsite/?url=http%3a%2f%2fcleanenergynews.ihsmarkit.com%2fresearch-analysis%2fus-government-lacks-systemic-picture-of-climaterisk-insurance-.html","enabled":true},{"name":"email","url":"?subject=US government lacks "systemic picture" of climate-risk insurance affordability and availability, groups say | IHS Markit &body=http%3a%2f%2fcleanenergynews.ihsmarkit.com%2fresearch-analysis%2fus-government-lacks-systemic-picture-of-climaterisk-insurance-.html","enabled":true},{"name":"whatsapp","url":"https://api.whatsapp.com/send?text=US+government+lacks+%e2%80%9csystemic+picture%e2%80%9d+of+climate-risk+insurance+affordability+and+availability%2c+groups+say+%7c+IHS+Markit+ http%3a%2f%2fcleanenergynews.ihsmarkit.com%2fresearch-analysis%2fus-government-lacks-systemic-picture-of-climaterisk-insurance-.html","enabled":true}]}, {"name":"rtt","enabled":true,"mobdesc":"Top"} ]}