Customer Logins
Obtain the data you need to make the most informed decisions by accessing our extensive portfolio of information, analytics, and expertise. Sign in to the product or service center of your choice.
Customer Logins
US automakers face more stringent GHG standards with less flexibility than expected

Automakers will be required to meet increasingly stringent GHG standards for passenger cars and pickup trucks spanning model years (MY) 2023 through 2026 that the US Environmental Protection Agency revised 20 December after recognizing the development and availability of emissions reduction technologies for meeting them.
The final rule revises current GHG standards beginning in MY 2023 and increases in stringency year over year through MY 2026, but with less flexibility than was originally proposed.
Signing the rule at EPA headquarters, Administrator Michael Regan said "we followed the science, we listened to stakeholders, and we are setting robust and rigorous standards that will aggressively reduce the pollution that is harming people and our planet—and save families money at the same time."
The EPA final rule stepped up stringency in GHG standards for MYs 2025 and 2026, while retaining the standards it proposed in August for model years 2023 and 2024. It also retained compliance flexibility for MYs 2023 and 2024 "in consideration of lead time for manufacturers and to help them manage the transition to more stringent standards."
Describing the regulations as "the most ambitious" in US history, Regan said the rule is achievable and affordable.
He cited EPA analysis that said the program would achieve up to $420 billion in fuel costs for gasoline that "you won't have to put in the tank."
Replace SAFE rule
The final vehicles GHG rule replaces standards imposed for MY 2020 through 2025 under President Donald Trump's 2020 Safer Affordable Fuel-Efficient (SAFE) rule, which significantly relaxed targets set in 2012.
Regan said the EPA has delivered on its promise to President Joe Biden, who directed the agency and the US Department of Transportation upon taking office in January to revisit the SAFE rule as part of his government-wide strategy to tackle the climate crisis.
"Today's final standards are expected to result in average fuel economy label values of 40 [miles per gallon], while the standards they replace (the SAFE rule standards) would achieve only 32 mpg in MY 2026," the EPA said.
The transportation sector remains the largest contributor of GHGs in the US, adding 1.876 billion mt of GHG emissions in 2019, or 29% of the total. Light vehicles (passenger cars and light trucks including sports-utility vehicles) were responsible for 58% of the GHGs emitted by the transportation sector, and 17% of total US GHG emissions.
"EPA projects that the final standards will result in a reduction of 3.1 billion mt of GHG emissions by 2050, which are 50% greater emission reductions than the standards it proposed in August," the agency said.
Moreover, EPA said, cumulative GHG emissions that will be avoided through 2050 are roughly equal to over half of the net total CO2 emissions in the US in 2019.
Stringent GHG cuts
According to the EPA, the final rule, as was proposed in August, will be responsible for an average 9.8% decrease compared with the 224 CO2 grams per mile (g/mile) that the SAFE rule set for model year 2022. After MY 2023, the agency said those standards will tighten by an average 5.1% for MY 2024. In contrast to the proposal though, the final rule steps up the stringency with an average 6.6% for MY 2025, and an average 10.3% increase for the subsequent year, reaching a CO2 emissions limit of 161 g/mile in MY 2026.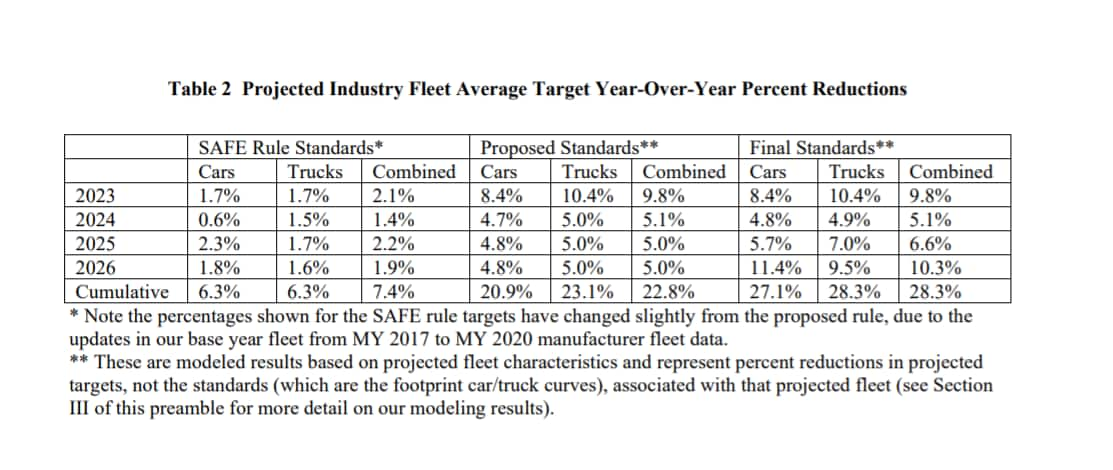 Source: US EPA
The more stringent standards for MY 2025 and 2026 also provide "a more appropriate transition" to new standards for MY 2027 and beyond that Regan said the agency will begin writing. Following the signing ceremony, Regan sidestepped a question during a press gaggle when asked when those standards would be released.
EPA said that automakers will reach this target with the kinds of advanced light-duty vehicle engine technologies, transmission technologies, electric drive systems, aerodynamics, tires, and vehicle mass reduction already in place in the current fleet.
Banked credits changes
The agency also pointed out that "the resulting trajectory of increasing stringency from MYs 2023 to 2026 also takes into account the credit-based emissions averaging, banking, and trading flexibilities of the current program, including flexibility provisions that have been retained, and the targeted additional flexibilities that are being extended in this final rule, especially in the early years of the program."
In its final rule, EPA is no longer extending the current five-year timeframe for all banked credits for overcompliance as it had initially proposed. The one-year extension is now just limited banked credits earned for meeting MY 2017 and 2018 standards.
EPA said it was persuaded by public comments from non-governmental organizations (NGOs), some states including California, and electric vehicle manufacturers that "the proposed credit life extension overall was unnecessary and could diminish the stringency of the final standards."
The Union of Concerned Scientists (UCS) and the Center for Biological Diversity were among the NGOs that objected most to the EPA's proposal to extend the current timeframe for the use of banked credits.
After reviewing the final rule, UCS Senior Vehicle Analyst Dave Cooke told Net-Zero Business Daily that banked credits will continue to play a "strong role" in the early years of the standards. "But by strengthening the rules there will be much less of the type of built-up bank that we've had thus far that has delayed progress," he added.
In general, Cooke said, "the use of banked credits isn't necessarily a problem and is part of the cyclic nature of the automotive industry—but it's been used too long as a delay tactic, and hopefully this rule signals the end of that."
At the same time, EPA also is offering automakers the chance to earn advanced technology multiplier credits for MYs 2023 and 2024, but with a cumulative credit cap of 10 grams CO2 per mile, for selling battery-electric vehicles (BEV), fuel cell-electric vehicles (FCEV), and plug-in hybrid electric vehicles (PHEV) in order to boost efforts to reach President Biden's 50% EV sales goal by 2030.
Manufacturers receive additional credit for selling PHEVs, BEVs, and FCEVs in the form of sales multipliers, which allow automakers to count these vehicles as more than one vehicle in emissions compliance calculations.
The EPA also has restored full-size hybrid pickup truck incentives for MY 2022 through 2025 that the SAFE rule removed, and has increased the credit cap from 10 g/mile CO2-equivalent to 15 g/mile for off-cycle technologies such as improving the aerodynamics of a car or how long its engine remains idle.
The agency's rationale for extending carry-over credits and extending the timeframes for incentives it has granted automakers in the past is that they are "intended as a temporary measure supporting the transition to zero-emission vehicles and to provide additional flexibility in meeting the revised MY 2023-2026 standards, especially in the earlier years."
According to EPA, most automakers have launched ambitious plans to develop and produce increasing numbers of zero- and near-zero-emission vehicles. EPA said it recognizes that in the near-term timeframe of the standards the new vehicle fleet likely will continue to consist predominantly of gasoline-fueled vehicles, although it expects the volumes of EVs to continue to increase, particularly in MYs 2025 and 2026.
"While these standards are ambitious, they provide adequate lead time for manufacturers to comply at reasonable costs," the EPA said in a statement accompanying the final rule.
United Auto Workers President Ray Curry said EPA standards, which he described as "well thought out," will promote long-term US investments, and protect worker jobs.
EV market penetration
The EPA is estimating that EV market share will ramp up from 7% for MY 2023 sales to 17% for MY 2026 based on announcements by automakers such as General Motors, which in January pledged 100% of the light vehicles it manufactures would be EVs by 2035. GM energy, environment, and electrification policy manager Michael Maten said the company is rolling out plans to meet Biden's goal.
The 17% estimate depends heavily on the tax incentives that automakers, including those involved in EV battery manufacturing, were hoping to receive from Biden's Build Back Better legislative package, which over the weekend received a setback when US Senator Joe Manchin, Democrat-West Virginia, pulled his support, thereby jeopardizing its chances in a Senate where Republicans and Democrats are tied for votes.
In a statement issued 20 December, John Bozella, CEO of the Alliance for Automotive Innovation, warned that the final rule is "even more aggressive" than the underlying proposal and will therefore require a substantial increase in EV sales and backing.
"Achieving the goals of this final rule will undoubtedly require enactment of supportive governmental policies—including consumer incentives, substantial infrastructure growth, fleet requirements, and support for US manufacturing and supply chain development," Bozella noted.
Following the rule's release, GM said in a 20 December email that it too supports the goal of the final rule and its intentions to significantly reduce emissions,
As it reviews the rule, GM reminded the government and US Congress that the auto industry needs complementary federal and state policies that support the transition to a zero-emission vehicle future. These, it said, include consumer incentives, infrastructure investments, and support for US advanced manufacturing and battery supply chain development.
"We will continue to work with the Biden Administration and the US Congress to pass legislation that includes provisions to help accelerate the adoption of electric vehicles and establish the US as a global leader in electrification today, and into the future," GM said.
When asked whether automakers would continue to comply with the rule and also aim for the 17% penetration despite the setback with the Build Back Better Act, Regan said the rule is "doable, its affordable and its achievable" in its current form. But, he added, that doesn't mean "we're not going to tirelessly fight for those incentives in the Build Back Better proposal."
Jeff Alson, a former senior engineer and policy adviser in EPA Office of Transportation and Air Quality, said the EPA must turn its attention to developing standards for 2027 and later to drive US car sales to near-100% emissions by the early 2030s to meet national air and climate goals.
"The uncertainty around the Build Back Better legislation means that strong rulemaking for 2027 and beyond is both more challenging and more critical," he added in a 20 December statement.
{"items" : [ {"name":"share","enabled":true,"desc":"<strong>Share</strong>","mobdesc":"Share","options":[ {"name":"facebook","url":"https://www.facebook.com/sharer.php?u=http%3a%2f%2fcleanenergynews.ihsmarkit.com%2fresearch-analysis%2fus-automakers-face-more-stringent-ghg-standards-with-less-flex.html","enabled":true},{"name":"twitter","url":"https://twitter.com/intent/tweet?url=http%3a%2f%2fcleanenergynews.ihsmarkit.com%2fresearch-analysis%2fus-automakers-face-more-stringent-ghg-standards-with-less-flex.html&text=US+automakers+face+more+stringent+GHG+standards+with+less+flexibility+than+expected+%7c+IHS+Markit+","enabled":true},{"name":"linkedin","url":"https://www.linkedin.com/sharing/share-offsite/?url=http%3a%2f%2fcleanenergynews.ihsmarkit.com%2fresearch-analysis%2fus-automakers-face-more-stringent-ghg-standards-with-less-flex.html","enabled":true},{"name":"email","url":"?subject=US automakers face more stringent GHG standards with less flexibility than expected | IHS Markit &body=http%3a%2f%2fcleanenergynews.ihsmarkit.com%2fresearch-analysis%2fus-automakers-face-more-stringent-ghg-standards-with-less-flex.html","enabled":true},{"name":"whatsapp","url":"https://api.whatsapp.com/send?text=US+automakers+face+more+stringent+GHG+standards+with+less+flexibility+than+expected+%7c+IHS+Markit+ http%3a%2f%2fcleanenergynews.ihsmarkit.com%2fresearch-analysis%2fus-automakers-face-more-stringent-ghg-standards-with-less-flex.html","enabled":true}]}, {"name":"rtt","enabled":true,"mobdesc":"Top"} ]}