Customer Logins
Obtain the data you need to make the most informed decisions by accessing our extensive portfolio of information, analytics, and expertise. Sign in to the product or service center of your choice.
Customer Logins
Solar PV installations to continue surge in US as costs fall

Solar power will account for nearly half of US generation capacity installations in 2022, more than natural gas and wind power combined, according to the US Energy Information Administration (EIA).
Based on surveys of utilities and independent power producers, EIA said it expects 46.1 GW of utility-scale generating capacity to be added to the US power grid in 2022, of which 21.5 GW (46%) will be solar. Natural gas will contribute 9.6 GW (21%), wind 7.6 GW (17%), and 5.1 GW (11%) will come from the fast-emerging category of battery power.
When 2.2 GW of nuclear power is included from two units coming onstream at Southern Company's Vogtle Electric Generating Plant in Georgia, carbon-free power will account for nearly 80% of US installations in 2022, marking a significant step towards the country's goal of transitioning to only clean energy production by 2035.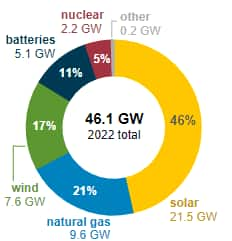 Source: EIA
"Wind, solar, and battery storage have been the top choice for new power capacity for six of the last seven years in the US," said John Hensley, vice president for research and analytics at The American Clean Power Association, a US trade group.
"Falling costs, improving efficiency, and customer demand support the strong growth this industry is experiencing, and we expect those drivers to continue shaping the energy transition underway," he added.
Growth can be further accelerated by supportive federal policy, Hensley said. "This growth can be accelerated with the passage of the Build Back Better Act coupled with the infrastructure package—putting the country in a better position to meet climate targets and deliver clean energy to Americans," he said.
Build Back Better is the Biden administration's $1.75-trillion spending plan that would include about $550 billion in incentives and loans for a wide range of renewable energy, from electric vehicle tax breaks to investments in transmission lines to extensions of tax credits for new wind and solar projects. The bill has been held up in the US Senate for several months due to objections raised about its overall price tag by US Senator Joe Manchin, Democrat-West Virginia, and is likely to be subject to significant modifications if it is passed at all.
Solar
For solar, the 21.5 GW of expected new capacity continues a strong three-year trend. In COVID-marred 2020 and 2021, the industry added 13.5 GW and 15 GW, respectively, according to EIA. Texas (6.1 GW, or 28% of the national total) and California (4.0 GW) will be the busiest states this year.
Solar's growth can be attributed to two key factors: cost and opportunity.
"Solar is super cheap … and its cost has come down very fast in the last few years," IHS Markit Power Research and Analysis Associate Director Sam Huntington said. "Plus, you have a lot of markets where there is very low solar penetration."
IHS Markit said the benchmark levelized cost of energy (LCOE) for a new solar installation in the US in 2016 was about $50/MWh. Now, it's closer to $25/MWh, Huntington said. "That's important because the average dispatch cost of coal and gas is in the $30-$40/MWh range, so solar has in recent years come in below it," which enables new solar entrants to underbid many existing coal and gas plants, he said.
While wind projects also show favorable economics, Huntington pointed out that solar carries advantages over its renewable competitor. "Wind projects take years. They are huge industrial projects, with large components having to be brought onsite, often imported," he said. "Solar is much more modular, and easy to install."
But the growth of solar eventually creates new issues for grid operators because of solar's tendency to overproduce during the sunniest hours and, of course, not produce at all during the evening. This creates a phenomenon known as the "Duck Curve," with wide swings in solar power forcing the need for equally substantial changes in flows from other forms of power generation to offset solar's ups and downs. It can also cause power prices to fluctuate widely during the day, even reaching negative levels when production peaks.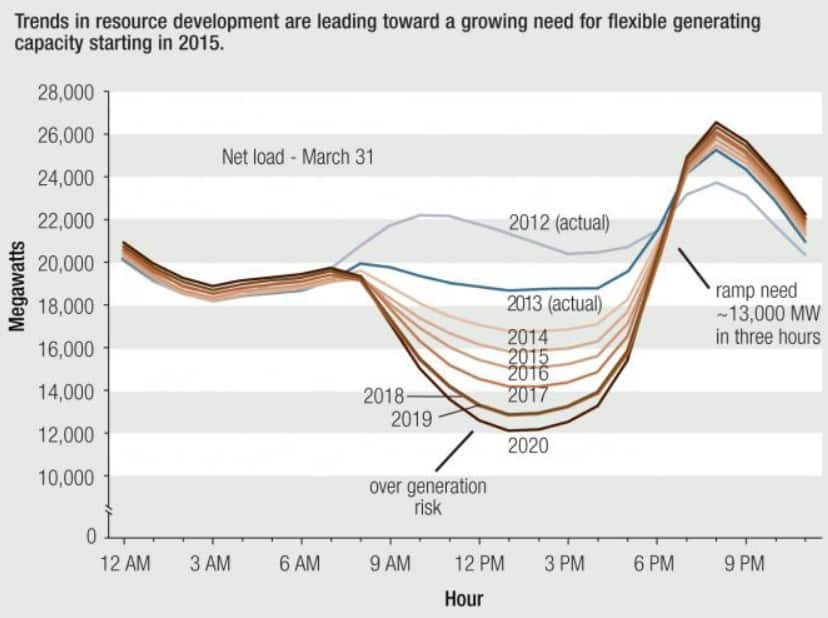 Source: California Independent System Operator
In California, solar is about 15% of the state's installed capacity, providing about 10% of the state's generation in 2020, according to the California Energy Commission.
It's the one state with enough solar where the Duck Curve comes into play occasionally. California's hourly power supply on 24 April 2021 (see below) shows how the increase in renewable supplies led to a moderate reduction in gas-fired power production and a reversal of imports from other states in the middle of the day. Then, as solar dropped off in the evening, other resources had to fill the gap.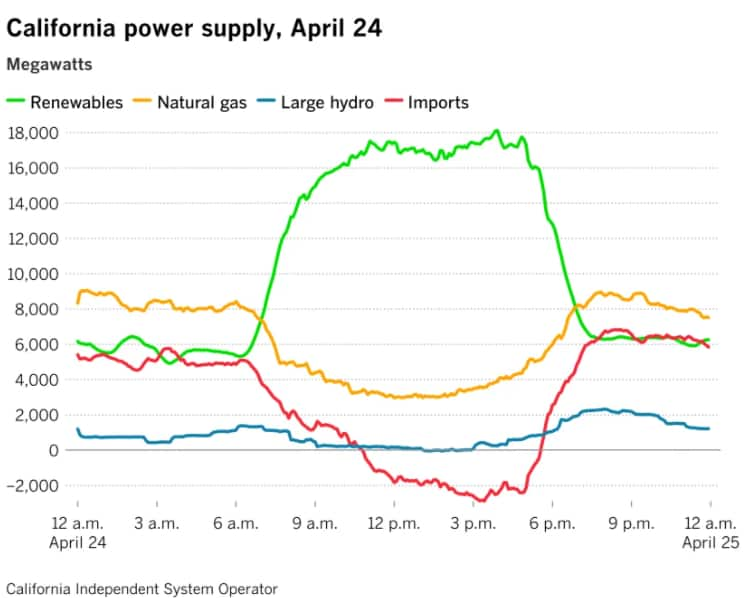 While California works on managing its Duck Curve, Huntington noted that such circumstances are a long way from affecting solar's growth elsewhere in the country. "We see very favorable economics for new solar and plenty of room to add solar before it starts to have an effect," Huntington said.
Battery power
Battery energy storage is one solution to the Duck Curve because it can be charged with excess power during the middle of the day and release that power in the evening.
So, it's not a coincidence that the EIA is forecasting an increase of nearly 20% in US battery storage installation capacity in 2022. EIA's survey found about 5.1 GW of battery installations are planned for 2022, compared with 4.3 GW in 2021 and less than 1 GW in 2020.
If anything, IHS Markit says EIA's number is too cautious, as the company believes as much as 7 GW of new battery storage could be installed in the US in 2022.
"Several factors have helped expand US battery storage, including declining costs of battery storage, deploying battery storage with renewable generation, and adding value through regional transmission organization markets," EIA said.
As with solar, Huntington said that battery costs have fallen markedly in the last few years, making them competitive with oil- and gas-fired power plants as a source of peak demand capacity. The National Renewable Energy Laboratory (NREL) said the cost of a lithium-ion system that provides four hours of storage fell from about $2,150/kWh in 2015 to $379/kWh by the end of 2020.
"But this is a tricky one to figure out because the [problems in the global] supply chain are really affecting the availability of batteries," Huntington said. "We are seeing cost premiums for batteries right now."
Assuming supply chain issues are solved, the longer-term prospect for battery storage is continued cost reduction. NREL issued an update on its battery forecast in October 2021, saying that as a mid-case scenario it expects the cost of storage to fall from $379/kWh last year to about $248/kWh in 2025 and $198/kWh in 2030. That's a 40% reduction in the next decade.
Wind
US wind power installations set a record in 2020 of 21 GW and maintained a strong pace in 2021 of 17.1 GW. But EIA is predicting that less than half that will be installed this year at 7.6 GW.
The ups and downs of wind installations can be attributed to the sensitivity of the industry to federal tax credits. The Production Tax Credit, which is most commonly used for onshore wind projects, is $15/MWh of power produced for 10 years, and it's available for projects started by 31 December 2021. It had been scheduled to expire on 31 December 2020, leading to a rush of projects timed to meet that deadline, but Congress extended the credit by a year, due to COVID-19.
The next big wave of wind projects, so to speak, will be offshore facilities. Construction on the largest US offshore project yet, Vineyard Wind 1, was greenlighted in May 2021 off the Massachusetts coast, and auctions were held last fall for numerous other promising locations off the US East Coast.
The offshore wind projects are not going to show up in EIA's survey of expectations for 2022. And those projects are reliant on the Investment Tax Credit, which expired on 31 December 2021 and provided a rebate of up to 30% of the cost of a wind project. Reinstatement of this credit also is part of the Build Back Better bill that is now in limbo in the US Senate, but proponents are looking to revive it through other legislative means.
Natural gas
Natural gas represents the second-largest source of new power in 2022, according to EIA. Its 9.6 GW estimate fits with the pattern of 8.3 GW, 9.3 GW, and 6.6 GW observed in the years 2019-2021, respectively.
"We see different regional attitudes towards natural gas. It's hard to build a new gas unit in California or the Northeast, but other regions are quite bullish," Huntington said.
EIA's data back that up, noting that 88% of the new capacity expected in 2022 will be in four states: Florida, Illinois, Michigan, and Ohio.
These new operations are doing one of two things, either meeting growing demand in a state that's adding population (Florida), or replacing baseload coal-fired power plants that are being retired. "Renewables will pick up some of the slack of coal and nuclear retirements, but gas also can pick up a lot of it too," Huntington said. "We see the total US share of generation for gas increasing through the next decade—and a lot of that is picking up from coal."
While environmentalists might cry foul, Huntington said that gas-fired power, especially new units, have a lot going for them. "The fuel itself, despite price fluctuations in global markets, is still cheap domestically in historical terms," he said. "And the latest gas turbines are so efficient that it allows them to outcompete even gas turbines installed five years ago."
Power purchase agreements and long-term signals
Looking at this year and beyond, a few other issues could influence the rate of growth of various power resources, in addition to cost competitiveness and the extension of federal tax credits.
"There's a robust and rising demand from corporate offtakers of renewable power—big tech, companies with data centers, and just companies that want to say they are powered by clean power," Huntington said. "That's a really significant part of the market. It's been close to half of the contracted offtake in the last few years."
Perhaps surprisingly, renewable portfolio standards (RPS), which are mandated market share for renewable power that are imposed by some US states, are not driving the market today, Huntington said. "In the very near term, the economics of renewables are so compelling that you probably don't need an RPS," he said.
A case in point is Texas, previously noted as forecast to have the largest share in 2022 of new solar. It's also expected to account for half of the new wind capacity in 2022. "Texas is a market with no state support for solar … and we think they're going to add 50 GW of solar in the next decade. That speaks to how attractive the economics are," Huntington said.
But portfolio standards still play an important role for renewables and will do so in the future, he added. "An RPS provides a critical long-term demand signal. It says to the market that there will be an offtaker for your project. Someone will buy your power at some point," he said.
RPS programs are being expanded as states seek to achieve their own net-zero emissions goals. In December, Massachusetts doubled the scale of its Solar Massachusetts Renewable Target from 1,600 MW to 3,200 MW. More than a dozen projects that had been proposed will now go forward, according to the Solar Energy Industries Association, a trade group.
RELATED INDUSTRIES & TOPICS
{"items" : [ {"name":"share","enabled":true,"desc":"<strong>Share</strong>","mobdesc":"Share","options":[ {"name":"facebook","url":"https://www.facebook.com/sharer.php?u=http%3a%2f%2fcleanenergynews.ihsmarkit.com%2fresearch-analysis%2fsolar-pv-installations-to-continue-surge-in-us-as-costs-fall.html","enabled":true},{"name":"twitter","url":"https://twitter.com/intent/tweet?url=http%3a%2f%2fcleanenergynews.ihsmarkit.com%2fresearch-analysis%2fsolar-pv-installations-to-continue-surge-in-us-as-costs-fall.html&text=Solar+PV+installations+to+continue+surge+in+US+as+costs+fall+%7c+IHS+Markit+","enabled":true},{"name":"linkedin","url":"https://www.linkedin.com/sharing/share-offsite/?url=http%3a%2f%2fcleanenergynews.ihsmarkit.com%2fresearch-analysis%2fsolar-pv-installations-to-continue-surge-in-us-as-costs-fall.html","enabled":true},{"name":"email","url":"?subject=Solar PV installations to continue surge in US as costs fall | IHS Markit &body=http%3a%2f%2fcleanenergynews.ihsmarkit.com%2fresearch-analysis%2fsolar-pv-installations-to-continue-surge-in-us-as-costs-fall.html","enabled":true},{"name":"whatsapp","url":"https://api.whatsapp.com/send?text=Solar+PV+installations+to+continue+surge+in+US+as+costs+fall+%7c+IHS+Markit+ http%3a%2f%2fcleanenergynews.ihsmarkit.com%2fresearch-analysis%2fsolar-pv-installations-to-continue-surge-in-us-as-costs-fall.html","enabled":true}]}, {"name":"rtt","enabled":true,"mobdesc":"Top"} ]}