Customer Logins
Obtain the data you need to make the most informed decisions by accessing our extensive portfolio of information, analytics, and expertise. Sign in to the product or service center of your choice.
Customer Logins
"Sobering" IPCC report shows need for immediate, widescale climate action

Global reaction to the UN Intergovernmental Panel on Climate Change's (IPCC) latest climate assessment was as forceful as the language of the report itself, as governments and NGOs said the stark conclusions in the report provide further evidence that broad and deep responses must be made to avoid the worst impacts of global warming.
Using terms like "sobering" and "frightening," climate leaders said the report raises the pressure on the participants at the November COP26 meeting to produce stronger and more enforceable measures to reduce global GHG emissions.
Coming less than three months before the COP26 meeting in Glasgow, Scotland, the IPCC Sixth Assessment Report (AR6), "The Physical Science Basis," firmly ties rising temperatures and more severe weather to human activity. Also, it indicates that widespread mitigation measures, especially for the regions that will be most hard-hit by rising temperatures and sea levels, also will be necessary.
The IPCC called the evidence marshalled by AR6, which included reviews of more than 14,000 studies, "indisputable." With information from new studies, the report for the first time singles out methane emissions as particularly harmful, and it delves in great detail into regional impacts of climate change.
Inger Andersen, executive director of the UN Environment Programme, issued a global call to action in a press conference to present the report on 9 August. "We cannot undo the mistakes of the past…. but this generation can make things right," she said. "Climate change is here now, but we are also here now. And if we don't act, who will?"
Weather extremes witnessed in the last couple of months can be tied to the 1.1 degrees C temperature increase since the pre-industrial era, said World Meteorological Organization Secretary-General Petteri Taalas at the press conference. He referenced record-breaking temperatures in the Northern Hemisphere, fires in Greece, Turkey, Siberia, and the US West Coast, and "more water vapor in the atmosphere leading to flooding in Europe and China."
The report's message is clear, said Alok Sharma, minister of state in the UK and president of COP26. "The next decade is decisive; follow the science," he said, as he called on nations to strengthen their nationally determined contributions under the Paris Agreement, and to make them binding and enforceable.
After reviewing the key findings of the 3,500-page report, Atul Arya, IHS Markit senior vice president, energy insight, observed: "The degree of confidence about the state of the climate and future projections is now much higher than in previous reports due to improvements in modeling and more observational data with higher quality. Climate science is progressing exponentially and not linearly considering the AR5 report was completed in 2014, just seven years back."
AR6 findings
AR6 is the first of a series of three IPCC reports, and it outlines the projected impacts of five emissions scenarios, which range from achieving net zero or even declining emissions by 2050, to a doubling of annual emissions, compared with current levels. AR6 will be followed by two reports to be published in 2022 that will look at how to adapt to these impacts and how to prevent the worst-case scenarios.
The IPCC said in the report that it has "high confidence" that human activities are the main drivers of more frequent and intense heat, melting glaciers, warmer oceans, and acidification of rain. "It is unequivocal that human influence has warmed the atmosphere, ocean, and land," the IPCC said.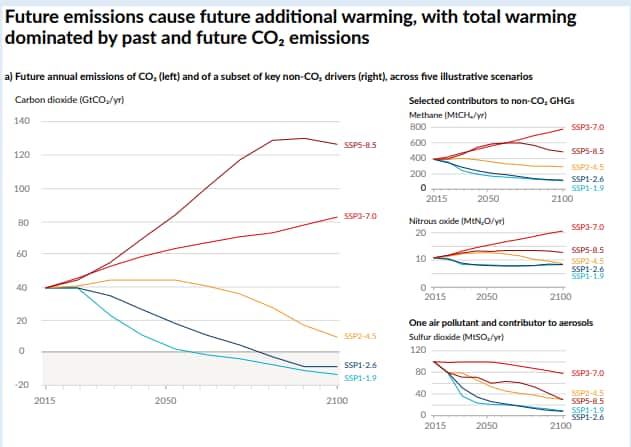 Source: IPCC
The global surface temperature has increased in each of the last four decades. "The likely range of total human-caused global surface temperature increase from 1850-1900 to 2010-2019 is 0.8°C to 1.3 degrees C, with a best estimate of 1.07 degrees C," the report said. "Human influence has warmed the climate at a rate that is unprecedented in at least 2,000 years."
IPCC added: "It is virtually certain that the global upper ocean (0-700 meters) has warmed since the 1970s and extremely likely that human influence is the main driver."
The new estimates sped up the point when the world will pass 1.5 degrees C warming to 2040. If emissions are not checked over the balance of the century, the worst-case scenario in the report says that temperatures could rise by 4.4 degrees C or more.
Scenario SSP5-8.5 models annual CO2 emissions of approximately double current levels by 2050, and SSP3-7.0 models doubled CO2 emissions by 2100. Scenario SSP2-4.5 models CO2 emissions stable until 2050 and then declining to net zero. Scenarios SSP1-1.9 and SSP1.26 model negative net emissions after 2050.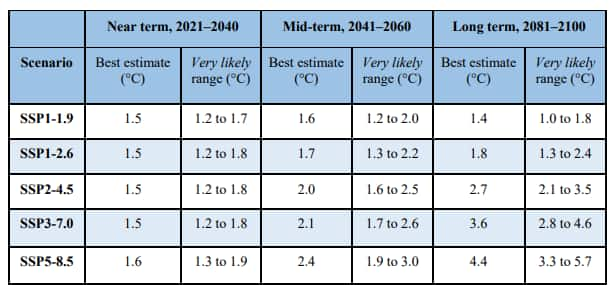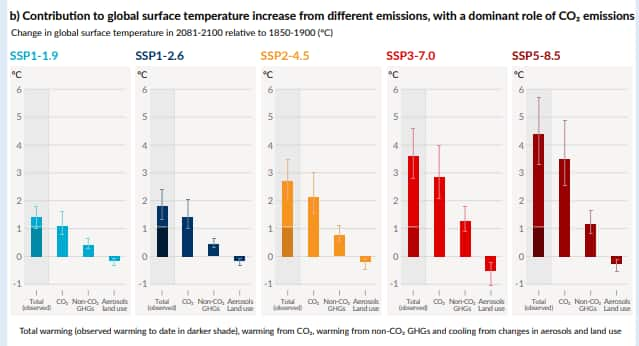 Source: IPCC
Methane
For the first time, AR6 has a chapter (Chapter 7: "Climate and Air Quality Responses to Short-lived Climate Forcers in Shared Socioeconomic Pathways") focused on the impact of methane emissions, an especially potent GHG that is closely associated with oil and natural gas production, coal mining, and farming.
Methane levels are now higher than at any point in the past 800,000 years, and IPCC said they account for about 30% of global warming to date. The report called for "strong, rapid, and sustained reductions" in methane emissions.
Taking up that finding, US-based NGO EarthWorks called on US President Joe Biden to order a 65% reduction in methane emissions by the oil and gas industry by 2025 and to "declare a national emergency on climate to stop fossil fuel expansion."
The Obama administration passed rules that would reduce methane emissions from new oil and gas operations by about 43%, but those rules were held up by legal challenges and overturned by the Trump administration. Biden has promised to produce new rules, and he indicated they would be tougher than the Obama plan.
Without speaking about specifics, Jane Lubchenco, deputy director for climate and environment at the White House Office of Science and Technology Policy, issued a statement on 9 August: "The report draws attention to the immediate benefits of significant reductions in methane, both from an atmospheric concentration point of view, but also the co-benefits to human health from improved air quality."
Given the report's comments about methane, Arya predicted an "acceleration of efforts to reduce methane emissions from both the energy and agriculture sectors."
Regional impacts
One of the biggest changes since the prior report is that modeling has improved regional and subregional forecasts. This has enabled the report's authors to say definitively that incidents such as the heat wave in Siberia in 2020 and floods in China this summer are tied to climate change.
"Rapid attribution studies" in which experts are able to connect weather events such as fires and floods to climate change are "a remarkable development," said Arya.
The report explained that the impact of warming is uneven across geographic regions and it accelerates as temperatures rise. "With every increment of global warming, changes get larger in regional mean temperature, precipitation, and soil moisture," it said.
As overall temperature gains surpass 1.5 degrees C, temperatures in the Arctic and high-altitude areas in the Northern Hemisphere could rise by 3 degrees C. At the same time, precipitation patterns could change, with the higher latitudes, equatorial Pacific, and parts of the monsoon regions in Asia receiving 20-40% more annual rainfall.
The report points out that melting glaciers will affect practically all regions of the world by adding to rising sea levels, which in turn increases coastal erosion and elevates storm surges. IPCC scientists say melting glaciers will have a pronounced effect in Himalayas, the Hindu Kush, and the Karakoram, which store 60,000 square kilometers of ice and store more water than anywhere beside the Arctic and the Antarctic.
Water impacts illustrate how wealthier nations must not only curb their emissions, but also help vulnerable nations respond to the climate impacts that already are occurring, the report said.
Looking at water, more than 750 million people currently depend on the glacier- and snow-fed Indus, Ganges, and Brahmaputra rivers for freshwater. By 2050, the World Bank estimates between 1.5 billion and 1.7 billion people in South Asia are projected to be vulnerable to water scarcity.
For all areas, weather could become more volatile, as high-intensity events increase in frequency because of a weakening of the Gulf Stream, which is a current flow in the Atlantic Ocean that cycles cooler water from south to north and brings rain to Africa and Europe.
Weather changes can lead to further negative feedback loops, such as dying forests, according to the report. Both land and ocean carbon sinks become less effective as the climate warms.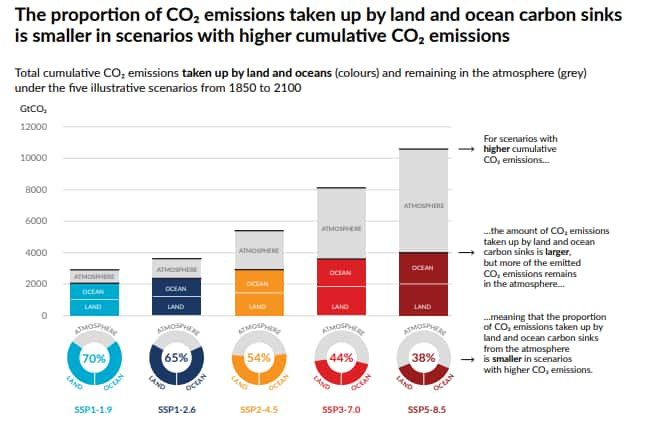 Source: IPCC
Citing recent research, Emily Shuckburgh, a University of Cambridge climate scientist, who spoke during the press conference, said that a study published in the journal Nature in July found that the Amazon is emitting more carbon than it is absorbing, due primarily to fires set to clear land for farming and raising cattle.
Reactions
As the host of COP26, UK Prime Minister Boris Johnson issued a statement. "Today's report makes for sobering reading, and it is clear that the next decade is going to be pivotal to securing the future of our planet," he said. "We know what must be done to limit global warming—consign coal to history and shift to clean energy sources, protect nature, and provide climate finance for countries on the frontline."
The scale of those goals highlights the immense task awaiting COP26 delegates, said Arya. "Keeping [the warming of] global average temperatures to 1.5 degrees C seems extremely challenging because of the monumental pace of reduction in carbon emissions required. This will be the major point of discussion at COP26: how to balance the developmental needs of emerging economies while reducing emissions." he said.
Stuart Lemmon, CEO Northern Europe at international climate consultancy and offsetting project developer, EcoAct, said that the "change in tone" in this report could help to spur necessary commitment and action. "Gone is the cautious language and hesitation around climate models and projections. The message is loud and clear, climate change is happening, and urgent action needs to be taken now in order to minimize its devastating effects," he said.
The G20 nations are responsible for about 80% of global GHG emissions, and so they have an extra responsibility, said Sharma.
As the largest economy in the world, the US can step up to be a leader, said Mitchell Bernard, president of Natural Resources Defense Council, if Congress "overcome[s] opposition from the fossil fuel industry and enablers … by passing President Biden's Build Back Better agenda, which weds an equitable recovery with climate action."
John Kerry, US special climate envoy, issued a statement: "The IPCC report underscores the overwhelming urgency of this moment. The world must come together before the ability to limit global warming to 1.5 degrees Celsius is out of reach."
--Contributions by Amena Saiyid of Net-Zero Business Daily.
{"items" : [ {"name":"share","enabled":true,"desc":"<strong>Share</strong>","mobdesc":"Share","options":[ {"name":"facebook","url":"https://www.facebook.com/sharer.php?u=http%3a%2f%2fcleanenergynews.ihsmarkit.com%2fresearch-analysis%2fsobering-ipcc-report-shows-need-for-immediate-widescale-climat.html","enabled":true},{"name":"twitter","url":"https://twitter.com/intent/tweet?url=http%3a%2f%2fcleanenergynews.ihsmarkit.com%2fresearch-analysis%2fsobering-ipcc-report-shows-need-for-immediate-widescale-climat.html&text=%e2%80%9cSobering%e2%80%9d+IPCC+report+shows+need+for+immediate%2c+widescale+climate+action+%7c+IHS+Markit+","enabled":true},{"name":"linkedin","url":"https://www.linkedin.com/sharing/share-offsite/?url=http%3a%2f%2fcleanenergynews.ihsmarkit.com%2fresearch-analysis%2fsobering-ipcc-report-shows-need-for-immediate-widescale-climat.html","enabled":true},{"name":"email","url":"?subject="Sobering" IPCC report shows need for immediate, widescale climate action | IHS Markit &body=http%3a%2f%2fcleanenergynews.ihsmarkit.com%2fresearch-analysis%2fsobering-ipcc-report-shows-need-for-immediate-widescale-climat.html","enabled":true},{"name":"whatsapp","url":"https://api.whatsapp.com/send?text=%e2%80%9cSobering%e2%80%9d+IPCC+report+shows+need+for+immediate%2c+widescale+climate+action+%7c+IHS+Markit+ http%3a%2f%2fcleanenergynews.ihsmarkit.com%2fresearch-analysis%2fsobering-ipcc-report-shows-need-for-immediate-widescale-climat.html","enabled":true}]}, {"name":"rtt","enabled":true,"mobdesc":"Top"} ]}