Customer Logins
Obtain the data you need to make the most informed decisions by accessing our extensive portfolio of information, analytics, and expertise. Sign in to the product or service center of your choice.
Customer Logins
Record-high prices forecast across global carbon markets, and still room for more

Carbon market players have hiked their price forecasts for the rest of the decade in the International Emissions Trading Association's (IETA's) annual survey while suggesting prices need to beat their expectations to avoid climate catastrophe.
The Geneva-based trading group, which partnered with the auditing firm PwC UK to survey market sentiment among its members over a 2-23 May period, said respondents are expecting higher carbon prices across the globe in the coming years.
On average, they forecast the cost of emission allowances will range between €32.37 ($34.18) per metric ton (mt) of CO2 and €99.63/mt CO2 in the emissions trading schemes (ETS) of China, New Zealand, South Korea, the EU, the UK, the US-based Regional Greenhouse Gas Initiative, and the Western Climate Initiative between California and Quebec in the 2022-2030 period.
In last year's survey, respondents expected a range of €12.49-€58.26/mt CO2 ($13.20-$61.56/mt CO2) between 2021 and 2030.
Global Emission Offsets, a futures contract for voluntary carbon credits, were included in this year's survey for the first time. Respondents expect its price to average €33.36 ($35.14)/mt CO2 from 2022 through 2025 and €45.98 ($48.58)/mt CO2 between 2026 and 2030. The contract is trading slightly above $4/mt CO2 this week.
The optimism comes as carbon prices in the main compliance and voluntary markets have been largely on an upwards trajectory in recent quarters, in parallel with the rising number of net-zero pledges from the public and private sectors.
"This year's survey reveals bullish sentiment for carbon pricing globally, as price expectations hit record highs across all emission trading schemes surveyed," Ian Milborrow, a sustainability partner at PwC, said in a 21 June statement accompanying the survey report.
"Carbon pricing initiatives—which already cover over one-fifth of global GHG emissions—represent a critical lever to deliver the emissions reductions required to keep warming to below 1.5 degrees Celsius," said Milborrow, referring to a government-mandated carbon pricing scheme in the form of a tax or ETS.
To avoid climate disasters, survey participants anticipate that the global average carbon price will need to reach €124.35/mtCO2 ($131.39/mt CO2) by 2030 and €200.50/mt CO2 ($211.86/mt CO2) by 2050 to incentivize sufficient decarbonization for the 1.5 degrees C goal to be met. Carbon prices of €97.38/mt CO2 ($102.90/mt CO2) by 2030 and €151.76/mt CO2 ($160.35/mt CO2) by 2050 are expected to be required to cap warming at 2 degrees C.
At the survey report's launch event earlier this week, consultancy Vivid Economics Engagement Manager Juan Carlos Arredondo called on companies to establish internal carbon pricing mechanisms that can reflect forecast rises in carbon prices.
"There is a signal for buyers and corporates in terms of what is the type of pricing that they should be considering for their own internal abatement decisions," Arredondo said.
Of the respondents to this year's survey, 29% set a carbon price below €20/mt CO2 ($21.30/mt CO2) and 19% have a price range of €40-€60/mt CO2 ($42.27-€63.40/mt CO2). Some 29% do not have an internal carbon price currently, but expect to implement one soon.
Regional differences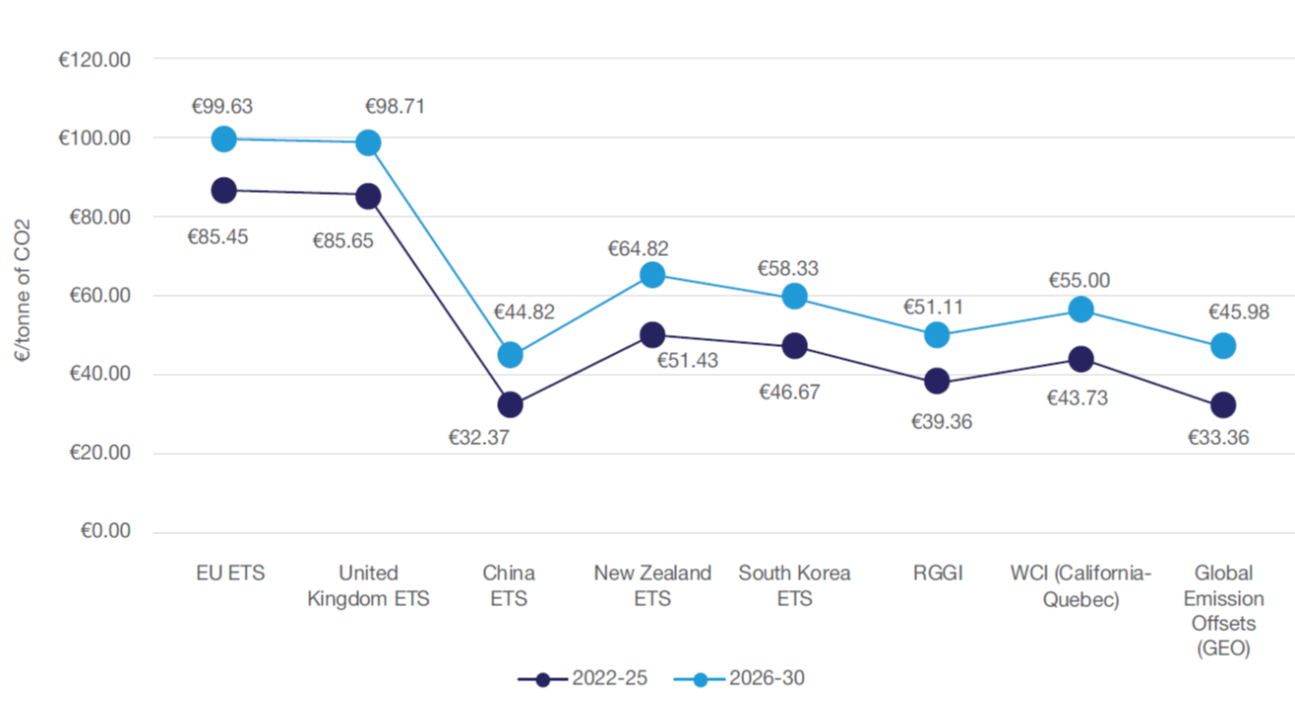 Source: IETA/PwC UK
While bullishness can be observed across the board, carbon prices in the EU and UK compliance markets are expected to remain the highest throughout the coming decade, while the Chinese and South Korean trading schemes could see the lowest prices among national markets.
Peter Zaman, a partner at law firm HFW, said at the event that regulators in the more developed markets like the EU—which set up its ETS in 2005—are more comfortable introducing decarbonization policies that would push up compliance costs.
In contrast, the Chinese and South Korea ETS markets—which were launched in recent years—are "really a long way behind in terms of their development, of their maturity," said Zaman, adding that regulators there will be more likely to limit compliance costs.
"They're basically saying, 'hey guys, this is an ETS. You've never done it before—let's not throw you in the deep end,'" he added.
In the EU ETS, the world's largest carbon market by liquidity, respondents expect European Union Allowance (EUA) prices to average €85.45/mt CO2 ($90.29/mt CO2) between 2022 and 2025 and €99.63/mt CO2 ($105.27/mt CO2) between 2026 and 2030.
EUA prices rose by 139% in 2021, according to Platts assessments. The EUA contract for December 2022 delivery was assessed by Platts at €81.85/mt CO2 ($86.49/mt CO2) on 22 June, still strong but down from an all-time high of €96.33/mt CO2e ($101.79/mt CO2) on 7 February.
Since Russia, the main supplier of fossil fuels to the EU, invaded Ukraine in late February, some market participants have liquidated their positions amid macroeconomic worries. But long-term market sentiment remains strong due to EU climate policies like Fit for 55 and the European Green Deal.
"Europe's market has shown that carbon markets can be resilient to energy price shocks," IETA CEO Dirk Forrister said in the statement. "The continued strength of the EU ETS throughout the Ukraine crisis demonstrates that climate ambition can be advanced in a way that reinforces energy security."
Of the survey participants, 38% expect the implementation of Fit for 55 will be the main market driver while 27% believe the driver will be EU efforts to reduce import dependency on Russia and to accelerate renewables deployment in response to the Ukraine war. A majority, or 54%, expect the EU to strengthen the Fit for 55 proposals due to energy security concerns.
On 22 June, the European Parliament voted for ETS reforms aimed at promoting emissions reduction, clearing the way for further talks with member states and the European Commission.
"The policy signals are strong. Europe is pushing ahead with its Green Deal ambition and the current discussions at EU level will result in the strengthening of the carbon market," said Coralie Laurencin, ENR Research and Analysis Director at S&P Global Commodity Insights. "Far from putting Fit for 55 at risk, Russia's withholding of gas deliveries is pushing Europe to accelerate on its decarbonization."
But Laurencin's team forecasts an average EUA price of €77/mt CO2 between 2022 and 2025, almost 10% lower than what survey participants expect.
"The market assumes that the ETS will be the main signal for abatement in industry as the cap is tightened and free allocation reduces. We take a different view," said Laurencin, adding that EU members may use Carbon Contracts for Differences, Important Projects of Common European Interest, or national grants to promote industrial decarbonization rather than limit EUA supply.
"Our expectation is that there will be sizable support available outside the ETS from governments and the EU," she told Net-Zero Business Daily.
Asian market developments
The expectations for China's national ETS, the world's largest carbon market by the amount of emissions covered, is relatively subdued after government officials highlighted data integrity issues earlier this year.
With some cases of negligence and fraud in emissions reporting brought to light, observers said Chinese authorities could want to solve the integrity issues before developing the trading scheme further.
Currently, China Emissions Allowances are allocated to Chinese power plants—the only sector covered by the ETS—for free. Each plant has an emissions quota calculated based on carbon intensity rules.
Of the survey participants, 52% expect Beijing to introduce an auction system no earlier than 2026 while 46% are not certain whether an absolute emission cap will replace the intensity-based cap in the future.
As to which sectors are likely to be covered by the ETS next, 36% of the respondents anticipate petrochemical firms will enter the scheme by 2024, 20% expect chemicals, and 17% paper producers.
In South Korea, the government opened up the national ETS to financial institutions and trading brokers last year for the first time to improve liquidity.
This year's survey results show 42% of the participants believe the policy has achieved its goal, down from 71% in last year's survey.
Maureen Lee, researcher at Seoul-based carbon project developer Ecoeye, said the new players entered the market at a time when macroeconomic worries persist.
"The impact is still too early to see at this moment … We have yet to see what role they'll play in the market," Lee said at the event.
Most survey participants do not expect any new government-mandated carbon pricing scheme to emerge in Asia-Pacific by 2023. However, 54% of those surveyed forecast that Japan will introduce one by 2026.
Japan's Ministry of Economy, Trade and Industry plans to launch a voluntary market called the GX League that is scheduled to enter full-scale operation from 1 April 2023. As of this April, 440 companies endorsed the initiative, including Tokyo Electric Power Company and Kawasaki Heavy Industries.
"It is exciting one to see how the market will be unfolding, considering the high participation rate of … Japan's leading utilities and large industry players," Lee said.
Diminished hope in the US
On the other hand, prospects are growing dim for a federal carbon pricing mechanism in the US despite support from the White House, the Business Roundtable, US Chamber of Commerce, and the American Petroleum Institute.
In this year's survey, 9% of the respondents expect the US Congress to agree to a carbon price by 2024 compared with 47% last year. Just over a third of respondents (34%) do not even expect Congress to consider implementing a carbon price at all.
"That is a negative message, really. If you think about leading by example, that is not happening from the US population," Zaman said. "We understand the way the US government is structured, but ultimately it's still a negative message for the rest of the world."
Elsewhere, Mexico—which began to operate a pilot ETS in 2020—could be next in line to launch a compliance market. Some 68% of the survey participants expect the country to have a full ETS by 2025, 55% anticipate Colombia to do so, 43% Chile, and 32% Brazil.
Respondents are less optimistic about developments in the Middle East. Slightly over half (53%) expect the United Arab Emirates to develop a carbon pricing mechanism by 2030, while 46% point to Saudi Arabia as doing the same.
The two countries, considered to be most likely in the region to have a carbon price, have both announced plans to develop carbon trading platforms in recent quarters.
Expansion of voluntary market
As for the voluntary market, trade value reached $1.4 billion in May after exceeding $1 billion for the first time last September, according to nonprofit Forest Trends' Ecosystem Marketplace. Other industry estimates also suggest rapid expansion.
Respondents have various views on the reasons behind the growing market size: 35% attribute it to more corporate net-zero pledges, 18% to the difficulty in cutting GHG emissions from corporate value chains, 18% to demand from some compliance regimes that accept carbon offsets like the Carbon Offsetting and Reduction Scheme for International Aviation, and 12% to increased speculative activity.
Looking ahead, 70% of them expect a wider price differential between offset credits generated from carbon reduction/avoidance projects, and carbon removal projects. And 52% plan to lean on nature-based removal credits in their future market operations, of which half will focus on reforestation projects, and half on natural climate solutions like improving soil quality and planting wetlands.
Despite a strong focus on nature-based solutions, which remain controversial among some environmentalists, 66% of the survey participants believe the market will be able to accommodate the growth needed to meet decarbonization pledges by 2030.
"I was surprised to see the sentiment that the supply side can keep up with that demand … if you think about the overwhelming demand for a single class," Zaman said. "I find it hard to believe that there will be enough supply if there really is that [much] demand."
For the next 12 months, 25% in the survey believe the quality of carbon credits will be the most important challenge for the voluntary market, 21% point to carbon accounting uncertainties, 16% to issues related to increased regulatory requirements and market standardization, and 14% to uncertainty around corporate climate claims like carbon neutrality.
Two industry groups aim to published common standards to address some of the issues by the end of this year. The Integrity Council for the Voluntary Carbon Market plans to set criteria for high-quality carbon offset projects, and Voluntary Carbon Markets Integrity Initiative wants to establish a sustainability guideline for buyers.
When asked whether the two new governance bodies can enhance market integrity, 36% are positive but 41% only state "maybe."
"A lot of the new initiatives sound great on paper. We need to make sure that they deliver in incremental improvement and build on that," project developer South Pole Head of Public Affairs Naomi Swickard said at the event.
---
This article was published by S&P Global Commodity Insights and not by S&P Global Ratings, which is a separately managed division of S&P Global.
{"items" : [ {"name":"share","enabled":true,"desc":"<strong>Share</strong>","mobdesc":"Share","options":[ {"name":"facebook","url":"https://www.facebook.com/sharer.php?u=http%3a%2f%2fcleanenergynews.ihsmarkit.com%2fresearch-analysis%2frecordhigh-price-forecasts-across-global-carbon-markets-and-st.html","enabled":true},{"name":"twitter","url":"https://twitter.com/intent/tweet?url=http%3a%2f%2fcleanenergynews.ihsmarkit.com%2fresearch-analysis%2frecordhigh-price-forecasts-across-global-carbon-markets-and-st.html&text=Record-high+prices+forecast+across+global+carbon+markets%2c+and+still+room+for+more+%7c+IHS+Markit+","enabled":true},{"name":"linkedin","url":"https://www.linkedin.com/sharing/share-offsite/?url=http%3a%2f%2fcleanenergynews.ihsmarkit.com%2fresearch-analysis%2frecordhigh-price-forecasts-across-global-carbon-markets-and-st.html","enabled":true},{"name":"email","url":"?subject=Record-high prices forecast across global carbon markets, and still room for more | IHS Markit &body=http%3a%2f%2fcleanenergynews.ihsmarkit.com%2fresearch-analysis%2frecordhigh-price-forecasts-across-global-carbon-markets-and-st.html","enabled":true},{"name":"whatsapp","url":"https://api.whatsapp.com/send?text=Record-high+prices+forecast+across+global+carbon+markets%2c+and+still+room+for+more+%7c+IHS+Markit+ http%3a%2f%2fcleanenergynews.ihsmarkit.com%2fresearch-analysis%2frecordhigh-price-forecasts-across-global-carbon-markets-and-st.html","enabled":true}]}, {"name":"rtt","enabled":true,"mobdesc":"Top"} ]}