Customer Logins
Obtain the data you need to make the most informed decisions by accessing our extensive portfolio of information, analytics, and expertise. Sign in to the product or service center of your choice.
Customer Logins
Q&A: Petronas' sustainability chief discusses net-zero projects for top LNG producer

Malaysia has raised climate commitments in recent quarters to help counter climate change, with state-owned energy firm Petronas set to become a major force behind the decarbonization drive.
Having aimed for lower GHG intensity by 2030 and established a target to reach carbon neutrality by 2050 at the earliest, Malaysia plans to unveil long-term, low-emissions development strategies by the end of this year, which could include a carbon pricing regime.
Aside from being a top LNG exporter, Petronas is tasked with overseeing the county's petroleum resources by law. It has announced several emissions targets and low-carbon initiatives that could underpin Malaysia's decarbonization blueprint.
In the Q&A, Petronas Chief Sustainability Officer Charlotte Wolff-Bye discusses the company's net-zero plans, renewables, hydrogen, carbon capture, and "carbon-neutral" LNG businesses.
Net-Zero Business Daily: What will Petronas do to achieve net-zero carbon emissions, and? how much investment is required to reach this goal?
Wolff-Bye: We announced our net-zero carbon emissions by 2050 aspiration in November 2020. Prior to this we had established a mid-term target to cap the emissions from our Malaysian operations and the energy we buy to run them, i.e., our Scope 1 and 2 emissions, to 49.5 million metric tonnes (mt) of CO2-equivalent by 2024. We also have a target to increase renewable energy capacity to 3,000 MW by 2024.
We are in the process of developing our net-zero pathway, aligned to and anchored on business context, national [policy] positions, international standards, and climate science. We want to bring greater detail and clarity to our path forward with the aim of setting milestones over and above the targets that we have already set.
Our approach will apply the principles of "Measure, Reduce and Remove," alongside a strong focus on technology, innovation, and partnerships to build a demonstrable strength in low-carbon energy solutions, serving our needs and those of others. In practice this means:
transparency around our emissions
building on our operational strength to further improve the energy efficiency of our operations and consider lower carbon or renewable electricity to power operational processes, where possible
developing carbon capture and storage (CCS) and use nature-based solutions to remove and offset remaining emissions
Petronas is positioning Malaysia as a leading CCS solutions hub in the region. We are taking deliberate steps to explore opportunities with industry partners for CCS technologies as well as CO2 storage solutions to decarbonize the country's upstream sector and provide storage solutions for the region.
Around 20% [of our] capex has been allocated for new ventures [for low-carbon] energy, hydrogen, specialty chemicals etc.
Net-Zero Business Daily: When will Petronas set a goal for GHG emissions reduction across the value chain (Scope 3)?
Wolff-Bye: Scope 1 and 2 emissions are directly associated with our operations or the energy we buy, therefore we will continue to focus our attention on reducing these emissions. We are in the process of developing a better understanding of the emissions stemming from the whole value chain of our products and services, including both supply chain and customer use.
While we do not have a target for Scope 3 emissions, we are taking strong, proactive steps to address such emissions. We have set ourselves the ambitious target of generating 30% of our revenues from non-oil and gas sources by 2030. We expect much of this new business development to constitute renewables and low-carbon solutions, including hydrogen and biofuels, that will displace or considerably reduce our customers' emissions.
To scale and speed up our clean energy solution business development, we have recently announced the intention of consolidating our activities for renewables, hydrogen, and green mobility within a dedicated business. We plan to engage closely with key suppliers to promote business development in support of reducing and removing emissions from the oil and gas value chain.
We are also considering what role Petronas should take with regards to nature-based solutions that will be an important building block in removing CO2 from the atmosphere whilst also conserving, restoring or better manage ecosystems.
Net-Zero Business Daily: Petronas aims to cap GHG emissions from its operations in Malaysia at 49.5 mt of CO2e by 2024. In 2020, the emissions stood at 44.2 million mt. Will the company pursue a more aggressive interim target?
Wolff-Bye: Our target to cap our emissions by 2024 means that our goal is for any production growth thereafter not to equate in growth in absolute emissions.
Right now, Petronas is working to [detail] the necessary efforts that are required to build a consolidated enterprise-wide approach in support of our net-zero carbon emissions by 2050 aspiration.
While the detailing of our plans is still being developed, we are taking deliberate steps towards accelerating and scaling up our emissions reduction efforts, by setting up a centralized carbon management unit that will focus on decarbonization across our integrated value chain.
Net-Zero Business Daily: Some LNG suppliers have labelled their cargoes as "carbon-neutral" by offsetting emissions with carbon credits. But environmentalists are saying this is greenwashing. What is Petronas' approach to this?
Wolff-Bye: In the LNG industry, carbon-neutral LNG is seen as a catalyst to spur greater carbon commitments, with a growing number of LNG consumers seeking ways to reduce their carbon footprint. The practice also drives demand for nature-based solutions that in turn creates broader environmental and climate-related benefits.
As an integrated energy business, Petronas actively seeks collaboration opportunities with buyers and end-users, and we have partnered with some of our long-term customers for deliveries of carbon-neutral LNG. The efforts demonstrate both parties' commitment in reducing carbon footprint.
The carbon credits used by Petronas to date are certified through a verification process under the Verified Carbon Standard program, which is globally recognized and adopted by several reputable companies.
To date, Petronas has completed deals for five carbon neutral LNG cargoes with long-term customers.
Net-Zero Business Daily: Methane emissions in Malaysia mostly come from gas operations. How will Petronas tackle this issue? Will the company set a specific reduction target for group-wide methane emissions?
Wolff-Bye: Methane emissions in Malaysia stem from several sources, of which the oil and gas value chain is one.
As we know from the scientific assessments reports by the Intergovernmental Panel on Climate Change, cutting methane emissions is critical to immediately slow the rate of global warming. Methane is a short-lived climate pollutant that has more than 80 times the global warming potential of CO2 over a 20-year period. This makes reducing methane emissions a critical priority also for the oil and gas sector.
We are currently undertaking efforts to understand our methane emissions better, including fugitive emissions. This will inform our target setting in the future, while we are already undertaking several initiatives to improve our performance.
Notwithstanding, we are proactively reducing methane emissions from our operations, as part of our broader and continuous greenhouse gas emission reduction efforts. We recently concluded eight projects that will reduce our annual emissions by an estimated 3.83 mt of CO2e. Main emission abatement opportunities are in reducing flaring and venting of gas.
As in most areas of climate action, collaboration is essential to scale up and accelerate delivery. In 2020, Petronas joined the multi-stakeholder initiative Methane Guiding Principles initiative, to benefit from detailed knowledge transfer on effective methane management. Signatories commit to improve emission performance of own operations and the gas supply chain, improve accuracy of methane data, advocate for sound methane policy and to increase transparency.
To create greater momentum and collaboration on methane emissions management in the oil and gas industry in Southeast Asia, Petronas launched the ASEAN Methane Roundtable series in October 2021.
In November 2021, Petronas endorsed the World Bank's Zero Routine Flaring by 2030 Initiative.
Net-Zero Business Daily: Petronas plans to increase installed renewable energy capacity to at least 3 GW by 2024, compared with 762 MW as of 30 June 2021. Which type of renewable assets, and which markets, will the company be targeting for the expansion?
How much of the capacity will be used to reduce emissions from Petronas' own operations?
Wolff-Bye: In 2019, Petronas acquired Amplus Energy Solutions Pte Ltd. Shortly after, we launched our flagship rooftop solar solution, known as M+. These solutions include on-site rooftop solar, off-site solar, battery storage, hybrid solutions and advanced analytics energy monitoring solutions.
To date, Petronas has grown its solar capacity under operation and development to over 1GW servicing over 200 customers through some 400 projects across 24 states of India and 12 projects across seven states of Malaysia.
In 2021, Petronas signed a Memorandum of Understanding (MOU) with Masdar of Abu Dhabi to seek joint opportunities for solar and wind projects in Asia.
Later this year we will bring even greater focus to our renewables development through the launch of our new clean energy solutions business that will also drive the development of hydrogen and green mobility solutions.
Beyond capacity growth, we see opportunities for potential integrations across the value chain which strategically fits Petronas' business holistically. These integrations include energy storage, electric vehicles and IoT [Internet of Things] services which complement renewable energy solutions.
Petronas deploys renewable energy installations that displace the need to import electricity into our operations which will help reduce our Scope 2 greenhouse gas emissions. In 2020, from 1,789 MWh energy generated, it provided a reduction of 1,179 mt of CO2e for Malaysia's operations.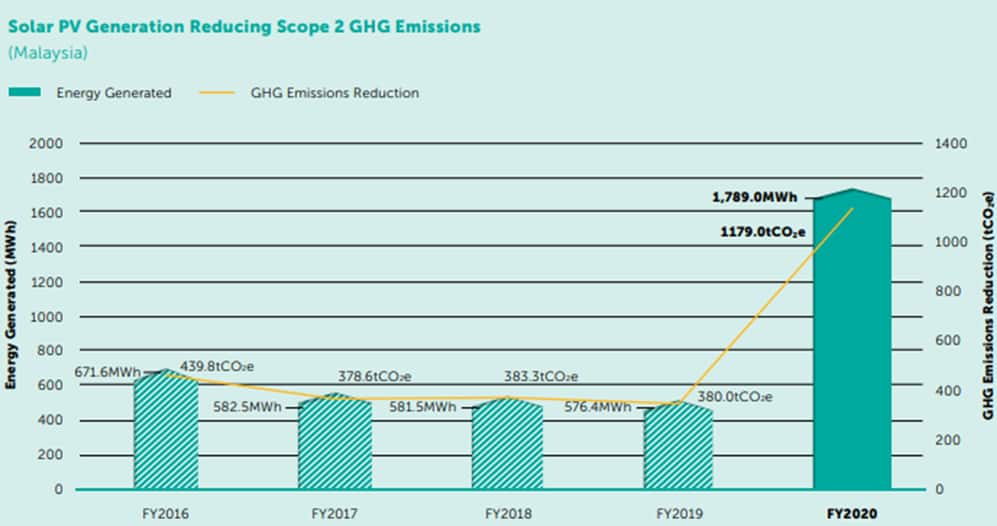 Source: Petronas Integrated Report and Financial Report 2020
Net-Zero Business Daily: How will Petronas develop its blue hydrogen (from gas reforming plus CCS) and green hydrogen (from renewable energy) business?
Wolff-Bye: Our venture into hydrogen builds upon our experience in extracting blue hydrogen from the gas facilities and experience as a world-renowned reliable LNG supplier. Our existing capabilities to manage natural gas resources and produce ammonia, chemicals and [blue] hydrogen enable us to export competitive hydrogen almost immediately.
In March 2020, Petronas signed an agreement with Japan Oil, Gas and Metals National Corporation and JX Nippon to study the use of CCS technology for the development of high-carbon-dioxide gas fields in Malaysia. The study will also evaluate the feasibility of developing a supply chain for [blue] hydrogen made from the gas produced from the high-CO2 fields.
We will develop green hydrogen projects in Malaysia through partnerships and our renewable energy business.
We are focusing our efforts on both domestic supply hubs and international low-cost hubs to supply hydrogen. This includes our gas resources in Canada and other cost-competitive renewable energy producing geographies, close to the demand centers.
Petronas continues to explore opportunities to venture in other parts of the hydrogen value chain.
Net-Zero Business Daily: What's the role of CCS in Petronas' long-term decarbonization pathway? Can you give an update on the Kasawari project?
Wolff-Bye: As mentioned previously, Petronas is positioning Malaysia as a leading CCS solutions hub in the region. We are taking deliberate steps to explore opportunities with industry partners for relevant technologies as well as CO2 storage solutions to decarbonize the country's upstream sector and provide storage solutions for the region.
We announced the establishment of a carbon management unit in March 2022, which will focus on accelerating our decarbonization efforts across the integrated value chain by managing what is likely to be a carbon storage portfolio for emissions produced from our operations.
We are carefully studying existing and planned CCS projects around the world, both from engineering and economic perspectives, as we are seeking to make CCS a viable opportunity in Malaysia and the ASEAN [Association of Southeast Asian Nations] region.
CCS presents the opportunity to reduce Petronas' own CO2 emissions, while we are also assessing the opportunity of making it a commercially viable business.
In 2021 we concluded MOUs to collaborate on carbon capture and storage with ExxonMobil and POSCO. We also have a joint study and collaboration agreement with Sarawak Shell Berhad.
We aim to have CCS for the Kasawari Phase 2 project on stream by end of 2025, with prospects for a second project in 2026. The Kasawari Phase 2 is estimated to have the capacity to store about 4 mt of CO2 per annum.
Net-Zero Business Daily: Petronas has teamed up with companies like POSCO and ExxonMobil to study carbon sequestration and storage technologies. How will the partnerships help the company?
Wolff-Bye: Research indicates that CCS is necessary for the world to reach net-zero carbon emissions. The International Energy Agency's Sustainable Development Scenario that describes a net-zero pathway for the energy sector to 2070 states the need to scale up CCS from current around 41 million mt to 5.6 billion mt of CO2 per year. While there are only 56 operational projects in the world today, there is a lot of learning that can be extracted from these projects, with the oldest industrial offshore project having been in operation since 1996.
Through partnerships with leading companies, we aim to adopt good practices and help us assess the overall carbon capture, utilization and storage (CCUS) strategy and readiness plan.
Leveraging technology advancement, CCS presents us with the potential to solve the technical challenge we have with high-CO2 assets and projects.
Much effort is going into techno-economic assessments, as well as upskilling capabilities to solve technical and engineering challenges for CCUS projects.
Developing CCUS is not only an engineering challenge. It is also dependent on conducive policy and regulation that will allow for the practice and make it economically viable. This is why it is also essential to engage stakeholders widely on what CCUS is, how it can be delivered and what is required for this new industrial practice to take shape.
In general, more cross-sectoral engagement needs to occur to shape and evolve carbon market infrastructure and low-carbon solutions like CCS. Here in Malaysia, there are many networks and platforms that can serve this purpose nationally and regionally.
---
This article was published by S&P Global Commodity Insights and not by S&P Global Ratings, which is a separately managed division of S&P Global.
RELATED INDUSTRIES & TOPICS
{"items" : [ {"name":"share","enabled":true,"desc":"<strong>Share</strong>","mobdesc":"Share","options":[ {"name":"facebook","url":"https://www.facebook.com/sharer.php?u=http%3a%2f%2fcleanenergynews.ihsmarkit.com%2fresearch-analysis%2fqa-petronas-sustainability-chief-discusses-netzero-projects-fo.html","enabled":true},{"name":"twitter","url":"https://twitter.com/intent/tweet?url=http%3a%2f%2fcleanenergynews.ihsmarkit.com%2fresearch-analysis%2fqa-petronas-sustainability-chief-discusses-netzero-projects-fo.html&text=Q%26A%3a+Petronas%e2%80%99+sustainability+chief+discusses+net-zero+projects+for+top+LNG+producer+%7c+IHS+Markit+","enabled":true},{"name":"linkedin","url":"https://www.linkedin.com/sharing/share-offsite/?url=http%3a%2f%2fcleanenergynews.ihsmarkit.com%2fresearch-analysis%2fqa-petronas-sustainability-chief-discusses-netzero-projects-fo.html","enabled":true},{"name":"email","url":"?subject=Q&A: Petronas' sustainability chief discusses net-zero projects for top LNG producer | IHS Markit &body=http%3a%2f%2fcleanenergynews.ihsmarkit.com%2fresearch-analysis%2fqa-petronas-sustainability-chief-discusses-netzero-projects-fo.html","enabled":true},{"name":"whatsapp","url":"https://api.whatsapp.com/send?text=Q%26A%3a+Petronas%e2%80%99+sustainability+chief+discusses+net-zero+projects+for+top+LNG+producer+%7c+IHS+Markit+ http%3a%2f%2fcleanenergynews.ihsmarkit.com%2fresearch-analysis%2fqa-petronas-sustainability-chief-discusses-netzero-projects-fo.html","enabled":true}]}, {"name":"rtt","enabled":true,"mobdesc":"Top"} ]}