Customer Logins
Obtain the data you need to make the most informed decisions by accessing our extensive portfolio of information, analytics, and expertise. Sign in to the product or service center of your choice.
Customer Logins
Possible peak seen for coal power in India's energy transition

India's rising power demand over the next two decades is driving its decision to continue to rely on a substantial amount of coal-fired power, but a new report suggests that the economics of renewable generation, plus the age of India's coal fleet, could have seen the tipping point reached for a slow, long-term decline for coal.
"Has coal-fired generation peaked in India?" is the provocative title of a report released by the UK-based renewables think tank Ember, in February. The answer: maybe.
India's coal-fired generation declined by 5% year on year in 2020, due to the COVID-19 pandemic, and it had declined in 2019 by 3% as well, mostly due to a struggling national economy. It is possible that new renewable resources—not coal—could capture that share of the market as demand rebounds in the next few years, said Ember.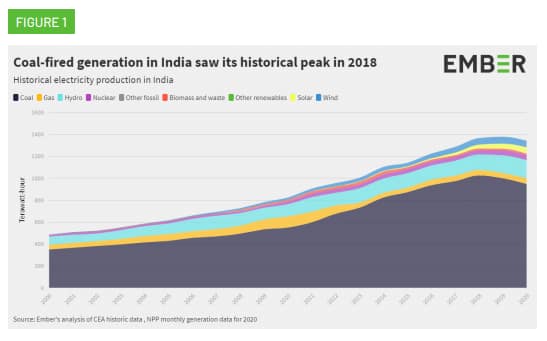 Source: Ember
Coal is quickly becoming uneconomical in India, Ember said. The coal plant load factor (actual power production as a share of capacity) fell to an all-time low of 53% in 2020. Additional renewable capacity will only put more financial pressure on older, less-efficient coal operations, Ember pointed out.
Ember's report follows the release of an energy supply and demand forecast for India by the International Energy Agency (IEA), which highlighted the outsized impact of India's energy needs and emissions profile on the global effort to reduce emissions.
India's energy demand will grow more than that of any other nation through 2040, the IEA said in its "India Energy Outlook 2021," as its population grows and its per-capita energy use rises closer to the global average — it is less than half the average currently.
"To meet growth in electricity demand over the next 20 years, India will need to add a power system the size of the European Union to what it has now," the IEA said.
The IEA emphasized that "India's energy choices matter. They have direct and far‐reaching effects on the lives of a growing population, and major effects on the rest of the world through their impact on energy markets, emissions, and flows of technology and capital."
Rising demand, rising emissions
In its report, the IEA produced three revised forecasts for India's energy mix through to 2040. Each is based on a predicted increase in power demand of 35% from 2019 through 2030. Like Ember, the IEA sees COVID-19 slowing the country's power demand, as its 2021 outlook revises growth to 2040 down from a prior 50% rise.
The Stated Policies Scenario (STEPS) has the lowest renewables penetration (see image). STEPS projects that India will produce nearly 60% of its power from renewables by 2040, mostly from solar photovoltaic facilities, compared with just 4% renewables in 2019. In that same time period, coal's share of the power mix will fall from 70% to 34%, and it becomes increasingly concentrated in meeting industrial needs for power, not residential demand.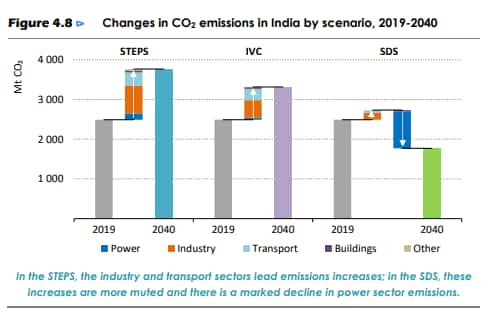 Source: International Energy Agency
Rising carbon emissions
Even if those shifts in energy mix are achieved, India's carbon dioxide (CO2) emissions would rise 50% in the next two decades, more than any other country's.
"The increase in India's emissions is enough to offset entirely the projected fall in emissions in Europe over the same period…. All roads to successful global clean energy transitions go via India," the IEA said.
India has not made a pledge to reduce its total greenhouse gas emissions, let alone to reach net zero, as have many of the top-emitting countries. But it did pledge under the Paris Agreement to reduce its emissions intensity (emissions per output of energy) by 40% from 2005 to 2030.
The core of the government's clean energy commitment is to reach installation of 175 GW of renewable power by 2022 and 450 GW by 2030. This would shift market dynamics considerably, given the near-zero cost of power generation from installed solar and wind facilities, compared with coal-fired power.
But the country is a long way from meeting those often-discussed targets. "The [Central Electricity Authority of India] installed capacity data for wind and solar shows that 2020 has been a bad year as wind and solar grew by only 1 GW and 3 GW, respectively. This means that India has two years to add 64 GW of new solar capacity (about three times its growth in the last three years combined) and 22 GW of new wind capacity (about two times its growth in the last three years combined)," Ember said.
Government action needed
Both the IEA and Ember said that for India to reach its energy transition goals, let alone surpass them, the government must take the lead. This starts with meeting the aforementioned targets for renewable power.
In addition, both organizations advise reforms that include removing barriers to land acquisition, integrating renewable power with the grid, and supporting small rooftop solar. The government also can incentivize the purchase of electric vehicles and improvements in energy efficiency in buildings.
To a significant degree, the country's leaders recognize the situation. India's latest budget for the fiscal year April 2021 through March 2022, released this month, offers more funding for solar installations and emphasizes that the nation's priority of self-sufficiency will be built on improving its energy balance (see related IHS Markit article here).
Ember said that the government also can move more aggressively on closures of coal-fired power. Under the 13th National Electricity Plan (NEP13), which runs through 2022, India committed to closing all coal-fired power plants 25 years and older by 2025. If the government follows through, that's about 46 GW of capacity that is on track to be shuttered. But by that time, an estimated 36 GW of new coal-fired power construction could be completed, according to NEP13, or a net reduction of only 10 GW. Ember suggested ramping up the commitment to close any plant over 20 years old by 2025 and not constructing new plants, arguing that it would be billions of dollars cheaper than installing flue gas desulfurization equipment to keep the plants open.
With more renewables, India will have to manage the intermittent nature of flows. "Battery storage is particularly well suited to the short-run flexibility that India needs … by 2040, India has 140 GW of battery capacity in the STEPS, the largest of any country, and close to 200 GW in the Sustainable Development Scenario," the IEA said.
On the demand side, rapid growth in ownership of air-conditioning units will not only create new demand, but will change when power is needed, the IEA said. "Electricity demand for cooling … increases six-fold by 2040, creating a major early evening peak in electricity use," it said.
The reports also highlight problems with contracts that have scared some investors. Cancellations and renegotiations of power purchase agreements (PPAs) by power distribution companies are a prime example. The distribution companies owe power generators an estimated $18 billion, according to a report by PFC Consulting, quoted by the IEA.
However, those distribution companies themselves face immense financial challenges that the government could try to alleviate, and so far reforms provided by the government to reduce their debt load, known as the UDAY Initiative, have not been sufficient. In the new budget, the country has allocated $42 billion over five years to relieve the pressure on power distributors and PPAs, Finance Minister Nirmala Sitharaman said in a speech.
In sum, many of the pieces of the puzzle for India are available, but they need to be configured more carefully. "India currently devotes nearly 3% of its GDP to energy investment and an increasing share of this investment is going into clean energy. This clearly represents an investment opportunity, but it is one that comes at a time of increased economic uncertainty and new risks," the IEA said.
"Under any energy pathway, India's energy system would require a significant amount of investment…. At nearly $160 billion, annual spending in STEPS reaches double the level of the past five years by 2030. Half of this growth comes from power, led by grids, renewables, and battery storage," the IEA said. But without "contract sanctity," obtaining foreign investment on the needed scale will be difficult.
RELATED INDUSTRIES & TOPICS
{"items" : [ {"name":"share","enabled":true,"desc":"<strong>Share</strong>","mobdesc":"Share","options":[ {"name":"facebook","url":"https://www.facebook.com/sharer.php?u=http%3a%2f%2fcleanenergynews.ihsmarkit.com%2fresearch-analysis%2fpossible-peak-seen-for-coal-power-in-indias-energy-transition.html","enabled":true},{"name":"twitter","url":"https://twitter.com/intent/tweet?url=http%3a%2f%2fcleanenergynews.ihsmarkit.com%2fresearch-analysis%2fpossible-peak-seen-for-coal-power-in-indias-energy-transition.html&text=Possible+peak+seen+for+coal+power+in+India%e2%80%99s+energy+transition+%7c+IHS+Markit+","enabled":true},{"name":"linkedin","url":"https://www.linkedin.com/sharing/share-offsite/?url=http%3a%2f%2fcleanenergynews.ihsmarkit.com%2fresearch-analysis%2fpossible-peak-seen-for-coal-power-in-indias-energy-transition.html","enabled":true},{"name":"email","url":"?subject=Possible peak seen for coal power in India's energy transition | IHS Markit &body=http%3a%2f%2fcleanenergynews.ihsmarkit.com%2fresearch-analysis%2fpossible-peak-seen-for-coal-power-in-indias-energy-transition.html","enabled":true},{"name":"whatsapp","url":"https://api.whatsapp.com/send?text=Possible+peak+seen+for+coal+power+in+India%e2%80%99s+energy+transition+%7c+IHS+Markit+ http%3a%2f%2fcleanenergynews.ihsmarkit.com%2fresearch-analysis%2fpossible-peak-seen-for-coal-power-in-indias-energy-transition.html","enabled":true}]}, {"name":"rtt","enabled":true,"mobdesc":"Top"} ]}