Customer Logins
Obtain the data you need to make the most informed decisions by accessing our extensive portfolio of information, analytics, and expertise. Sign in to the product or service center of your choice.
Customer Logins
Outages in Texas renew debate over reliability of power supplies in the US

A debate over supplying power reliably reignited after subzero temperatures and ice storms in the south central and Midwestern US states downed transmission lines, froze wind turbine blades and power plant equipment, resulting in rolling blackouts.
The US Federal Energy Regulatory Commission (FERC) and the North American Electric Reliability Corporation (NERC) announced 16 February they would open a joint inquiry into the operations of the bulk power system during the extreme weather conditions still testing Midwest and south central states. FERC's investigation is similar to the one it carried out a decade ago when Texas, New Mexico, and other south central states experienced subzero temperatures and massive power shutdowns.
The outages, which spread from Texas across the Great Plains, hit hardest in Texas. The grid operator, Electric Reliability Council of Texas (ERCOT), reported the transmission network was overwhelmed late 14 February by sudden demand for power that is mostly supplied by natural gas-fired power plants, and to a lesser extent by coal, nuclear, and wind facilities. This led ERCOT to initiate rolling blackouts beginning on 14 February, which evolved into system failures throughout the state the following day.
"Extreme weather conditions caused many generating units — across fuel types — to trip offline and become unavailable. There is now over 30,000 MW of generation forced off the system," ERCOT stated in a February 15 release.
Governor Greg Abbott, a Republican, called on the state legislature to investigate ERCOT and to ensure Texans never again experience power outages on the scale seen over the past several days.
"The Electric Reliability Council of Texas has been anything but reliable over the past 48 hours," Abbott declared 16 February.
Reliability debate revived
The outages revived the debate over the most reliable way to supply power, especially in Texas, where utilities have shifted toward wind generation, which critics bash as unreliable and intermittent.
Republican lawmakers used the crisis to take aim at President Joe Biden's quest to transition the US toward carbon-free electricity.
"I'm sure Joe Biden is nice and warm in the fossil fueled White House where he is killing American energy and leaving millions of Texans freezing to death," Representative Lauren Boebert, Republican-Colorado, tweeted 16 February.
However, analysts have been quick to dismiss such observations, citing data showing the Lone Star State's reliance on fossil fuel-fired generation.
Gas-fired power plants are responsible for 65.7% of the power supply in Texas, while coal-fired plants make up 15.9%, and nuclear generation supplies 6%. In contrast, wind contributes 9% of the power mix, according to ERCOT's winter fuels data.
ERCOT Senior Director Dan Woofin made the same point in a call with reporters on 16 February. "It appears that a lot of the generation that has gone offline today has been primarily due to issues on the natural gas system," he said, according to a pool reporting account.
This is the same conclusion FERC reached in August 2011 when Texas, New Mexico, and Arizona lost power to about 3 million customers between 2 and 4 February of that year because subzero temperatures resulted in a cumulative loss of about 29 GW of generation capacity.
According to FERC's decade-old report, the 2011 storm was not without precedent, with prior severe cold weather events in 1983, 1989, 2003, 2006, 2008, and 2010.
Moreover, FERC's investigation found that the majority of the problems experienced by power generators, which either tripped or failed to start, were either directly or indirectly related to the cold weather itself, not to the source of the energy though.
"For the Southwest as a whole, 67% of the generator failures (by MWh) were due directly to weather-related causes, including frozen sensing lines, frozen equipment, frozen water lines, frozen valves, blade icing, low temperature cutoff limits, and the like. At least, another 12% were indirectly attributable to the weather (occasioned by natural gas curtailments to gas-fired generators and difficulties in fuel switching)," FERC wrote at the time.
ERCOT overwhelmed
Princeton University Engineering Professor Jesse Jenkins said the outages were caused by a combination of factors. First, he cited record winter demand of more than 69 GW, some 3 GW more than the most extreme peak load scenario ERCOT envisioned, and second, the magnitude of the outages was more than double the grid operator's worst expectations, he said.
ERCOT's 2020/2021 Winter Adequacy Resource Assessment estimated about 13 GW of planned outages as a worst-case scenario. As of 16 February, at least 31 GW of power remained offline in Texas.
And while a visible symbol might be a wind turbine that wasn't moving, Jenkins said that appearances can be deceiving. "Those of you who have heard that frozen wind turbines are responsible for this, think again. The extreme demand and the thermal power plant outages are the principle cause," Jenkins tweeted 16 February.
The US Energy Information Administration's own data (see graphic below) shows the contribution of each energy source in ERCOT as well as the decline in generation between 12 and 16 February.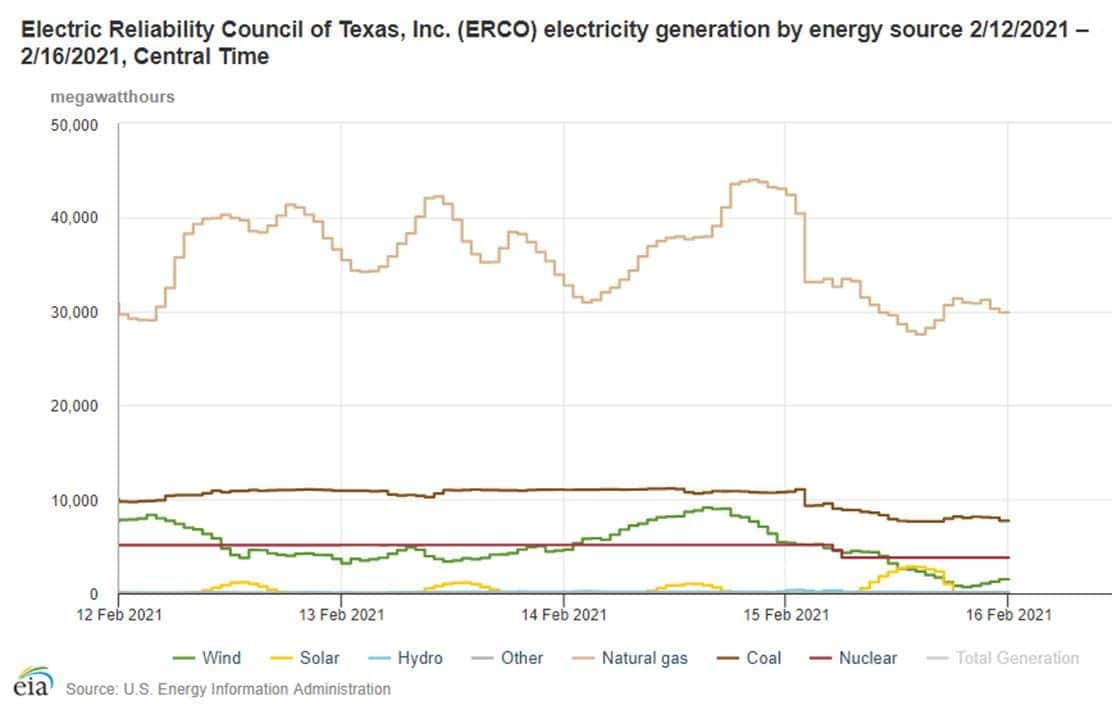 Although ERCOT said early on 17 February that utilities had restored power to about 600,000 homes, the agency said Texas wasn't out of the woods yet, with freezing conditions causing frozen wind turbines and limited gas supply for generating units. It estimated that 2.7 million homes were still without power.
Both advocates and opponents of renewable energy seized on this latest round of blackouts to weigh in on the power supply debate.
The Wall Street Journal's Editorial Board blamed the outages on "a perfect storm of bad government policies, timing and weather."
Coal and nuclear are the most reliable sources of power, but competition from heavily subsidized wind power and inexpensive gas have caused coal's share of Texas' electricity to plunge, according to the Editorial Board.
However, the American Clean Power Association, a nonprofit trade association that advocates for renewable energy, was quick to point out that Texas is a warm-weather state experiencing once-in-a-generation cold-weather.
"Most of the power that went offline was gas, coal, or oil. It is an extreme weather problem, not a clean power problem," Heather Zichal, the association's chief executive officer said 16 February.
"If anything, it shows why we need to be investing in building out more renewable energy sources with better transmission and storage to replace outdated systems," she added.
Fellow trade group The American Council on Renewable Energy urged Congress to pass an infrastructure initiative aimed at upgrading the "outdated grid that's incapable of handling an increasing number of climate-driven extreme weather events."
Soaring gas demand, prices
The American Gas Association (AGA) reported that 151.7 billion cubic feet (Bcf) of gas was delivered in the US on February 14, 2021 and 149.8 Bcf delivered on February 15, posting the second highest delivery day ever and a record for the largest demand for a two-day period.
The previous two-day record was set on January 30 and January 31, 2019 when 155 Bcf and 141 Bcf was delivered or exported, according to the AGA.
The surge in demand for gas led to cash market prices "that soared into the stratosphere," wrote Alan Lammey, IHS Markit gas markets analyst. OPIS spot prices for the Houston Ship Channel averaged $156.00/MMBtu for weekend flow dates.
Several other key gas price-point/hubs throughout the region were trading 16 February in the $100s/MMBtu in a region that is known for often having some of the US' least costly gas, and Oneok-OK averaged $373.00/MMBtu.
Nationally, prices also surged, though not by anywhere the same extent as stressed local markets. The NYMEX Henry Hub front-month contract closed on 16 February at $3.108/MMBtu, up from $2.912/MMBtu on 12 February, or a gain of 6.7%.
Real-time power prices were hovering close to $4,000 per megawatt hour across Texas as of 4:10 pm CST on 16 February because of high demand, according to ERCOT.
--With contributions from Kevin Adler, Keiron Greenhalgh.
RELATED INDUSTRIES & TOPICS
{"items" : [ {"name":"share","enabled":true,"desc":"<strong>Share</strong>","mobdesc":"Share","options":[ {"name":"facebook","url":"https://www.facebook.com/sharer.php?u=http%3a%2f%2fcleanenergynews.ihsmarkit.com%2fresearch-analysis%2foutages-in-texas-renew-debate-over-reliability-of-power-suppli.html","enabled":true},{"name":"twitter","url":"https://twitter.com/intent/tweet?url=http%3a%2f%2fcleanenergynews.ihsmarkit.com%2fresearch-analysis%2foutages-in-texas-renew-debate-over-reliability-of-power-suppli.html&text=Outages+in+Texas+renew+debate+over+reliability+of+power+supplies+in+the+US+%7c+IHS+Markit+","enabled":true},{"name":"linkedin","url":"https://www.linkedin.com/sharing/share-offsite/?url=http%3a%2f%2fcleanenergynews.ihsmarkit.com%2fresearch-analysis%2foutages-in-texas-renew-debate-over-reliability-of-power-suppli.html","enabled":true},{"name":"email","url":"?subject=Outages in Texas renew debate over reliability of power supplies in the US | IHS Markit &body=http%3a%2f%2fcleanenergynews.ihsmarkit.com%2fresearch-analysis%2foutages-in-texas-renew-debate-over-reliability-of-power-suppli.html","enabled":true},{"name":"whatsapp","url":"https://api.whatsapp.com/send?text=Outages+in+Texas+renew+debate+over+reliability+of+power+supplies+in+the+US+%7c+IHS+Markit+ http%3a%2f%2fcleanenergynews.ihsmarkit.com%2fresearch-analysis%2foutages-in-texas-renew-debate-over-reliability-of-power-suppli.html","enabled":true}]}, {"name":"rtt","enabled":true,"mobdesc":"Top"} ]}