Customer Logins
Obtain the data you need to make the most informed decisions by accessing our extensive portfolio of information, analytics, and expertise. Sign in to the product or service center of your choice.
Customer Logins
Offshore wind gets two shots in the arm from California in a week

Offshore wind development in California received not one, but two, shots in the arm this week as efforts to kickstart the sector on the US West Coast and provide support for states' renewable generation targets ramped up.
On 25 May, the federal US government designated two areas off the state's Pacific coast for development after overcoming long-standing Department of Defense (DOD) objections. The designation sets the areas on the path to a lease auction by mid-2022, according to the Department of the Interior (Interior).
Two days later, on 27 May, a bill that would set state offshore wind capacity targets and arrange a procurement program passed the lower chamber of the state legislature. The bill, AB 525, won overwhelming support in a 71-1 Assembly vote. Lead sponsor Assemblyman David Chiu said he expects the state Senate to take up the bill in the next couple of months.
California's waters are deeper than those on the US East Coast—until now the hub of the nascent American offshore wind sector—so the moves are a significant boost for floating wind advocates as well as overall US ambitions.
Floating wind accounts for 60% of US offshore wind potential, Department of Energy Principal Deputy Secretary for Energy Efficiency and Renewable Energy Kelly Speakes-Backman told an industry conference 26 May, so the importance of the nascent technology for reaching the Biden-Harris administration's 30 GW by 2030 target, which was announced 29 March, but especially the 110 GW of offshore wind by 2050 goal, cannot be overstressed.
California call areas
The 25 May announcement would open up the Pacific Coast to its first commercial scale offshore wind projects, according to the White House. Interior and DOD unveiled the Morro Bay call area—the proposed segment of the ocean selected for leasing for offshore wind development—and the Humboldt call area.
Interior said the Morro Bay area, off the coast of central California, could be the site of up to a combined 3 GW of capacity. The Humboldt area off the coast of northern California contains the potential for another 1.6 GW of capacity. Combined, the two would provide the electricity for 1.6 million homes, the White House said.
Interior's Bureau of Ocean Energy Management (BOEM) will hold an Intergovernmental Renewable Energy Task Force meeting on 24 June to discuss the two areas. After that, the wind energy areas can be finalized and undergo environmental analysis.
The significance of the announcement, BOEM Director Amanda Lefton said 26 May during a panel at the conference, was that it involved California and DOD, as well as Interior. Such an all-of-government approach will be critical moving forward, she added.
"Tackling the climate crisis is a national security imperative, and [DOD] is proud to have played a role in this important effort," Colin Kahl, undersecretary of defense for policy, said in the White House statement, adding that DOD is "committed to working across the US government to find solutions that support renewable energy in a manner compatible with essential military operations."
The Pentagon dropped long-standing concerns about offshore wind farms in the state interfering with military exercises and testing. In March 2020, DOD said offshore wind farms would interfere with naval activities across a large expanse of California waters. Areas cleared at that time by the Pentagon were seen by developers as too small and fragmented for cost-effective projects.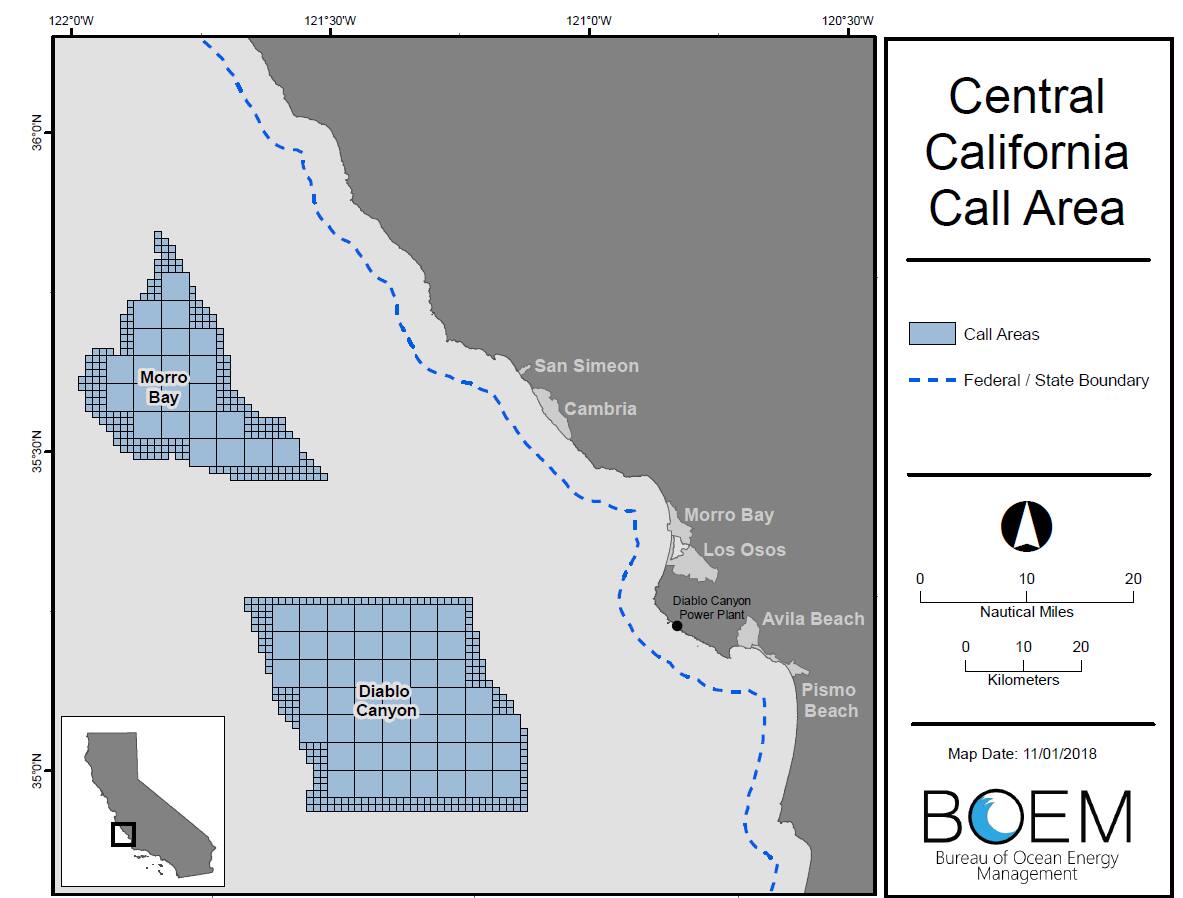 California Governor Gavin Newsom is proposing a $20 million state budget allocation to support interagency planning, environmental review, and port upgrades to complement the federal endeavors.
"Developing offshore wind to produce clean, renewable energy could be a game changer to achieving California's clean energy goals and addressing climate change-all while bolstering the economy and creating new jobs," said Newsom in the White House statement.
The announcement also received a hearty welcome from clean energy advocates and environmental campaigners.
The development will help deliver power to California communities that are increasingly demanding clean energy to power their homes and businesses, said Heather Zichal, American Clean Power Association CEO. It is, she said, an opportunity to achieve the sustainability and climate goals of coastal states and to provide certainty for the offshore wind industry while revolutionizing US supply chains.
"Offshore wind can provide clean energy to millions of Californians while helping to combat climate change and could be a key component in reaching the state meet its zero-carbon goals by 2045," said Sandy Aylesworth, senior oceans advocate, Natural Resources Defense Council.
AB 525
The California legislature upped the ante as the week went on, as Chui revealed plans to introduce AB 525 on the Assembly floor later in the day while taking part in a 27 May session of the online conference and then departing the session early to do so.
AB 525 would mandate that energy regulators establish offshore wind targets for 2030 and 2045. It would also require the California Public Utilities Commission, the California Energy Commission (CEC), and the California Independent Systems Operator to draft plans for the procurement of offshore wind power. A similar bill is under consideration in Oregon, calling for up to 3 GW of offshore wind by 2030.
Before departing for the legislative business, Chiu said that if you had asked him six months ago whether California would be at this point, he doesn't believe that would have been the case, with all the parties aligned.
Michael Olsen, senior director, business development at offshore wind giant and floating wind pioneer Equinor, concurred, saying there had been an alignment of the stars, with California's offshore wind prospects "now more real than ever," including floating wind, and "we're not talking about science-fiction."
Offshore wind in California is one of the world's great untapped renewable resources, Chiu said, and his goal is to "put California on the map" in the sector.
It was a map that was first laid out when BOEM held its first competitive offshore wind lease sale in 2013. The wind area was located off the coast of Rhode Island and Massachusetts, BOEM Renewable Energy Program Manager James Bennett said 26 May.
That lease sale led to the development of what is still the US' only operational wind farm in 2021, the 30-MW Block Island facility—or about the same size as the pilot projects California will see initially, IHS Markit Senior Research Analyst Samantha Bobo said.
In the Morro Bay area, those will be floating wind facilities, she said. The Humboldt Bay area could see fixed-bottom installations, she added. Humboldt Bay is significantly further north than the Morro Bay or Diablo Canyon call areas, and the further north the better the wind speed, Bobo said.
Is 30 MW to 30 GW enough?
A figure of 30 MW is 0.001% of the 30-GW target set by the Biden administration. But critics say that target, even given where the US is right now in 2021, might not be ambitious enough, even though analysts don't expect the goal will be met on time.
Initially though, the US government needs to expand the lease areas available in order to get to 30 GW by 2030, said Lefton, adding that BOEM is working on reducing the uncertainty of permitting. That said, to meet the 30 GW goal, there's a need to think about the road to 2050, Lefton noted.
As a result, the federal government is looking at opportunities for leases in the waters of the Gulf of Maine, New York Bight, California, off the US Gulf Coast, and in Hawaiian waters, Lefton said.
IHS Markit currently expects US offshore wind capacity to reach 30 GW in 2033, according to Vice President, Analysis and Research, Xizhou Zhou.
Among the potential problems in reaching the 30 GW by 2030 goal are the complexity of regulatory approval, the lack of a dedicated supply chain, the Jones Act restrictions on vessels, and concentrated local demand, he said.
While noting the challenges, Zhou pointed out areas of potential growth in the next few years. New Jersey is expected to issue four more tenders for projects, he said.
Zhou said he is "relatively optimistic" about the future of offshore wind in the US. The existing targets proposed by states along the US Atlantic Coast tot up to more than 33 GW, outpacing the Biden-Harris administration target, he said.
Those existing targets may not be enough to meet renewable generation goals, said Theodore Paradise, senior vice president transmission strategy at transmission and renewable generation developer Anbaric. The 33 GW of combined state-led targets is a down payment on what may be needed, he said. Massachusetts could end up building as much as 40 GW of offshore wind capacity to get to its renewable generation goal, said Paradise. Currently, Massachusetts has a 5.4 GW target.
Back in California, a 10 GW by 2040 target is an ambitious goal, and is on the right path as a starting point, but given the SB 100 requirements for 100% renewable power sourcing by 2045, it is not ambitious enough, as well as being a fraction of the 112 GW of the state's technical potential, Mainstream Renewable Power Vice President, US Offshore Wind Paula Major said. The US' ambitions are quite conservative compared with Europe, or even the UK, which has a goal of 40 GW on its own, she said.
"We really need to be starting with the default project size of 1 GW. You know, it takes the same amount of time to permit a 100-MW project for both the regulatory side and the developer ... so, you know, I think we don't need to do the small stuff and we need to be planning and thinking and making sure that our supply chain is ready and that we're planning ahead for large-scale development," said Major.
Shying away from offshore wind because it isn't as cheap currently as onshore wind or photovoltaic solar isn't an option because the US needs every resource possible to get to the 2035 power decarbonization target, Speakes-Backman said during a 26 May session at the Reuters conference.
In addition, some 40% of the US population lives in coastal areas, National Oceanic and Atmospheric Administration Acting Administrator Nicole LeBoeuf told the same session, making growth of offshore wind generation vital to long-term prosperity and economic recovery from the COVID-19 pandemic in such areas.
Transmission questions
How all that power from offshore wind facilities gets to customers in the coastal areas and beyond is vexing a substantial number of industry minds, especially if there are outages.
Observers say Morro Bay's position at the front of the queue in California is aided by the strong onshore transmission options. The Diablo Canyon nuclear plant in San Luis Obispo County, California, is set to retire in 2025, and the existing infrastructure in place at the site will offer a cheap central coast onshore connection to the bulk transmission grid.
How the offshore transmission picture works out is unclear. But California has the time to look at a radial system or an interconnected mesh, said Major, and things worked out in parallel with the permitting process' progress.
"I think the grid should be planned at a national level, and certainly a state, or a regional level, and one thing that the US and California can do is embrace [high-voltage direct current (HVDC) transmission]. It's a simple shortcut. It's taken years to get where we are right now with the technology, and really only in the last several months has HVDC been embraced," she said.
Typically, utility-scale facilities are run on alternating current, although there are onshore DC links in California and elsewhere in the US. HVDC systems are able to transfer power over long distances more efficiently and with superior stability, say observers. The barrier is the additional cost.
Industry participants on US East Coast are also pondering the mesh and HVDC quandaries, too.
Grid operator PJM Interconnection—which is working with the state of New Jersey on a plan to make things simpler for the power from multiple wind farms to come ashore— has seen an "explosion" of its interconnection queue, more than tripling the size of the queue, said Aaron Berner, transmission planning manager. New Jersey has an offshore wind generation target of more than 7 GW.
New Jersey has two post-pandemic priorities, said New Jersey Economic Development Authority CEO Tim Sullivan. The first is the recovery of Main Street, especially businesses owned by people of color; the second is offshore wind, he said. The creation of an offshore wind sector, he added, is "a once in a generation opportunity."
Developers, power authorities, and regulators in the US have a chance to get it right from the start and take advantage of the lessons learned elsewhere in the world, according to at least one observer.
"Even where you have infinite coast— it's all coast in the UK— and they started with radials and now they're saying that doesn't work, that's not a great approach," Anbaric's Paradise said. In the UK, a plan to move to a "networked planned shared system" is projected to save £6 billion and reduce equipment by 70%, Paradise said.
Studies have shown New York would need 50% less cabling with a mesh system as well as a substantial reduction in curtailments, several hundreds of millions of dollars of savings overall, and billions of dollars of avoided onshore grid upgrades, he added.
The biggest benefits of a mesh or interconnected system come when there is a problem, which typically occur when demand is highest and meteorological factors at their harshest. The problems with transmission are multiplied exponentially for offshore wind, Paradise said.
"I think the current average repair time for a subsea fault [on a transmission line] is over 100 days. So, if you have an issue, you're going to lose 1.2 GW not for a few hours or a few days or for a few weeks, but for three months, and so if you're retiring [capacity] or you're transitioning to the grid of the future you've got to think about, you know, do we want to build out a system where you have a spaghetti of cables, and each one of those is a three-month outage if something happens on the cables?" said Paradise.
{"items" : [ {"name":"share","enabled":true,"desc":"<strong>Share</strong>","mobdesc":"Share","options":[ {"name":"facebook","url":"https://www.facebook.com/sharer.php?u=http%3a%2f%2fcleanenergynews.ihsmarkit.com%2fresearch-analysis%2foffshore-wind-gets-two-shots-in-the-arm-from-california-in-a-w.html","enabled":true},{"name":"twitter","url":"https://twitter.com/intent/tweet?url=http%3a%2f%2fcleanenergynews.ihsmarkit.com%2fresearch-analysis%2foffshore-wind-gets-two-shots-in-the-arm-from-california-in-a-w.html&text=Offshore+wind+gets+two+shots+in+the+arm+from+California+in+a+week+%7c+IHS+Markit+","enabled":true},{"name":"linkedin","url":"https://www.linkedin.com/sharing/share-offsite/?url=http%3a%2f%2fcleanenergynews.ihsmarkit.com%2fresearch-analysis%2foffshore-wind-gets-two-shots-in-the-arm-from-california-in-a-w.html","enabled":true},{"name":"email","url":"?subject=Offshore wind gets two shots in the arm from California in a week | IHS Markit &body=http%3a%2f%2fcleanenergynews.ihsmarkit.com%2fresearch-analysis%2foffshore-wind-gets-two-shots-in-the-arm-from-california-in-a-w.html","enabled":true},{"name":"whatsapp","url":"https://api.whatsapp.com/send?text=Offshore+wind+gets+two+shots+in+the+arm+from+California+in+a+week+%7c+IHS+Markit+ http%3a%2f%2fcleanenergynews.ihsmarkit.com%2fresearch-analysis%2foffshore-wind-gets-two-shots-in-the-arm-from-california-in-a-w.html","enabled":true}]}, {"name":"rtt","enabled":true,"mobdesc":"Top"} ]}