Customer Logins
Obtain the data you need to make the most informed decisions by accessing our extensive portfolio of information, analytics, and expertise. Sign in to the product or service center of your choice.
Customer Logins
Nigeria's Osinbajo seeks gas transition funds even as G7 eyes exit

Developed nations should do more to afford African countries the same right they allow themselves in including natural gas-fired generation and gas-powered vehicles in decarbonization strategies, according to a senior Nigerian leader.
Speaking at the Columbia Global Energy Summit on 18 May, Vice President Oluyemi Osinbajo said the ambitions of developing countries are being thwarted by Western nations hobbling energy-poor countries' ability to find backing for gas-fired power plants and gas-powered vehicle schemes that could bolster electrification rates, reduce petroleum product use and imports, and slow global warming.
A couple of days later the UK announced an agreement among members of the G7 group of industrialized nations to phase out government funding for fossil fuel projects internationally, but provided no timeline for when that would happen. And on the same day Osinbajo was speaking, the International Energy Agency called for a steep ramping down of the use of gas in its net-zero roadmap.
However, countries such as the US, China, and Japan include gas as major pillars for their multi-decade decarbonization strategies, including actively developing African gas in countries like Mozambique, Ghana, Senegal, and Nigeria for export to Asia and Europe. At the same time, they limit financing for African gas projects that would benefit the citizens and countries of the continent themselves, Osinbajo told the conference.
"I think it's really fundamental to anything that would resemble a just transition, especially in developing countries, and gas-rich countries in particular. I think we need to accept that … gas really is possibly the most sensible transition fuel that we can find," he said.
"And clearly, [the] notion that gas is an acceptable transition fuel is one that appears to be acceptable to several countries … So, it is a bit strange to find, those same countries may argue that the domestic use of gas resources in developing countries should be defunded," Osinbajo added.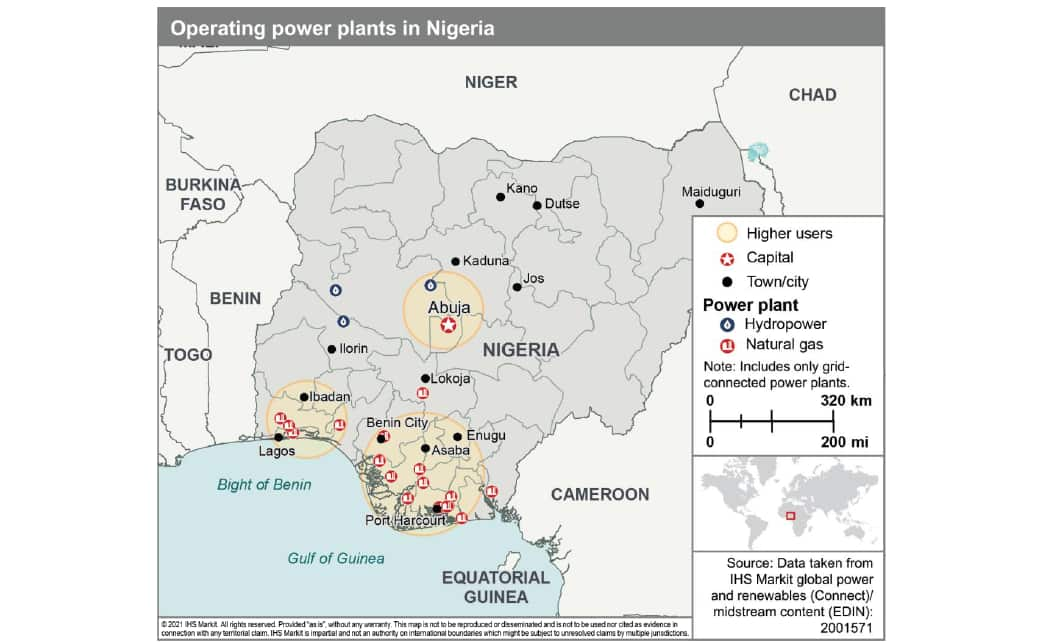 Basic needs
The policy of leaving no-one behind — a Paris Agreement goal — must translate into action involving mobilizing public and private capital that flows into countries that need it the most, Osinbajo said.
"What is often not sufficiently considered in thinking through transition to net-zero emissions is the critical role that energy, in our case gas, plays in catalyzing economic development and supporting people's health and livelihoods, especially in poorer countries," he said.
Meeting the goals of the Paris Agreement isn't just about emissions mitigation, but should enable those who are fuel poor to improve their lives by obtaining access to electricity that isn't created by burning petroleum products and food without cutting down forests and inhaling emissions from burning firewood indoors, said Osinbajo.
Osinbajo's demands came as part of an effort to take his message to a wider audience in the financial and business world during a conversation with IHS Global Vice Chairman Daniel Yergin, after bringing the topic before African heads of government in April as well as a one-on-one meeting with UK COP26 President-Designate Alok Sharma.
G7 stepping back
The latest call to arms came mere days before the UK government, with Sharma to the fore in his role as front man for COP26's hosts, trumpeted the G7 agreement to phase out government funding for fossil fuel projects internationally, following on from a UK-only commitment in December.
The first step will see G7 countries end all new financing for coal power by the end of 2021, the UK government said, matched by increased support for renewable generation technologies such as solar and wind. There will though be some discretion for financing of fossil fuel-fired generation when alternatives are not available and the plans mesh with decarbonization plans, according to the agreement communique.
"We are acting abroad as we're doing at home by agreeing to phase out international fossil fuel finance, starting with coal — another key milestone in this crucial year for climate action. I look forward to continuing this work as we make progress ahead of COP26 in Glasgow later this year and keep 1.5 degrees [Celsius] within reach," Sharma said in a statement accompanying the announcement.
UK government wants to encourage financing of clean generation projects in the developing world.
In remarks at the Petersberg Climate Dialogue on 7 May, Sharma said: "Developed countries must make good on their promise to provide $100 billion [a year] in climate finance [for developing nations] per year. Both governments and international financial institutions must play their part — and we must keep the promises that have been made and deliver on that. But we also need to work towards unleashing the trillions of dollars in private finance required to secure global net zero."
Sharma's more senior colleague, Dominic Raab, the UK foreign secretary, put it more starkly a little over a month earlier, touting explicitly for the funds that haven't emerged since 2015's Paris Agreement promise of $100 billion a year.
"Donor countries must consider what it is like to walk in the feet of communities in developing countries, who are on the front line of climate change. I've visited some of these communities. Their homes, livelihoods, their very lives are at risk. And we have to remember that these communities and countries have contributed least to climate change," he told the CO26 Climate and Development Ministerial 2021 on 31 March. "And we must ensure that no one and no issue is left behind in Glasgow."
Where that leaves Osinbajo's call for backing for gas is not exactly clear, and neither the UK Department for International Development — which handles the British government's aid operations — nor Minister for Africa James Duddridge responded to IHS Markit requests for comment.
Multilateral funding
Osinbajo argues that not only are Western governments not providing any backing for fossil fuel generation projects, but they are also putting pressure on others not to do so, including multilateral agencies such as the World Bank and African Development Bank.
The World Bank Group has not financed a new coal-fired power plant since 2010 and has no active coal-fired power generation in its pipeline, according to its website. In addition, it halted financing of upstream oil and gas in 2019, although exceptions can be made "where there is a clear benefit in terms of energy access for the poor and the project fits within the countries' Paris Agreement commitments," it said.
Electricity access in West Africa is among the costliest in the world, at 25 cents/kWh, more than twice the global average, according to the World Bank.
World Bank representatives were not able to provide a response to Osinbajo's comments.
Meantime, the African Development Bank and the European Bank for Reconstruction and Development (EBRD) on 17 May signed a memorandum of understanding to promote sustainable private sector development in Africa. Under the partnership, the two multilateral agencies will focus on climate change, green and resilient infrastructure, and capital markets development, they said. The ADB and the EBRD signed a $114-million financing package in April for the construction of the largest private solar plant in Egypt. But a spokeswoman said the EBRD was involved in no projects in Nigeria, didn't have an agreement to invest there, and couldn't comment any further on Osinbajo's remarks.
And the ADB seems to be more focused on clean energy projects. ADB President Akinwumi Adesina said 23 April that the recovery from the COVID-19 pandemic offered major opportunities to transform energy production. "Recovery must be green and build climate resilience. Recovery must boost green investments," Adesina said in a keynote address at an investment forum, while also noting Africa had the world's greatest solar generation potential.
"We do intend to power the entire African Sahel via solar," Adesina said, adding that an initiative was underway to build 10 GW of solar generation, the "Desert to Power" program in partnership with the Green Climate Fund and Africa 50 investment fund, which it is hoped will meet the electricity needs of 250 million people, including 160 million via national grids.
But solar photovoltaic facilities face somewhat trying prospects in Nigeria, with the scale required unattainable, according to IHS Markit Principal Research Manager Silvia Macri and Senior Analyst Vignesh Sundaram.
In addition, the geopolitical risk is substantial for solar projects, Macri said in a telephone interview. Not only that, but the transmission links from both north to south and to major load centers in general need improvement, Sundaram said during the interview.
Flaring
What Nigeria has is plenty of gas to meet its future needs. However, currently and historically, much of that goes to waste.
Satellite data from 2020 show Nigeria remained in the top seven gas-flaring countries for the ninth year in a row, according to the World Bank's Global Gas Flaring Reduction Partnership (GGFR). The satellite that tracks this data was not launched until 2012. Nigeria ranks seventh behind Russia, Iraq, Iran, the US, Algeria, and Venezuela. The seven countries produce 40% of the world's oil, but account for 65% of global gas flaring, according to the GGFR.
The Nigerian government wants to change that and use the resources it has — as holder of the largest gas reserves in Africa and ninth-largest globally — by building more power plants and putting the commodity to work in fueling the vehicles its 201 million people use. Nigeria is the world's seventh-most populous country, according to the UN.
A shift from gasoline and diesel to natural gas is the economically sensible transition pathway, Osinbajo told the CGES, as well as being the bridge to utility-scale renewable energy.
"Even amidst this transition, the financing of gas projects — including the use of LPG and CNG for cooking and transport — is constrained, then it will suddenly set back the progress planned and may lock our financially constrained nations into higher-carbon infrastructure," he said.
Most Sub-Saharan countries' conversion from gas to renewable energy for electricity generation is hampered by weak or limited grid systems, he said, adding that this means there are considerable difficulties in integrating intermittent energy sources above 15%.
Nigeria needs to expand transmission capacity by investing in lines at the 330-kV level and at the sub-transmission or 132/33 kV level to successfully dispatch power from generation companies to load centers, according to a Nigerian power and renewables country profile released earlier this year by Macri and Sundaram.
In 2020, Nigeria's total installed capacity was about 37 GW, with 12 GW of grid-connected capacity, according to the research. IHS Markit estimates about 25 GW of supply is dedicated to self-generation, owing to the lack of grid accessibility and reliability.
Raising the amount of grid-connected capacity is part of Nigerian President Muhammadu Buhari's Presidential Power Initiative, which involves putting Siemens to work to revamp the grid and generation sectors. In July 2020, Siemens got the green light to begin the pre-engineering phase of plans to expand generation capacity to 25 GW.
Energy consumption in developing countries has doubled in the last 15 years, and is expected to grow another 30% in the next 15 years, so making capital available to meeting this demand is central to meeting Paris Agreement goals, Osinbajo said.
A million cars by end of 2021
The Nigerian government launched a gas expansion program and National Autogas Roll-out Initiative in December 2020, focusing on utilizing more LPG, CNG, and LNG for transportation, cooking, and heating.
Minister of State and Petroleum Resources Timipre Sylva said during the launch that the development and greater availability of "autogas as an alternative fuel will afford Nigerians a cheaper, cleaner and eco-friendly option, with lesser impact on vehicles."
The Nigerian government expects about 1 million cars to be converted to autogas before the end of 2021. Alongside improving the environment, converting from gasoline or diesel to autogas would also help Nigeria's balance of payments, as nearly all its refined products are imported due to routine and unexpected downtime at the country's four refineries.
The refineries are not the only ailing energy infrastructure in Nigeria. Many of the country's existing gas-fired power plants are regularly offline either due to maintenance or because of supply constraints.
As recently as 26 April, 12 gas-fired power plants with a combined 1.61 GW of installed capacity were offline as a result of gas constraints, according to local media. As a result, the total unutilized electricity generation capacity in the country stood at 2.242 GW at the time.
Nigeria has 28 grid-connected generation plants in operation, IHS Markit data show. Of the 28 plants, 25 are gas-fired and three are hydroelectric power plants, according to Macri and Sundaram's research.
As of December 2020, Nigeria's total transmission wheeling capacity is about 7.3 GW. But IHS Markit estimates that, due to transmission bottlenecks the actual wheeling capacity is 5.4 GW, compared with the available installed capacity of 7.6 GW.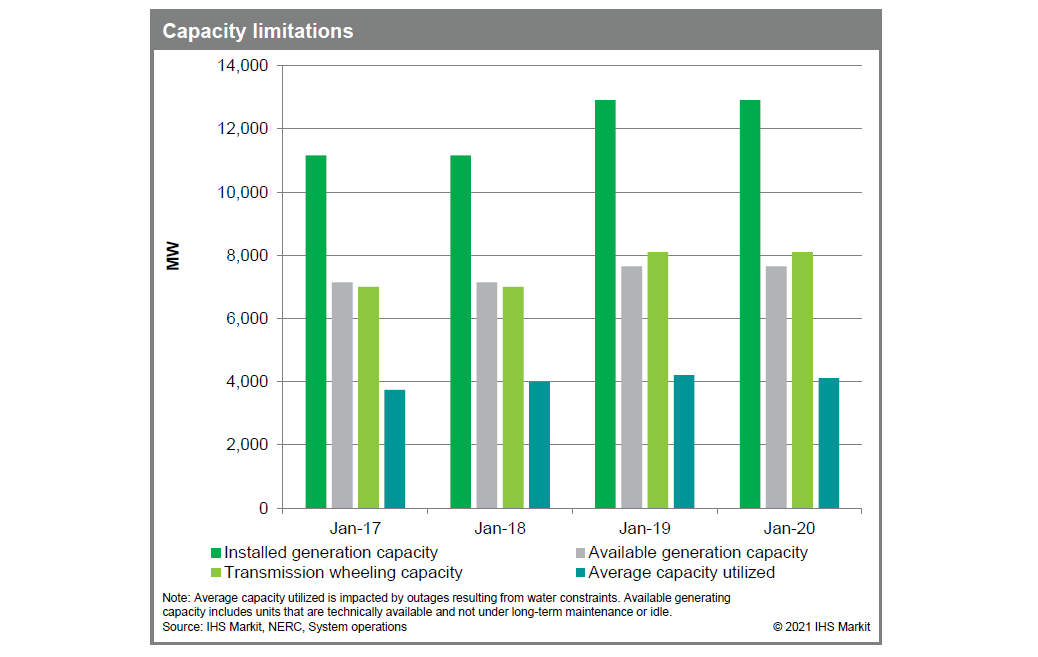 Nigeria's total power demand stood at 58 TWh in 2020, equating to 283 kWh per capita. In comparison, overall sub-Saharan Africa power demand per capita was above 400 kWh, highlighting the level of suppressed and latent demand resulting from supply challenges and low electrification.
Some Western backing for changing that equation does arrive from time to time though. For example, the US Trade and Development Agency in February 2020 awarded a grant to state-owned NNPC Gas and Power Investment Company for technical, economic, and financial analysis for developing a 1.35-GW combined cycle, gas-fired power plant in Abuja. The US is continuing to honor its existing fossil fuel investments despite President Joe Biden's climate finance proposal.
But Osinbajo isn't alone in saying more is needed. On 11 May, the African Energy Chamber (AEC), a trade association, called on US companies and investors to counter what it said were "the often-wrong preconceptions about investing in the continent."
The AEC believes there are African opportunities beckoning American companies across the gas, gas-to-power, and rare earth elements sectors, it said.
AEC's African Coalition for Trade and Investment in Natural Gas unit expects a 55% jump in Sub-Saharan African grid-connected gas-to-power generation by 2025 on the back of greenfield and brownfield projects and the conversation of coal and diesel power plants to gas in Senegal and South Africa.
West Africa is the region expected to see the biggest gas-to-power capacity additions by 2025, it said, with at least 750 MW set to come online in Senegal, 643 MW in Côte d'Ivoire, 450 MW in Nigeria, 200 MW in Ghana, 150 MW in Benin, and 65 MW in Togo.
{"items" : [ {"name":"share","enabled":true,"desc":"<strong>Share</strong>","mobdesc":"Share","options":[ {"name":"facebook","url":"https://www.facebook.com/sharer.php?u=http%3a%2f%2fcleanenergynews.ihsmarkit.com%2fresearch-analysis%2fnigerias-osinbajo-seeks-gas-transition-funds-even-as-g7-eyes-e.html","enabled":true},{"name":"twitter","url":"https://twitter.com/intent/tweet?url=http%3a%2f%2fcleanenergynews.ihsmarkit.com%2fresearch-analysis%2fnigerias-osinbajo-seeks-gas-transition-funds-even-as-g7-eyes-e.html&text=Nigeria%e2%80%99s+Osinbajo+seeks+gas+transition+funds+even+as+G7+eyes+exit+%7c+IHS+Markit+","enabled":true},{"name":"linkedin","url":"https://www.linkedin.com/sharing/share-offsite/?url=http%3a%2f%2fcleanenergynews.ihsmarkit.com%2fresearch-analysis%2fnigerias-osinbajo-seeks-gas-transition-funds-even-as-g7-eyes-e.html","enabled":true},{"name":"email","url":"?subject=Nigeria's Osinbajo seeks gas transition funds even as G7 eyes exit | IHS Markit &body=http%3a%2f%2fcleanenergynews.ihsmarkit.com%2fresearch-analysis%2fnigerias-osinbajo-seeks-gas-transition-funds-even-as-g7-eyes-e.html","enabled":true},{"name":"whatsapp","url":"https://api.whatsapp.com/send?text=Nigeria%e2%80%99s+Osinbajo+seeks+gas+transition+funds+even+as+G7+eyes+exit+%7c+IHS+Markit+ http%3a%2f%2fcleanenergynews.ihsmarkit.com%2fresearch-analysis%2fnigerias-osinbajo-seeks-gas-transition-funds-even-as-g7-eyes-e.html","enabled":true}]}, {"name":"rtt","enabled":true,"mobdesc":"Top"} ]}