Customer Logins
Obtain the data you need to make the most informed decisions by accessing our extensive portfolio of information, analytics, and expertise. Sign in to the product or service center of your choice.
Customer Logins
Net-zero pledges by US utilities spotlight different timelines, benchmarks

US electric power companies are expressing increasing confidence that they can eliminate 70% to 80% of their carbon emissions by 2030, but say a technology gap will have to be bridged for them to reach full carbon neutrality by 2050.
Data compiled by IHS Markit has identified more than 20 utilities and independent power producers with major US operations have made carbon reduction and net-zero promises (see table at end of article). Together, the utilities represent approximately 51% of US power sector CO2 emissions in 2019.
The earliest pledges made by the companies date back to 2015-2016, and the most recent commitments and updates were made in April and May 2021 during first-quarter corporate earnings calls.
"In the last three years you've seen more utilities making these types of announcements, and companies that had previously announced easier goals are ratcheting up their ambitions," said Mark Griffith, IHS Markit senior research director, North America Energy Strategy.
By now, almost every US utility has made commitments, and many are now on their second iteration, said Emily Fisher, general counsel for Edison Electric Institute (EEI), the trade group for US investor-owned utilities. "The last time we calculated, more than 90% of the generation owned by our members is covered by a forward commitment on emissions, in some form," she told IHS Markit.
Griffith attributes the recent upgrades in commitments to two factors. "First, there are higher expectations from Wall Street, state regulatory commissions, and customers; utilities are responding to their business environment," he said. "Second, it's getting easier to do. Renewable energy's all-in costs have gone down in the last few years. So, building more grid-scale solar and more wind plants has become less of a cost burden to utilities."
Public policy has been influential as well, said Fisher. "Some states have had clean energy standards in place for a long time, and this has helped lead to the precipitous decline in the cost of some renewable energy technologies … and investment in them," she said.
Targets
The most recent announcement from a US utility of a new climate goal came on 6 May from Tennessee Valley Authority (TVA), which said it's aiming for net-zero carbon emissions by 2050. TVA says it has the sixth-largest generation capacity in the US at 35 GW, centered in Tennessee and serving adjoining states.
Once one of the largest coal plant operators in the US, TVA's plan would require closing all of its coal units but maintaining a natural gas-fired fleet to meet its customers' needs. "We can get to our 2035 goal of 80% carbon reduction with technology that exists," Jim Hodges, public information officer, told IHS Markit. "But net zero is an aspirational goal, and we need technological advances in carbon capture and storage, energy storage, and advanced nuclear power to make that happen."
Companies with the most accelerated plans include Avista, which has pledged net-zero carbon by 2027, and Eversource Energy, which has pledged net zero by 2030. For both companies, the path is comparatively simple, Griffith explained, due to the nature of their emissions compared with those of others in the power sector. Eversource's New England operations are in power distribution company, not generation, so its GHG emissions come from its truck fleet and other activities that are relatively easy to decarbonize. Avista, which serves customers in Idaho, Oregon, and western Washington, already has substantial hydro, biomass, wind, and solar resources.
But for most operators, the path is more difficult, thus leading to the typical 2050 commitment.
Some utilities with a 2050 deadline are further on their way than others. For example, Xcel Energy says it had reduced its carbon emissions by 51% from its 2005 baseline by the end of 2020, and it is investing in projects that will enable it to reach an 80% goal for 2030. But just like TVA, Xcel said full carbon neutrality as it serves customers in the upper Midwest, Colorado, New Mexico, and Texas is another proposition altogether. "Reducing the remaining 20% of carbon emissions to deliver 100% carbon-free electricity by 2050 will require technologies not yet commercially available," it said.
FirstEnergy, which operates in Ohio, Pennsylvania, and West Virginia, also is ahead of schedule. It said that through November 2020 it had reduced CO2e emissions approximately 80% from 2005 levels through retirements of coal-fired units, selling fossil fuel generation, and implementing technology such as scrubbers on coal units.
Southern Company said that in 2020, its GHG emissions were 52% below 2007 levels — in other words, the company met its 2030 interim target a decade early. Serving customers in Alabama, Georgia, Mississippi, Tennessee, and Virginia, as well as Illinois through Nicor Gas, it issued a statement that underlines the importance of vigilance in maintaining emissions reductions. "While emissions reductions may fluctuate around 50% the next few years depending on demand, weather and other factors, the system expects to sustainably achieve 50% reduction or greater by 2025, if not sooner," it said.
The last 10% or 20%
IHS Markit released an assessment of the carbon reduction goals of the largest power sector emitters in the US in January, and it also identified a gap of about 20% to reach full net zero.
The analysis, authored by Griffith, forecast the decline in power sector emissions from 2005 will be about 57% by 2030 and 78% by 2050 (in the baseline "Planning Case"). Griffith added that he believes the true gap could be lower, in the range of 5-10%, depending on technological advances.
"No pathway to carbon neutrality is particularly cheap, and that's why you see the commitments conditioned on the cost being reasonable and technology being available," Griffith said. "It's more a matter of cost and political will than absolute technology evolution."
If carbon emissions from purchased and burned natural gas can be removed through carbon capture, that's one option, but the technology is costly and not readily available. Otherwise, utilities can go all-renewable with a combination of wind, solar, and battery storage—but that's an expensive proposition as well.
"The evolution of technology is never linear; it's hard to predict," said EEI's Fisher.
Similarities and differences
A deeper look at the commitments from the largest US utilities shows agreement on some measures of progress, but some divergence as well.
For example, most companies identified CO2 reduction as their goal, though four operators (Dominion, Eversource, National Grid, and Southern Company) said that total GHG emissions are their target.
The operators diverge on which sources of carbon or GHGs they are pledging to reduce. Some companies are promising to limit only their direct emissions from their own operations or units in which they have a controlling share, known as Scope 1. Yet, other companies also are promising to decarbonize the emissions of purchased electricity, heat, and steam (Scope 2).
The Energy Policy Institute (EPI) analyzed corporate net-zero commitments, and it says CMS Energy Group, NRG, PSEG, WEC, and Xcel incorporate Scope 2 into their goals. EPI said Ameren, American Electric Power, Dominion, DTE, Duke, Entergy, Evergy, FirstEnergy, Oklahoma Gas & Electric (OG&E), PPL, Southern Company, and TVA "have not stated clearly" that they are including Scope 2 purchases of electricity, heat, and steam in their commitments.
None to date have promised net zero for the full supply chain and their corporate investments (Scope 3), according to EPI.
The utilities differ also on the baseline year from which they are counting their interim target. National Grid looked back to 1990, though most utilities selected 2000 or 2005. (Keep in mind 2005 is the baseline that the US is using for its nationally determined contribution under the Paris Agreement for its new target of total economy reductions of 50-52% by 2030.)
The levels of reductions sought by the interim year vary as well. For those companies that identified a mid-term goal in 2030, the most common rate of reduction is 50%, though a few companies such as American Electric Power (70%), CMS Energy (80%), and Evergy (70%) picked higher goals.
Talk vs. action
Utilities' net-zero commitments are being accompanied with more frequent and comprehensive disclosure about their emissions, as they enhance their overall environmental, social, and governance practices.
In those disclosures, many of the companies point out that they are on track for their interim goals, but EPI said that this misses the bigger picture of President Joe Biden's stated goal for all US power production to be net zero by 2035. "Beyond NIPSCO, Xcel, WEC, and Consumers Energy in Michigan, all other utilities that EPI assessed are intending to decarbonize at a pace that is less than half of what would be required to meet the incoming Biden administration's goal," it said in a report in December 2020.
Without commenting directly on Biden's 2035 net-zero goal, Fisher said EEI has been working with Congress and the administration to accelerate power sector carbon reductions. EEI has identified five priority technologies for which it's seeking research, development, and deployment support: hydrogen, carbon capture and storage, advanced nuclear, advanced renewables, and battery storage.
Just as critically, it's seeking help from the administration, Congress, and the states to streamline permitting of power transmission lines. "The challenges for transmission are underappreciated," Fisher said. "As we build more renewable capacity, we need more transmission lines. It makes the system more affordable and increases reliability."
Today, it takes, on average seven to 10 years to build a new transmission line, from conception to completion, she said.
Biden's 2035 goal is not backed up at the moment with legislative mandates nor specific incentives to support the transition, but Griffith said that having a formal federal net-zero policy in place would change the landscape significantly from the current situation of mostly voluntary (and therefore nonbinding) promises.
"If I was running a utility or a big energy consumer that's made a net-zero commitment -- like Amazon or Facebook -- I'd be interested in a national policy," Griffith said. "That's certainly the next step. It would be legally binding and really set the national direction and, hopefully, level the playing field by holding all companies to the same standards. That would be a different environment."
Below is a table that summarizes the key aspects of each utility's pledge.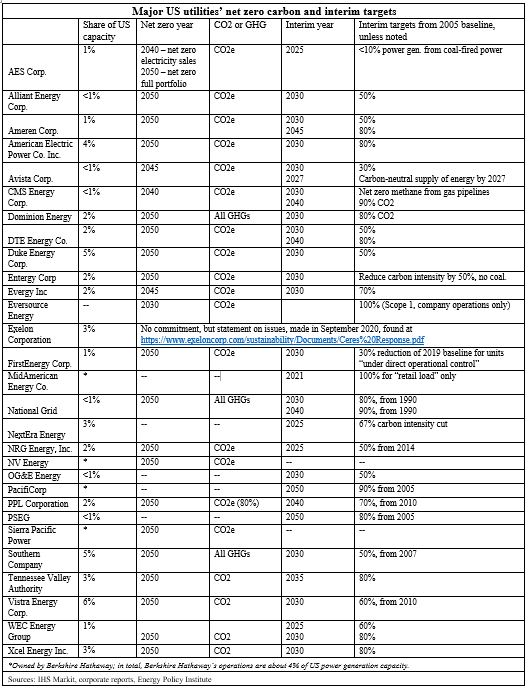 {"items" : [ {"name":"share","enabled":true,"desc":"<strong>Share</strong>","mobdesc":"Share","options":[ {"name":"facebook","url":"https://www.facebook.com/sharer.php?u=http%3a%2f%2fcleanenergynews.ihsmarkit.com%2fresearch-analysis%2fnetzero-pledges-by-us-utilities-spotlight-different-timelines-.html","enabled":true},{"name":"twitter","url":"https://twitter.com/intent/tweet?url=http%3a%2f%2fcleanenergynews.ihsmarkit.com%2fresearch-analysis%2fnetzero-pledges-by-us-utilities-spotlight-different-timelines-.html&text=Net-zero+pledges+by+US+utilities+spotlight+different+timelines%2c+benchmarks+%7c+IHS+Markit+","enabled":true},{"name":"linkedin","url":"https://www.linkedin.com/sharing/share-offsite/?url=http%3a%2f%2fcleanenergynews.ihsmarkit.com%2fresearch-analysis%2fnetzero-pledges-by-us-utilities-spotlight-different-timelines-.html","enabled":true},{"name":"email","url":"?subject=Net-zero pledges by US utilities spotlight different timelines, benchmarks | IHS Markit &body=http%3a%2f%2fcleanenergynews.ihsmarkit.com%2fresearch-analysis%2fnetzero-pledges-by-us-utilities-spotlight-different-timelines-.html","enabled":true},{"name":"whatsapp","url":"https://api.whatsapp.com/send?text=Net-zero+pledges+by+US+utilities+spotlight+different+timelines%2c+benchmarks+%7c+IHS+Markit+ http%3a%2f%2fcleanenergynews.ihsmarkit.com%2fresearch-analysis%2fnetzero-pledges-by-us-utilities-spotlight-different-timelines-.html","enabled":true}]}, {"name":"rtt","enabled":true,"mobdesc":"Top"} ]}