Customer Logins
Obtain the data you need to make the most informed decisions by accessing our extensive portfolio of information, analytics, and expertise. Sign in to the product or service center of your choice.
Customer Logins
Global renewable capacity growth at record in 2021 and will accelerate through 2026: IEA

Global installations of new renewable power will set a record in 2021 of about 290 GW, compared with the 2020's record of about 280 GW, but the pace of deployments won't be enough to meet a global net-zero carbon goal by 2050, according to the latest report from the International Energy Agency (IEA).
The Renewables Market Report said growth will accelerate to average 305 GW per year for 2021 through 2026. By the end of 2026, global renewables capacity will reach 4,800 GW, or 60% greater than at end-2020. Renewables will represent about 95% of the new power capacity installed worldwide from now through 2026.
At that point, renewable generation worldwide of just over 5,000 GW will be equivalent to the current total power capacity of fossil fuels and nuclear energy combined, IEA said.
The sobering news, however, is that IEA calculates that installations would have to be about 550 GW annually, or 80% higher than its projections to keep the world on track for 2030 interim goals and the 2050 Net-Zero Scenario it laid out earlier this year.
To further accelerate renewable capacity, IEA said that "permitting and grid integration hurdles, social acceptance, inconsistent policy approaches, and insufficient remuneration must be addressed." High financing cost in the developing world also is a major obstacle, it said.
It also noted an uneven commitment to renewables, with 10 nations accounting for almost 80% of the projected growth in renewables.
Storm clouds
With national economies investing to recover from the COVID-19 pandemic, IEA said this created both opportunities and challenges for the renewables industry. On the positive side, IEA said governments around the world have announced new spending of about $42 billion towards renewables: electricity, heat, biofuels, and biogas. The agency said additional spending and public policies could spur major private investment as well.
On the negative side, renewables project developers today are being harmed because prices of key commodities have increased markedly. This will persist through 2022 before tapering off, IEA said.
High prices are found for critical minerals such as lithium, but also more general industrial materials, such as steel, as well as the silicon needed for computer chips to run equipment. "Since the beginning of 2020, prices for PV-grade polysilicon more than quadrupled, steel has increased by 50%, aluminum by 80%, copper by 60%, and freight fees have risen six-fold," IEA said.
For an industry that's pushed into the energy forefront in part due to cost competitiveness, this is a potential impediment. "We have calculated that if the com­modity prices remain high in the next few months… the cost declines we have registered in renewable energy may be wiped out," IEA President Fatih Birol said at a press conference on 1 December.
On top of that, many countries have imposed tariffs and anti-dumping measures on imports, further raising costs:
US. Tariffs on PV modules imported from China (18-30%); and possible new duties on wind equipment from India, Malaysia, and Spain
EU. Tariffs and anti-dumping duties on PV-rated glass and on steel wind towers imported from China (3%-17.5%)
India. Duty on all imported solar modules (40%) and cells (25%)
Canada: Anti dumping tariff on PV modules and laminates from China (varies per manufacturer)
Australia: Tariff on wind towers from China (varies per manufacturer)
Due to these factors, IEA estimates that installed cost of a solar PV or wind facility has increased by as much as 25% in some countries this year. One way to look at the impact is that the increased costs would require an additional $100 billion investment in order to add the same amount of capacity if it had been installed at 2020's prices.
"Equipment manufacturers, installers and developers are absorbing cost increases in different ways, with some sectors being more heavily affected than others," the agency said, adding that smaller companies are more exposed because of their more limited finances.
On the other hand, oil and natural gas prices have risen even faster this year, which makes renewable power more competitive, said Birol. This helps account for IEA's projection that solar PV installations in 2021 will set a record of almost 160 GW. For the five years beginning in 2021, IEA says 1,100 GW of new solar PV will be installed, which will account for 60% of all global renewable energy additions.
"In a significant majority of countries worldwide, utility-scale solar PV is the least costly option for adding new electricity capacity, especially amid rising natural gas and coal prices," it said.
Offshore wind capacity is starting to come into its own, and IEA expects global capacity to reach 21 GW by 2026, compared to about 6 GW today. That more than tripling of capacity is much faster than the growth anticipated for offshore wind, which is expected to add about 75 GW per year, or about 10% annually.
Regional outlook
China will lead the way over the next four years, as IEA projects that its combined solar and wind capacity will hit 1,200 GW by 2026. This is four years earlier than the country's own announced target. By 2026, China will have 43% of the world's installed renewable power, or about 2,150 GW out of 5,000 GW globally. The US will be a distance second at 12%, or 600 GW.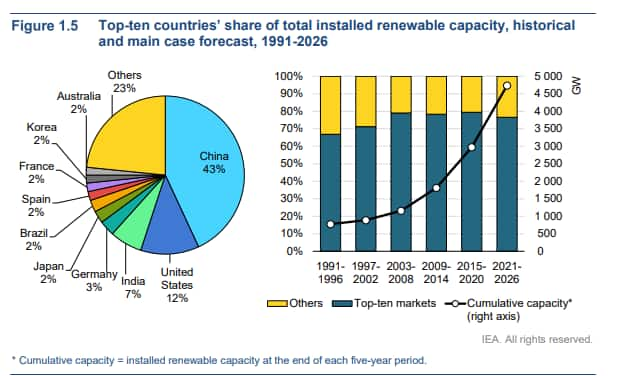 IEA attributes China's continued dominance to an energy transition that has led to new rules to encourage the use of long-term power purchase agreements and investment in improving its power grid, as well as "better cost competitiveness of onshore wind and solar PV compared with coal generation in many provinces."
The EU also is on track to reach its renewables goals earlier than its 2030 National Energy and Climate Plan, thanks to "member countries implementing larger [power] auction volumes, corporations contracting for more renewable electricity, and consumers continuing to install large amounts of solar panels."
India is set to achieve the highest growth rate, doubling new installations compared with 2015-2020. For India, solar PV is the easy market leader, driven by competitive auctions for power supply.
And the US is hardly a laggard, as IEA says that new deployments from 2021-2026 will be 200 GW, which is 65% greater than the preceding five-year period. "This is the combined result of the economic attractiveness of wind and solar PV, increased ambition at the federal level, the extension of federal tax credits in December 2020, a growing market for corporate power purchase agreements, and growing support for offshore wind," it said.
Biofuels
Over the next five years, biofuels will be a significant contributor to the renewable energy picture, IEA said. Demand will reach 186 billion liters by 2026, up nearly 30% from 2020 levels.
As with renewable power, Asia will represent the key growth market, and it's possible that Asia will be the largest-producing region overall by 2026.
But like equipment and raw materials for renewable energy installations, biofuels also are feeling the impact this year of rising prices. IEA said that feedstock prices for corn, rapeseed, and other biofuels feedstocks this year have increased by 70% to 150% in the US, Europe, Brazil, and Indonesia. As a result, Brazil, Argentina, Colombia, and Indonesia have temporarily reduced blending mandates or delayed higher mandates.
Still, demand for biodiesel, renewable diesel, and sustainable aviation fuel (SAF) will surpass 2019 levels this year, rebounding from the COVID-19 economic impact more quickly than gasoline. EIA said combined demand for the three fuels this year will jump by 15%, or 7 billion liters, from 2019.
Government policy will have an immense impact on growth rates for biofuels in the next five years, IEA said. To cite examples, US President Joe Biden has announced a goal of the US producing 11 billion liters of SAF by 2030 and the EU's Fit for 55 package double the existing renewable energy target for aviation to 14% by 2030.
In SAF in particular, new technological marks are being reached on a regular basis. On 1 December, United Airlines flew the world's first SAF-fueled passenger plane, a 737 MAX 8, from Chicago to Washington, DC. United said it emitted 75% less CO2 than a traditional jet plane. Of the plane's three engines, one ran entire on SAF, while the other two operated on traditional jet fuel to demonstrate that there are no operational differences from using 100% SAF, United tweeted.
{"items" : [ {"name":"share","enabled":true,"desc":"<strong>Share</strong>","mobdesc":"Share","options":[ {"name":"facebook","url":"https://www.facebook.com/sharer.php?u=http%3a%2f%2fcleanenergynews.ihsmarkit.com%2fresearch-analysis%2fglobal-renewable-capacity-growth-at-record-in-2021-and-will-ac.html","enabled":true},{"name":"twitter","url":"https://twitter.com/intent/tweet?url=http%3a%2f%2fcleanenergynews.ihsmarkit.com%2fresearch-analysis%2fglobal-renewable-capacity-growth-at-record-in-2021-and-will-ac.html&text=Global+renewable+capacity+growth+at+record+in+2021+and+will+accelerate+through+2026%3a+IEA+%7c+IHS+Markit+","enabled":true},{"name":"linkedin","url":"https://www.linkedin.com/sharing/share-offsite/?url=http%3a%2f%2fcleanenergynews.ihsmarkit.com%2fresearch-analysis%2fglobal-renewable-capacity-growth-at-record-in-2021-and-will-ac.html","enabled":true},{"name":"email","url":"?subject=Global renewable capacity growth at record in 2021 and will accelerate through 2026: IEA | IHS Markit &body=http%3a%2f%2fcleanenergynews.ihsmarkit.com%2fresearch-analysis%2fglobal-renewable-capacity-growth-at-record-in-2021-and-will-ac.html","enabled":true},{"name":"whatsapp","url":"https://api.whatsapp.com/send?text=Global+renewable+capacity+growth+at+record+in+2021+and+will+accelerate+through+2026%3a+IEA+%7c+IHS+Markit+ http%3a%2f%2fcleanenergynews.ihsmarkit.com%2fresearch-analysis%2fglobal-renewable-capacity-growth-at-record-in-2021-and-will-ac.html","enabled":true}]}, {"name":"rtt","enabled":true,"mobdesc":"Top"} ]}