Customer Logins
Obtain the data you need to make the most informed decisions by accessing our extensive portfolio of information, analytics, and expertise. Sign in to the product or service center of your choice.
Customer Logins
Global electric vehicle sales grew 41% in 2020, more growth coming through decade: IEA

Europeans overtook China as the world's largest buyers of electric vehicles (EVs) in 2020, a year in which global sales increased by 41% to about 3 million electric cars. This came during a year when the global economic downturn led to an overall vehicle sales decline of about 6%.
EVs sales surged ahead last year to capture a record 4.6% share of the new vehicle market, according to the International Energy Agency (IEA).
Growth will continue through this decade, with the number of EVs registered around the world increasing from about 10 million today to 145 million in 2030, IEA said in its report released in late April, "Global EV Outlook 2021."
"The near-term outlook for EV sales is bright," IEA said, noting that first-quarter 2021 sales more than doubled from the same period in 2020 in each of the three largest markets, Europe, China, and the US.
Similar optimism is coming from IHS Markit, which said it "significantly increased its forecasts for global electrification" in an update of its EV sales analysis this spring. IHS Markit credited the emissions targets of the Paris Climate Agreement and government spending on COVID-19 economic recovery for "accelerat[ing] the promotion of electrified vehicles as part of an overall green-friendly solution," it said in a white paper.
IHS Markit identifies 2027 as the "tipping point" for EVs because it anticipates they will reach manufacturing cost parity with internal combustion engine (ICE) vehicles in China, and soon thereafter in the EU. Starting in 2027, IHS Markit predicts "rates of EV sales will rise sharply." Of the forecasted 89 million vehicles sold in 2030, it predicts 23.5 million will be electric (nearly 27%).
Europe
In 2020, new electric car registrations more than doubled to 1.4 million, representing a sales share of 10%, IEA said. This bucked the trend last year that Europe's new car market contracted 22% to about 14 million units.
The top countries in Europe for new EV sales in 2020 were Germany, which registered 395,000 new electric cars; France, 185,000; and the UK, 88,000. On a market-share basis, Norway led the way, with EVs representing 75% of new-car sales in 2020; followed by 50% in Iceland, 30% in Sweden, and 25% in the Netherlands.
"This surge in electric car registrations in Europe despite the economic slump reflect two policy measures," IEA said. "First, 2020 was the target year for the European Union's CO2 emissions standards that limit the average carbon dioxide emissions per kilometre driven for new cars. Second, many European governments increased subsidy schemes for EVs as part of stimulus packages to counter the effects of the pandemic."
Europe's current CO2 standard for automakers is that their new fleet sales cannot exceed 95 g CO2/km for model years 2020 and 2021, and those standards are due to be tightened further in 2025 and 2030 as the region seeks to meet its economywide goal of 55% GHG reductions by the end of the decade, in accord with its Paris Agreement target.
Individual countries in the region provide cash incentives as well, which range from EUR 2,000 in Italy to EUR 9,000 in Germany. (Rates in each country vary according to the type of EV purchased and whether or not an owner scraps an internal combustion vehicle at the same time.)
Driven by regulations, national incentives, and new sustainability mandates in the European Green Deal, IHS Markit estimates that 50% of new car sales each year across the EU will be EVs by 2030.
China
With 4.5 million battery EVs and plug-in EVs, China still has more EVs on the road than any other country or region, with Europe at 3.2 million as of the end of 2020.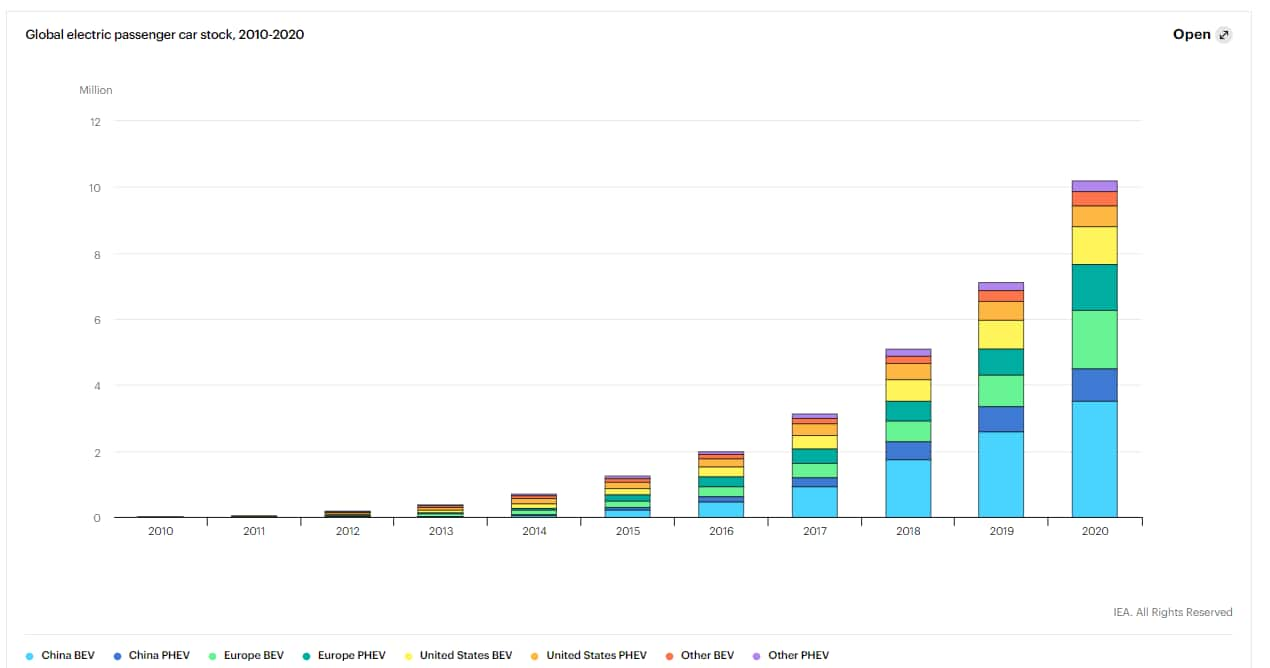 China's new-car sales took a tumble in 2020, falling by 9% to about 25.3 million. However, EV sales increased by 9% to nearly 1.2 million units.
China's EV market enjoyed several years of near-doubling of sales in the mid-2010s, thanks to generous subsidies for buyers. But in 2019 and 2020, they were half the level they were in 2018, IEA said. The subsidies were due to fully expire in 2020, but that has been postponed through the end of 2022, as part of China's economic recovery measures.
Even with lower or no incentives, strong regulatory incentives remain intact, and thus IHS Markit predicts that EVs could capture 38% of the new car market in 2035, 45% by 2035, and nearly 100% by 2050, if government mandates are enacted. EV market share was under 5% of new car sales in 2020.
United States
The US is the third-largest market for EVs, and its performance in 2020 reflected a tough year for automakers. Total new car sales were down by 23% in 2020 to about 14.6 million units, and sales of battery EVs fell by 11%, from 327,000 to 295,000.
One reason for the slowdown was how federal tax credits for EVs are structured. Manufacturers are eligible for up to $7,500 in a federal rebate for each battery EV they sell, but the rebate caps out at 200,000 units per company. In 2020, both Tesla and GM reached that limit, and they are the two largest US EV sellers, by far.
But both IEA and IHS Markit see positive signs ahead for US automakers and their EV fleets, both at the state and federal levels. IHS Markit pegs US battery EV sales at 25-30% of the new car market in 2030 and 45-50% by 2035.
IHS Markit expects that five states will have bans on new sales of ICE vehicles by 2035: California, Massachusetts, New York, Rhode Island, and Washington.
Also, developments related to the Safer Affordable Fuel-Efficient (SAFE Act) Vehicles Rule that occurred after IHS Markit's report was published indicate the likelihood of tougher US vehicle efficiency standards that will incentivize more EV sales. On 28 April, the US Department of Transportation (DOT) proposed to repeal part 1 of the SAFE Act of the Trump administration and said that it intends to revise the second part of the rule in the summer. IHS Markit pointed out that the SAFE Act requires that each automaker's new car fleet achieve only an 8.5% increase in fuel economy in the five years prior to model year 2026, and few EVs would be needed to achieve that mix. Given that Biden recently pledged a 50-52% total economywide emissions reduction by 2030, it seems likely that fleet economy will get a second view, and the sector will be called upon for deeper emissions reductions, perhaps through a replacement for the SAFE Act regulation.
More models, greater range
Original equipment manufacturers (OEMs) aren't on the sidelines as new laws come into effect. They "are now actively embracing" the EV revolution, according to IHS Markit, and as they build more vehicles the economies of scale will lead to reduced costs at all stages of the manufacturing process, including the all-important battery packs that power the vehicles. "The costs of a battery pack manufactured in mainland China will fall another 30% between 2020 and 2027 to $98/kWh," IHS Markit said.
In addition, investments are yielding new models, better performance, and new features on EVs. The average driving range of a battery EV reached 350 km in 2020, up from 215 km in 2015. "It is possible to imagine a range in 2030 of 600 km with a battery that has larger capacity, lower mass, and lower cost than today," IHS Markit said.
Worldwide, about 370 electric car models were available in 2020, up from about 260 models in 2019. "Battery EV models are offered in most vehicle segments in all regions; plug-in hybrid EVs are skewed towards larger vehicle segments. Sport utility vehicle models account for half of the available electric car models in all markets," IEA said.
Eighteen of the world's top 20 OEMs - which accounted for almost 90% of the cars sold in 2020 -- have committed to increase their models and have identified target sales percentages during this decade, according to IEA.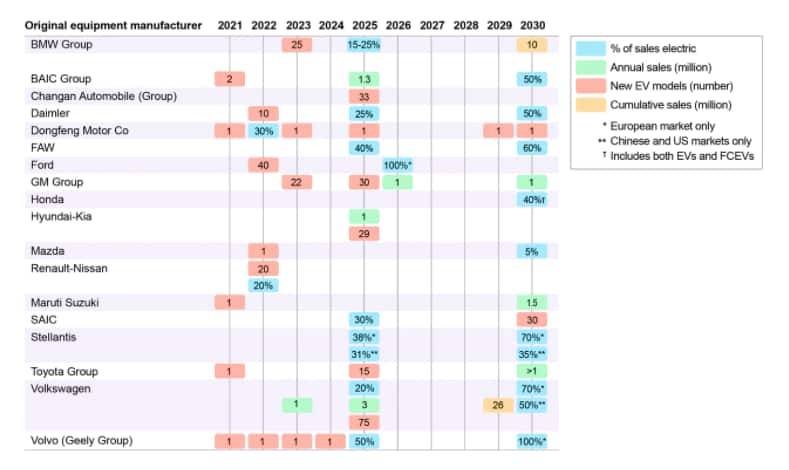 Looking ahead
Although reaching 145 million EVs globally by 2030 would be a remarkable feat, IEA put it into perspective by noting that it is insufficient for meeting global emissions targets for 2030 or 2050 in the "Sustainable Development Scenario" it produced. IEA's modeling indicates that 230 million EVs need to be on the world's roads by 2030 for the interim Paris emissions targets to be reached on a path to net zero by 2050.
IEA said that reaching the higher number will require a range of policies, beginning with taxing vehicles and fuels by their carbon emissions. It also recommended tightening CO2 emissions standards in Europe and instituting similar programs in other major economies.
Some countries have bans for sales of new ICE vehicles, and more could be coming, said IHS Markit. "Although not formally agreed yet, IHS Markit analysts expect an EU-wide internal combustion engine phase-out by 2040 or before. In fact, there are nine EU member states lobbying for a phase out by 2035 or earlier," it said.
China has is approaching its EV industry with a phased-in approach through a credits trading program to allow for flexibility in meeting its goals. The New Energy Vehicles program sets annual targets for each manufacturer as a percentage of sales: 14% in 2021, 16% in 2022, and 18% in 2023. An NEV is defined by China as either a battery EV or a plug-in EV, but battery EVs earn higher credits towards a manufacturer's target, and excess credits can be sold to other manufacturers.
China also offers in softer incentives aimed at consumers, such as lower parking fees and waivers of traffic restrictions for EV users.
Another element to rapid EV expansion, according to IEA and IHS Markit, is to improve consumer acceptance and convenience, particularly about charging the vehicles. "Infrastructure is a key enabler," IHS Markit said. "Obviously, any infrastructure gap will slow the deployment of EVs across global markets."
A survey conducted late last year of the members of EV100, which are companies engaged in the EV value chain, identified lack of charging infrastructure as the biggest impediment to growth. The other top challenges were the lack of a full range of EV choices, initial cost of purchase (despite lower costs over a vehicle's lifetime), charging time of vehicles, and an uncertain policy landscape.
Inevitability
Despite the challenged, IHS Markit concludes that OEMs are permanently committed to EVs, even to the extent that they might be running ahead of consumers. The necessity to decarbonize transport is too strong. "Such is the power of these forces that full-scale transformation is now inevitable," IHS Markit said.
This inevitability will be extended to other forms of vehicle transport as well, according to IEA. Given that medium- and heavy‑duty vehicles represent 5% of all four-wheeled road vehicles on the road but almost 30% of CO2 emissions, it said that governments will increasingly target this sector. And it added that EVs can "go small," as well, through electrification of two- and three-wheel small vehicles that are common forms of transport in emerging economies. China took the lead with bans on ICE versions of two- and three-wheelers in some cities in 2018.
"With foundations being laid for widespread adoption of EVs in several large economies, there are strong prospects that the 2020s will be the decade in which electric mobility significantly expands," IEA said.
RELATED INDUSTRIES & TOPICS
{"items" : [ {"name":"share","enabled":true,"desc":"<strong>Share</strong>","mobdesc":"Share","options":[ {"name":"facebook","url":"https://www.facebook.com/sharer.php?u=http%3a%2f%2fcleanenergynews.ihsmarkit.com%2fresearch-analysis%2fglobal-electric-vehicle-sales-grew-41-in-2020-more-growth-comi.html","enabled":true},{"name":"twitter","url":"https://twitter.com/intent/tweet?url=http%3a%2f%2fcleanenergynews.ihsmarkit.com%2fresearch-analysis%2fglobal-electric-vehicle-sales-grew-41-in-2020-more-growth-comi.html&text=Global+electric+vehicle+sales+grew+41%25+in+2020%2c+more+growth+coming+through+decade%3a+IEA+%7c+IHS+Markit+","enabled":true},{"name":"linkedin","url":"https://www.linkedin.com/sharing/share-offsite/?url=http%3a%2f%2fcleanenergynews.ihsmarkit.com%2fresearch-analysis%2fglobal-electric-vehicle-sales-grew-41-in-2020-more-growth-comi.html","enabled":true},{"name":"email","url":"?subject=Global electric vehicle sales grew 41% in 2020, more growth coming through decade: IEA | IHS Markit &body=http%3a%2f%2fcleanenergynews.ihsmarkit.com%2fresearch-analysis%2fglobal-electric-vehicle-sales-grew-41-in-2020-more-growth-comi.html","enabled":true},{"name":"whatsapp","url":"https://api.whatsapp.com/send?text=Global+electric+vehicle+sales+grew+41%25+in+2020%2c+more+growth+coming+through+decade%3a+IEA+%7c+IHS+Markit+ http%3a%2f%2fcleanenergynews.ihsmarkit.com%2fresearch-analysis%2fglobal-electric-vehicle-sales-grew-41-in-2020-more-growth-comi.html","enabled":true}]}, {"name":"rtt","enabled":true,"mobdesc":"Top"} ]}