Customer Logins
Obtain the data you need to make the most informed decisions by accessing our extensive portfolio of information, analytics, and expertise. Sign in to the product or service center of your choice.
Customer Logins
Global CO2 emissions to rise by 4.9% in 2021: Global Carbon Project

Global CO2 emissions in 2021 are on a pace to make up nearly all of the decline experienced in 2020 due to the economic slowdown created by the COVID-19 pandemic, according to findings released 4 November by the Global Carbon Project at COP26.
CO2 emissions are projected to reach 36.4 billion metric tons (mt) in 2021, just 0.8% below the record of 36.7 billion mt in 2019, and nearly a 5% rise from 2020's level. This has driven the global CO2 concentration to 415 ppm in 2021, compared to 277 ppm in 1750.
The report said China and India were chiefly responsible for the overall increase in global CO2 emissions.
The COVID-19 experience in 2020 shows how far the world has to go, said Pierre Friedlinstein, professor at Exeter University's Global Systems Institute, and one of the leaders of the study. "Reaching net zero CO2 emissions by 2050 entails cutting global CO2 emissions by about 1.4 billion tonnes each year on average," he said. "Emissions fell by 1.9 billion tonnes in 2020. So, to achieve net zero by 2050, we must cut emissions every year by an amount comparable to that seen during COVID."
Looking at a long-term trend, the 2021 forecast is that global CO2 emissions will be 36.4% higher in 2021 than in 1990.
"Reducing emissions is an effort that will span decades. We expected a short-term rebound post-pandemic, the question is what happens through the 2020s and into the 2030s," said Paul McConnell, IHS Markit research and analysis executive director energy-wide perspectives.
While the overall trajectory highlights the immense challenge of carbon reduction, an adjustment in Global Carbon Tracker's accounting for land use in this year's report suggests that the increase in emissions is not as high as reported earlier. Previously, the GCP data showed global CO2 emissions increasing by 15 billion mt from 2011 through 2019, but this new report revises that increase down to 0.8 billion mt, due to a higher annual credit for land sinks.
Emissions by source
The Global Carbon Tracker said that coal contributed 40% of global emissions, followed by oil (32%) and natural gas (21%). Coal and gas will surpass their pre-pandemic emissions levels this year, but the report said "oil emissions remain around 6% below 2019 levels, and this persistent reduction is one of the main reasons 2021 [total] emissions did not set a new record."
Oil emissions are correlated with transportation demand, which is still lagging during the economic recovery, according to the report. The report did not indicate that the growing use of electric vehicles is having an impact on oil demand for transportation.
On the positive side about coal, the report said that even this year's rising emissions will be about 3% below the peak year of 2014, thanks to retirements in the US and Europe.
Emissions by nation and region
On a percentage basis, India has led the upward surge in emissions this year, as the Global Carbon Project says its emissions growth is 12.6% to 2.7 billion mt. China, the world's largest emitter, will send 11.1 billion MT of CO2 into the atmosphere this year, up 4% from 2020. For both India and China, 2021 will represent new peak emissions.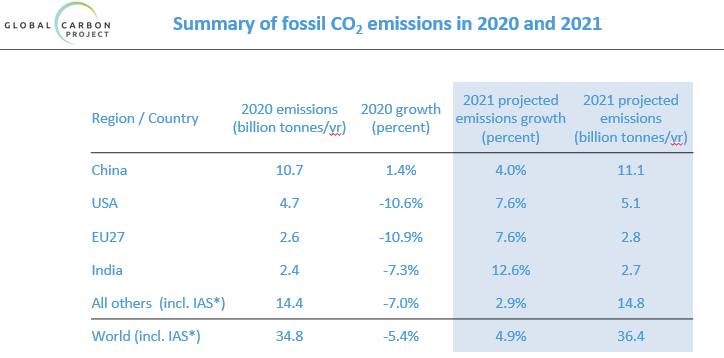 On the negative side, China is driving the rise in coal demand in 2021, with that country alone accounting for 7.6 billion mt of CO2 emissions just from the use of coal, or more than 68% of the country's total emissions this year.
India, the world's fourth-largest emitter, has a profile like China, but on a smaller scale. Of the nation's expected release of 2.7 billion mt of CO2 in 2021, two-thirds is expected from coal, as its use increased by nearly 15% in 2021.
Like China and India, the US, the world's second-largest carbon emitter at 5.1 billion mt, also will show a rise in coal emissions in 2021, up by an estimated 20% from the prior year. But total US coal emissions are 1.1 billion mt as coal-fired power is being eased out of the grid in favor of natural gas and renewables.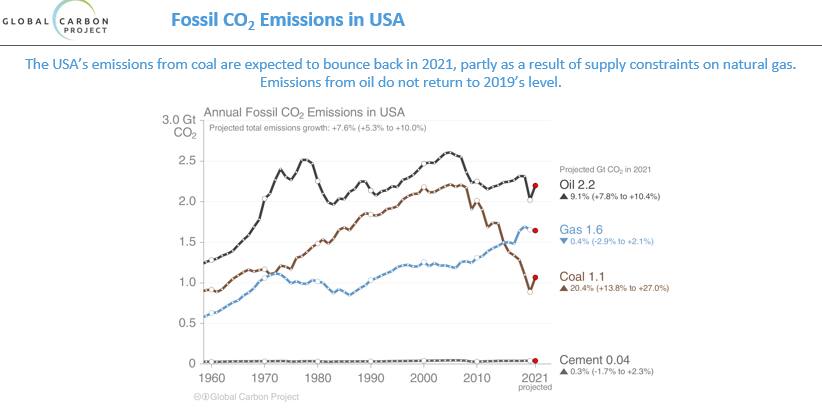 For the EU, third on the list of global emitters at 2.8 billion mt, the combination of a rebounding economy and poor wind power generation this summer led to increases in the use of oil, gas, and coal. Coal-related emissions were up by 15% to account for 0.7 billion mt of CO2.
Countries are making progress, and they have promised more through their Nationally Determined Contributions (NDCs), McConnell said. "The NDCs we've seen emerge before and during COP26 point to declining emissions by 2030, as policy measures designed to limit climate change take effect. And over 90% of global GHG emissions are now covered by some sort of net-zero commitment," he said. "So the signs are positive, but it will be the implementation of these announced polices that determine whether the post-pandemic emissions bounce is a temporary rebound, or a structural return to growth."
The Global Carbon Tracker report concluded that the trend for consumption of fossil fuels is insufficient to bend the curve towards decarbonization needed to meet a goal of 1.5 degrees C global warming by 2050. "Renewable energy continued to grow in 2020 and 2021," it reported, "but needs to grow even faster to replace fossil energy consumption."
The report found that renewables energy consumption besides hydropower and nuclear energy grew by 11.4% per year on average from 2015 through 2020.
"A lot of progress has been made in decarbonizing global energy since the Paris Agreement was adopted in 2015, plus renewables is the only energy source that continued to grow during the pandemic," observed Corrine Le Quere, a contributor to the Tracker and a research professor at the United Arab Emirates School of Environmental Sciences.
Investment in COVID-19 recovery should be directed at cleaner energy projects, Robert Jackson, a Stanford University professor and chair of the Global Carbon Project, said. "We will have lost a critical opportunity if we spend trillions of dollars to stimulate the world's economies and don't support clean industries," he said.
At COP26, pledges have been pouring in for $100 billion or more of funding for renewable energy by governments and foundations, especially in the developing world, and with the idea that those will leverage trillions more from the private sector (see coverage here, here, and here).
Also on 4 November, more than 20 nations signed a new pact to end funding new fossil fuel projects after 2022.
Land use and carbon
Beyond energy, the Global Carbon Tracker report provided an update on land-use changes and their impact on emissions, though warning that "estimates are still highly uncertain."
It noted that CO2 emissions due to land use changes—fires and deforestation that raise emissions, and abandonment of agricultural land which reduces emissions—were about 4.1 billion mt each of the last 10 years (2011 through 2020). In other words, it's about 11% of the CO2 emissions puzzle each year.
To give a sense of the relationship of CO2 emissions sources and sinks, the Tracker issued a "budget" that shows an imbalance of 1 billion mt per year.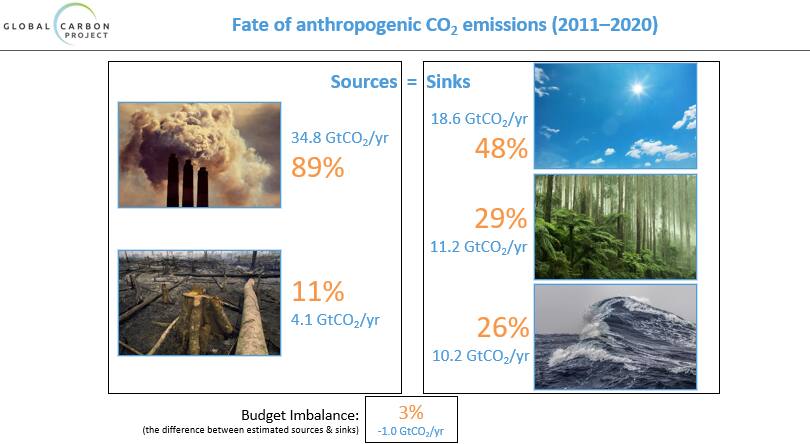 Adding it up, the world's remaining "carbon budget" to limit global warming to 1.5 degrees Celsius (C) is 420 billion mt, which the Tracker said is 11 years from 2022, given the current rate of excess emissions. For a looser goal of 2 degrees C, for which an additional 1,270 billion mt of CO2 would be allowed, the world has 32 years from 2022.
{"items" : [ {"name":"share","enabled":true,"desc":"<strong>Share</strong>","mobdesc":"Share","options":[ {"name":"facebook","url":"https://www.facebook.com/sharer.php?u=http%3a%2f%2fcleanenergynews.ihsmarkit.com%2fresearch-analysis%2fglobal-co2-emissions-to-rise-by-49-in-2021-global-carbon-proje.html","enabled":true},{"name":"twitter","url":"https://twitter.com/intent/tweet?url=http%3a%2f%2fcleanenergynews.ihsmarkit.com%2fresearch-analysis%2fglobal-co2-emissions-to-rise-by-49-in-2021-global-carbon-proje.html&text=Global+CO2+emissions+to+rise+by+4.9%25+in+2021%3a+Global+Carbon+Project+%7c+IHS+Markit+","enabled":true},{"name":"linkedin","url":"https://www.linkedin.com/sharing/share-offsite/?url=http%3a%2f%2fcleanenergynews.ihsmarkit.com%2fresearch-analysis%2fglobal-co2-emissions-to-rise-by-49-in-2021-global-carbon-proje.html","enabled":true},{"name":"email","url":"?subject=Global CO2 emissions to rise by 4.9% in 2021: Global Carbon Project | IHS Markit &body=http%3a%2f%2fcleanenergynews.ihsmarkit.com%2fresearch-analysis%2fglobal-co2-emissions-to-rise-by-49-in-2021-global-carbon-proje.html","enabled":true},{"name":"whatsapp","url":"https://api.whatsapp.com/send?text=Global+CO2+emissions+to+rise+by+4.9%25+in+2021%3a+Global+Carbon+Project+%7c+IHS+Markit+ http%3a%2f%2fcleanenergynews.ihsmarkit.com%2fresearch-analysis%2fglobal-co2-emissions-to-rise-by-49-in-2021-global-carbon-proje.html","enabled":true}]}, {"name":"rtt","enabled":true,"mobdesc":"Top"} ]}