Customer Logins
Obtain the data you need to make the most informed decisions by accessing our extensive portfolio of information, analytics, and expertise. Sign in to the product or service center of your choice.
Customer Logins
Europe emerges as leader in hydrogen economy

With the hydrogen economy set to boom in the next few years across the globe, Europe is emerging as the clear leader in planned installations and government policy supporting the sector.
"An unprecedented wave of hydrogen strategies has been released in 2020, despite COVID-19," said IHS Markit in its Power-to-X quarterly report, released 9 December. (see link here). "In 2020, six European countries and the European Commission released hydrogen strategies amid the COVID-19 crisis, in most cases as part of a green recovery plan."
Annual global investments in green hydrogen are now expected to exceed $1 billion by 2023, according to IHS Markit, and spending will accelerate rapidly thereafter. IHS Markit projects that from 2020 through 2030, $44 billion will be invested in green and blue hydrogen projects in five key European countries: France, Germany, Italy, Portugal, and Spain.
"The interest in hydrogen is being driven by the very clear net-zero carbon commitment by 2050 in Europe, as well as the more recent announcement of a 55% decarbonization by 2030," said Catherine Robinson, IHS Markit executive director of hydrogen and renewable gas, and co-author of the Power-to-X report.
"Hydrogen development is tied directly to decarbonization. What Europe has done in the last six months is to begin to put in place the financing framework for hydrogen. If hydrogen going to take off, it needs to have [incentive] schemes, like renewable power," Robinson continued.
At present, Europe represents about half of the globa; the planned capacity for electrolysis hydrogen production (see graphs).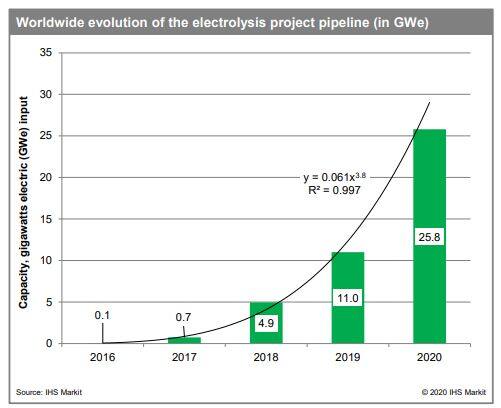 "Green" hydrogen is defined as hydrogen produced through electrolysis using renewable energy so that it's carbon free; and "blue" hydrogen is defined as hydrogen produced from processing natural gas and then using carbon capture and storage to reduce or avoid emissions.
The EC's hydrogen strategy calls for regulatory and financial support to reach at least 6 GW of installed renewable hydrogen electrolysis capacity in the EU by 2024 and 40 GW by 2030. According to IHS Markit, the current pipeline for 2030 of existing and planned projects is about 7.3 GW, indicating the chasm between current activity and its stated ambition.
Depending on a particular nation's needs, it might import hydrogen from Russia or the Middle East, such as France and Germany would possibly do. Other countries such as Portugal could be hydrogen exporters.
Falling costs
Two factors are driving the acceleration: falling costs and government support.
"Green hydrogen production costs are down 40% since 2015 and are expected to fall by a further 40% through 2025," IHS Markit said in its Power-to-X report. "Reductions in the costs of renewable power account for two-thirds of the reduction in the cost of green hydrogen seen since 2015; with one-third due to reductions in the cost of the electrolysis equipment…. By 2030, IHS Markit expects that green hydrogen costs could drop below $2/kg, enabling it to compete with [blue] hydrogen."
At current costs, blue hydrogen can compete with fossil fuels if a carbon tax is about €60/metric ton (about US$73/mt), and green hydrogen can compete at about twice that tax rate, according to Robinson. But the cost of green hydrogen in particular is coming down rapidly, and she said, "it could compete by 2030 or even sooner."
The EC's Roadmap comes up with similar figures:
Current estimated cost for fossil fuel-based hydrogen is around €1.5/kg (US$1.82/kg) for the EU, although this is highly dependent on natural gas prices
Current estimated costs today for fossil fuel-based hydrogen with carbon capture and storage are around €2/kg, and renewable hydrogen €2.5-5.5/kg.
COVID-19 has slowed investment in hydrogen projects, but also laid open the potential to leverage recovery spending on green hydrogen. The EC's hydrogen roadmap estimated that cumulative investments in renewable hydrogen in Europe could be up to €180-470 billion (approximately US$220-570 billion) by 2050, and in the range of €3-18 billion for low-carbon fossil fuel-based hydrogen.
But, according to Hydrogen Europe, a coalition of nearly 200 private companies, 40 research institutions and more than 30 national agencies, investment in the sector is at risk as companies focus their spending on their most immediate needs. "While the current clean hydrogen technology market is not worth more than €2 billion at the moment, our analysis shows that €15 billion of investments that have been planned by the sector in the near term may be in jeopardy. Over the longer term, we estimate that there are currently almost 70 projects at varied stages of development that would be at risk if no action is taken," the group said in a report released in November.
Hydrogen Europe pegged the short-term R&D needs of the estimated 280 companies with whole or parts of their business in hydrogen at €450 million. This should be supplemented with additional research and development funds; time extensions for all projects that have been funded by the EC or national governments; and expanded market incentives, such as quotas for green aviation fuels or increased shares of renewables under the EU's Renewable Energy Directive quotas.
Users of hydrogen are critical to the equation as well. In Europe, a breakthrough occurred in January 2019, when EUTurbines, which represents turbine manufacturers in Europe, and EUGINE, which represents engine manufacturers in Europe, announced an agreement under which major gas turbine suppliers committed to providing turbines able to operate on 20% hydrogen by volume in combination with natural gas by 2020. This agreement also set as a goal that customers would be able to acquire gas turbines for operation on 100% hydrogen by 2030.
Accommodating both green and blue hydrogen will be crucial, in order to provide enough volume. "While power generation may not be among the first customers of hydrogen in the short-term, hydrogen-powered gas plants will be pivotal for balancing and ensuring the stability of the grid in a climate-neutral future - as also recognized in the Hydrogen Strategy," concluded Ralf Wezel, secretary general of EUTurbines.
In another example of Europe's head start, aircraft manufacturer Airbus announced three concept designs it is pursuing to develop the world's first hydrogen-fueled commercial aircraft by 2035. They would be powered by a modified gas turbine engine that could run on hydrogen, rather than jet fuel.
Having dual-power turbines is one thing, but having the hydrogen for their use is another, wrote Michael Welch, a marketing manager for Siemens Industrial Turbomachinery, in a commentary on the industry's outlook. "Initially, most turbines are likely to operate more on blends with much less than 100% hydrogen because there simply isn't enough hydrogen available, as acquiring sufficient hydrogen at an affordable cost for operating solely on hydrogen is going to be a significant challenge," he wrote.
Regardless of the financial challenges, many new projects to produce hydrogen are emerging. Among recent announcements are the following:
H2Future Project. November 2020 marked the official startup of this green hydrogen project in Linz, Germany. This is the debut of a new polymer electrolyte membrane for the electrolysis process to produce hydrogen that is powering steel production.
North H2 Project. This Dutch joint venture between Gasunie, Groningen Seaports and oil major Shell aims to build a 1 GW electrolysis facility by 2027 (expandable to 4 GW in 2030 and 10 GW in 2040), using offshore wind to make green hydrogen. On 1 December, German utility giant RWE and Norwegian oil and gas firm Equinor joined the project as well.
Gas technology company Linde announced on 11 December a memorandum of understanding with Snam, the largest gas pipeline operator in Europe, to collaborate on infrastructure projects for hydrogen.
Russian gas producer Novatek announced a joint venture with Siemens Technology on 10 December to replace natural gas burned by Novatek at its gas and LNG production sites in West Siberia with hydrogen.
In Italy, Eni and Enel said in November they will work together to produce green hydrogen for two Eni's refineries in Italy. A 10 MW hydrogen facility is targeted for 2022-2023, they said.
On 1 December, the governments of Denmark and Germany announced plans for green hydrogen projects. In Germany, five states have established a "green hydrogen cluster" and will invest in a total of 500 MW of electrolyzer capacity for 2025 from wind power. And the Green Hydrogen Hub Denmark project aims for 350 MW of wind-supported capacity in Northern Jutland by 2025.
One aspect of hydrogen that's underappreciated outside of the industry, but which is very positive for its expansion of use, is that the technology is well established. This is sometimes masked by the interest in using hydrogen in new ways to generate power and power transportation. "Hydrogen…has been an industrial gas for a long time," said Robinson, and the logistics of producing it, transporting it and storing it are well established. "The barriers are demand and infrastructure. Will [new] industries use hydrogen? Will cars use it, will buildings be heated by it?"
And getting to the point that hydrogen can be used widely, infrastructure will have to be modified. "This is why the support schemes are very important, and it's why Europe is talking about allowing low-carbon hydrogen as a transition," Robinson said.
Policy developments
On the policy front, new regulatory frameworks are providing certainty for investors in hydrogen production, distribution and use. On 8 July 2020, the EC published the Energy System Integration Strategy and a hydrogen-specific roadmap, "A hydrogen strategy for a climate-neutral Europe," making it clear that green hydrogen and low-carbon hydrogen are integral to the European Green Deal. (See link here.)
Moreover, the EC said that clean hydrogen investments will help the EU recover economically from the coronavirus pandemic-induced recession, as well as delivering long-term financial benefits. "Europe is highly competitive in clean hydrogen technologies manufacturing and is well positioned to benefit from a global development of clean hydrogen as an energy carrier…. Combined with the EU's leadership in renewables technologies, the emergence of a hydrogen value chain serving a multitude of industrial sectors and other end uses could employ up to 1 million people, directly or indirectly," it said.
The EC committed to "an enabling regulatory framework" that will help the industry reach the "tipping point [for] critical mass in investment…and for bringing new solutions to the market…"
"In the integrated energy system of the future, hydrogen will play a role, alongside renewable electrification and a more efficient and circular use of resources. Large-scale deployment of clean hydrogen at a fast pace is key for the EU to achieve a higher climate ambition, reducing greenhouse gas emissions by [a minimum of] 50% and towards 55% by 2030, in a cost-effective way," the EC said.
The EC's plan includes investments to repurpose the current natural gas distribution and storage network to handle hydrogen blends and to develop new storage and transportation options, such as liquid carriers and the use of metal hydrides to expand storage capacity.
But this plan has received some criticism as well. "While the Hydrogen Strategy has a more inclusive approach, the Energy System Integration Strategy missed out concentrating on electrification instead of enabling all sectors to find their specific best approach to decarbonize through optimized interactions of the electricity, gas and heat networks," said Ralf Wezel, Secretary General of EUTurbine and EUGINE, in a statement in November.
"The Energy System Integration Strategy falls a bit short in promoting a truly connected energy system. The role of the gas infrastructure and of renewable and low-carbon gases seems to be limited to certain end-users only - forgetting the important role that renewable gas power generation will have in the future," he wrote. "With energy efficiency being a key EU priority, we would have expected to see a more prominent role for the combined generation of heat and power in the strategy: our technologies are at the center of system integration, efficiently connecting together the gas, electricity and heat sectors."
The bottom line
The bottom line is that the hydrogen revolution appears to be arriving. "Investment in electrolysis is booming around the world," said IHS Markit's Robinson. "The pipeline through 2030 is for over 23 GW of capacity to be developed—more than 280 times current capacity."
A study of 35 potential applications of hydrogen in transportation, heating and power for buildings, industrial heating and power and industrial feedstocks, released by the Europe-based Hydrogen Council in November, found that in many applications, low-carbon hydrogen will be cost-competitive by 2030. The applications represent about 60% of the world's current energy- and process-related carbon emissions. (The study, "Path to hydrogen competitiveness," assumes that Europe's carbon taxes are maintained and that carbon capture and storage is a viable technology.)
"Commercial vehicles, trains, and long-range transport applications will compete with low-carbon alternatives by 2030 due to lower equipment and refueling costs," the Hydrogen Council said. "Hydrogen boilers will be a competitive low-carbon building heating alternative, especially for existing buildings currently served by natural gas networks. In industrial heating, hydrogen will be the only viable option to decarbonize in some cases."
RELATED INDUSTRIES & TOPICS
{"items" : [ {"name":"share","enabled":true,"desc":"<strong>Share</strong>","mobdesc":"Share","options":[ {"name":"facebook","url":"https://www.facebook.com/sharer.php?u=http%3a%2f%2fcleanenergynews.ihsmarkit.com%2fresearch-analysis%2feurope-emerges-as-leader-in-hydrogen-economy.html","enabled":true},{"name":"twitter","url":"https://twitter.com/intent/tweet?url=http%3a%2f%2fcleanenergynews.ihsmarkit.com%2fresearch-analysis%2feurope-emerges-as-leader-in-hydrogen-economy.html&text=Europe+emerges+as+leader+in+hydrogen+economy+%7c+IHS+Markit+","enabled":true},{"name":"linkedin","url":"https://www.linkedin.com/sharing/share-offsite/?url=http%3a%2f%2fcleanenergynews.ihsmarkit.com%2fresearch-analysis%2feurope-emerges-as-leader-in-hydrogen-economy.html","enabled":true},{"name":"email","url":"?subject=Europe emerges as leader in hydrogen economy | IHS Markit &body=http%3a%2f%2fcleanenergynews.ihsmarkit.com%2fresearch-analysis%2feurope-emerges-as-leader-in-hydrogen-economy.html","enabled":true},{"name":"whatsapp","url":"https://api.whatsapp.com/send?text=Europe+emerges+as+leader+in+hydrogen+economy+%7c+IHS+Markit+ http%3a%2f%2fcleanenergynews.ihsmarkit.com%2fresearch-analysis%2feurope-emerges-as-leader-in-hydrogen-economy.html","enabled":true}]}, {"name":"rtt","enabled":true,"mobdesc":"Top"} ]}