Customer Logins
Obtain the data you need to make the most informed decisions by accessing our extensive portfolio of information, analytics, and expertise. Sign in to the product or service center of your choice.
Customer Logins
Cement industry seeks more CCUS help to decarbonize

Calls are growing for governments around the globe to up their efforts in tackling the cement industry's emissions, especially in the deployment of carbon capture, utilization, and storage (CCUS).
And CCUS is truly the key to any deep decarbonization of the cement sector, according to S&P Global Commodity Insights Senior Research Analyst Yufei Li. "It has to be made clear there is no silver bullet" for the cement industry, Li said, and therefore CCUS is the most competitive option for deep decarbonization among a number being considered.
The Global Cement and Concrete Association (GCCA) became the latest body to seek greater government support on 8 June, using its biggest conference as a platform to lay out its case. Thomas Guillot, GCCA CEO, said: "To achieve net zero and enable the delivery of the sustainable built environment of the future, there needs to be ongoing engagement and deeper collaboration between our industry and government in the years ahead. Targeted government policy will be vital to removing barriers and to expediting our industry's decarbonization plans."
The GCCA laid out a net-zero pathway in 2020, and CCUS is at the heart of it (see graphic below).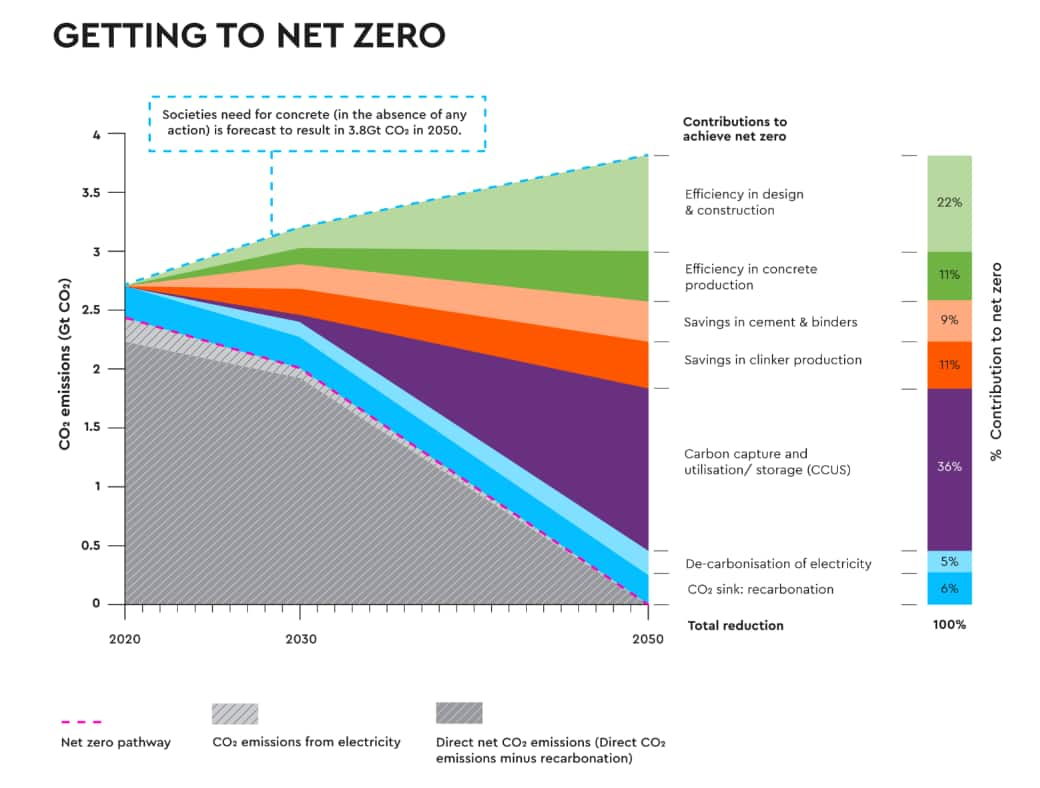 Source: GCCA.
After all, annual cement demand increased 140% in the first two decades of the 21st century to more than 4 billion metric tons (mt), according to International Energy Agency (IEA) data.
Indispensable
Cement is "indispensable," said S&P Global's Li, noting that its use was second only to water around the globe. Cement production creates 700 kg of CO2-equivalent for every mt manufactured, he added.
"The status quo of cement production is a very carbon-intensive process," he said, adding that: "So far, no alternative production technology exists that could balance the technological maturity and the economic cost while at the same time ensuring similar output quality as the traditional cement-making process" involving rotary kilning.
During the rotary kilning or calcination, CO2 is released from the limestone feedstock. Some 53% of the cement sector's emissions involve calcination, while another 36% result from the heat needs of the calcination process, Li said. "Even using the cleanest fuel will not eliminate this part of the emissions at all: it shows another layer of how difficult it is to decarbonize the cement industry," he said.
Cement accounted for 6% of global emissions in 2019, said S&P Global Principal Research Analyst Paola Perez Pena. But there are multiple attractive options for emissions reductions of greater than 80%, she said, including amine scrubbing, calcium looping, and oxyfuel combustion.
HeidelbergCement
The first option was the one picked by Europe's second largest cement maker, HeidelbergCement, for a project that will capture 3% of Sweden's emissions. On 30 May, the German company said its Swedish subsidiary Cementa had completed a pre-feasibility study for a CCUS facility at its plant in Slite. The study found amine capture would work best for the site, after the company assessed alternatives.
HeidelbergCement expects the facility to be fully online by 2030. When completed, the project will capture 1.8 million mt of CO2 annually. Dominik von Achten, chairman of the company's managing board, said in a statement: "Slite CCS is the largest CCUS project yet in our group and the cement industry, and a model for what will be achievable with CCUS also beyond 2030."
Li warned during an S&P Global 8 June webinar that the cement sector's difficulties in reducing its emissions are multiplied many times over by how widespread its facilities are, so Slite is not the only CCUS project HeidelbergCement is working on.
In March, the German company said a final investment decision had been made on the LEILAC 2 (Low Emissions Intensity Lime And Cement) carbon capture project at HeidelbergCement's Hannover plant in its homeland.
LEILAC 2 is expected to enter service in 2025 and capture 20% of the CO2 process emissions of the plant. Emissions capture is expected to average 100,000 mt/year, HeidelbergCement said. The company aims to achieve cumulative CO2 reductions of up to 10 million mt by 2030 with several CCUS projects, it added in March.
HeidelbergCement also said 24 May during its annual Capital Markets Day that by 2030 it expects to have reduced its emissions by 47% compared with 1990 to 400 kg CO2/mt of cement, which would also be a decrease of 30% compared with 2021.
CCUS is a crucial component of HeidelbergCement's climate strategy, it said, adding that the company is looking at more than one type of technology. "CCUS is the only way so far to be able to produce CO2-free cement and concrete," said von Achten.
Europe and the world's biggest cement maker, Holcim, meanwhile, has more than 30 projects across the US, Canada, and Europe in its CCUS portfolio, with many seeking to reuse the CO2. Holcim's reuse projects include transformation into green methanol, plastics, and for producing a food-grade product.
The Swiss company also is scoping out its options for using CO2 to make green cement, Holcim said in January. It teamed up with Italian energy company Eni on storing gaseous CO2 in olivine, which may then be used as a raw material in the formulation of green cement. Holcim is mapping out its most relevant sites in Europe to conduct industrial-scale pilots, it said.
IEA ramps up support
HeidelbergCement's Slite project received Swedish Energy Agency backing. The IEA agrees with cement makers that more government help is needed for CCUS if the cement industry is to tackle its emissions swiftly and successfully.
Ambitious, stable, and well-designed policy frameworks are vital to creating conditions for heavy-industry sectors to transition rapidly, the Paris-based watchdog said in May, adding: "Governments hold the pen in enabling net-zero heavy industries."
In a report the IEA described as a companion piece to its 2021 landmark roadmap for the energy sector, the watchdog said CCUS-equipped production would do the heavy lifting across the cement world as it and other heavy industry sectors attempt to reach net-zero emissions in 2050.
The IEA's Net Zero Emissions by 2050 Scenario expects global direct CO2 emissions from heavy industries to decline by more than 90% by 2050 relative to 2022.
But to get there, the IEA called on the G7 nations—Canada, France, Germany, Italy, Japan, the UK, and the US—to develop ambitious long-term sustainable transition plans, finance a portfolio of demonstration projects, develop finance mechanisms to support deployment, and explore the creation of an international trading bloc.
Focusing just on the cement industry, the IEA said international climate summits should include specific talks about the sector (starting later in 2022 at COP27 in Egypt). Such work would mirror efforts to decarbonize the steel industry that began at COP26 in Glasgow in 2021, it said.
European cement makers, through trade association Cembureau, released a carbon neutrality roadmap in 2020. The requirements include a pan-European CO2 transportation and storage network. By 2030, Cembureau sees cement production emissions falling by 30%, it said in the climate neutrality plan.
Cement production in the region is covered by the EU Emissions Trading System (ETS). Free emissions allowances for the sector and other recipients are being phased out under the Green New Deal and July 2021's Fit for 55 set of proposals.
FLSmidth Vice President Fleming Voetmann said the EU cement industry will have to pay for half its emissions by 2030, which could cost at least €4.7 billion ($5.04 billion) based on an ETS price of €90/mt of CO2. Between 2026—when the phasing out of free emissions begins—and 2030, the overall cost to the EU cement industry could total €13 billion, said Voetmann, who heads the Danish engineering company's marketing, communications, and sustainability team.
But most of the green technologies needed by the cement sector under the ETS in 2030 would only be viable if the carbon price stays well above €90/mt, S&P Global analysts say.
Protection
As a result, Cembureau is fully invested in changes that would protect its members' investments. On 9 June, the trade group slammed members of the European Parliament for votes that halted an expansion of the ETS and the introduction of an EU Carbon Border Adjustment Mechanism (CBAM) that would penalize overseas competitors that don't have to pay to reduce their emissions.
"The EU cement industry needs a strong CBAM to support our decarbonization efforts and fight carbon leakage. Both draft European Parliament texts on ETS and CBAM contain significant improvements on some key issues—such as CBAM's watertightness or industrial innovation—which are essential to support our transition to carbon neutrality," said Koen Coppenholle, Cembureau CEO.
Government support in the US arrived in recent days though. On 13 June, the US Bureau of Land Management (BLM) issued a memorandum laying out a path to carbon sequestration on public lands.
No sequestration projects on BLM-managed lands have been approved as yet, the agency said. BLM is currently processing two applications, one in Wyoming and one in Montana, and has received inquiries related to other potential projects in several states, it added.
Much greater urgency will be required though, according to S&P Global Executive Director Edurne Zoco. Carbon capture capacity needs to double every five years for the next 30 years for the globe to get to net zero in 2050, which would be a "record rate of growth for an industry that is still in its infancy," she said.
---
This article was published by S&P Global Commodity Insights and not by S&P Global Ratings, which is a separately managed division of S&P Global.
{"items" : [ {"name":"share","enabled":true,"desc":"<strong>Share</strong>","mobdesc":"Share","options":[ {"name":"facebook","url":"https://www.facebook.com/sharer.php?u=http%3a%2f%2fcleanenergynews.ihsmarkit.com%2fresearch-analysis%2fcement-industry-seeks-more-ccus-help-in-deep-decarbonization-p.html","enabled":true},{"name":"twitter","url":"https://twitter.com/intent/tweet?url=http%3a%2f%2fcleanenergynews.ihsmarkit.com%2fresearch-analysis%2fcement-industry-seeks-more-ccus-help-in-deep-decarbonization-p.html&text=Cement+industry+seeks+more+CCUS+help+to+decarbonize+%7c+IHS+Markit+","enabled":true},{"name":"linkedin","url":"https://www.linkedin.com/sharing/share-offsite/?url=http%3a%2f%2fcleanenergynews.ihsmarkit.com%2fresearch-analysis%2fcement-industry-seeks-more-ccus-help-in-deep-decarbonization-p.html","enabled":true},{"name":"email","url":"?subject=Cement industry seeks more CCUS help to decarbonize | IHS Markit &body=http%3a%2f%2fcleanenergynews.ihsmarkit.com%2fresearch-analysis%2fcement-industry-seeks-more-ccus-help-in-deep-decarbonization-p.html","enabled":true},{"name":"whatsapp","url":"https://api.whatsapp.com/send?text=Cement+industry+seeks+more+CCUS+help+to+decarbonize+%7c+IHS+Markit+ http%3a%2f%2fcleanenergynews.ihsmarkit.com%2fresearch-analysis%2fcement-industry-seeks-more-ccus-help-in-deep-decarbonization-p.html","enabled":true}]}, {"name":"rtt","enabled":true,"mobdesc":"Top"} ]}