Customer Logins
Obtain the data you need to make the most informed decisions by accessing our extensive portfolio of information, analytics, and expertise. Sign in to the product or service center of your choice.
Customer Logins
CCUS in the UK: An update on the lessons learned and what the future holds

Carbon capture, storage, and utilization (CCUS) is widely recognized as one of the technologies that will contribute towards reducing global carbon emissions, if the world's economies are to reach the Paris Agreement goal of net zero by 2050. Proposals for CCUS have emerged with greater frequency in 2021 than ever before, and governments and private industry appear poised to spend unprecedented sums to bring large-scale projects into service.
In this Q&A, Net-Zero Business Daily speaks with Ruth Herbert, chief executive of the Carbon Capture and Storage Association, which has offices in London and Brussels. The UK's Climate Change Committee's Sixth Carbon Budget "makes clear that CCUS is a necessity, not an option, for reaching net-zero GHG emissions, and that the evidence base is clear that UK deployment of CCUS is required to unlock the greatest opportunities for cost reduction," Herbert says.
Given that conclusion, Herbert discusses the "lessons learned" in the UK's development of CCUS, and shares ideas for how success can be achieved in the next decade.
Net-Zero Business Daily: What does development of CCUS in the UK look like today?
Herbert: The UK government's Net Zero Strategy has set out clearly the role that CCUS will play in reducing the UK's emissions—storing up to 30 million metric tons (mt) per annum by 2030, rising to 50 million mt per annum by 2035. These are serious targets that require a concerted effort from the public and private sectors.
The approach to CCUS deployment in the UK has changed significantly [since its introduction in 2015]. The focus is now on developing the CO2 transport and storage infrastructure that will lay the foundations for CCUS clusters, rather than the previous approach of developing individual CCUS point-to-point projects.
CCUS in the UK will therefore be focused around the coastal industrial regions, known as the "Industrial Clusters." The UK currently has six clusters looking to move ahead and operate in the 2020s. These are located in Merseyside, the Humber (two sites), Teesside, South Wales, and St. Fergus in Scotland. The location of these clusters also facilitates the development of non-pipeline transportation options, where CO2 can be captured overseas and transported by ship to be stored offshore in the UK subsurface.
The development of CCUS clusters with shared infrastructure, in the UK's industrial heartlands where most of our emissions are concentrated, enables multiple emitters to significantly reduce their emissions—delivering significant economies of scale. We anticipate that over time, providing this infrastructure is accessible, it will drive inward investment into these regions from heavy industries seeking to decarbonize their products.
Net-Zero Business Daily: What lessons have been learned from other projects around the world?
Herbert: CCUS is not new technology, and there are many decades of experience in capturing, transporting, and storing CO2 in a variety of industries. There have been several projects that have advanced our understanding of how CO2 behaves in the subsurface. For example, the Equinor Sleipner CCS facility in Norway has been safely and permanently storing approximately 1 million mt of CO2 per year since 1996 deep under the North Sea. This project has provided significant learnings with regard to subsurface movement of CO2 [and because] all data [are] publicly available [it is] enabling other storage projects to benefit from this experience.
Challenges faced by past projects have also provided important lessons for project design and operation. The Gorgon project in Australia faced problems with its injection facilities. As an isolated site with no alternative storage, this meant less CO2 was stored than intended. This highlights why developing multiple storage sites in parallel and enabling shipping of CO2 to alternative stores is important.
Gorgon is always cited in discussions about the reliability of CCUS, which indicates how much of an impact projects that don't go well have on the credibility of the industry as a whole. So, it's really important that all projects, whether public or privately funded, focus on due diligence and communicate effectively. It's also key that early projects share information about things that went wrong so lessons are learned and not repeated in other projects. The Carbon Capture and Storage Association plays a key role in enabling industry to share information about projects past and present.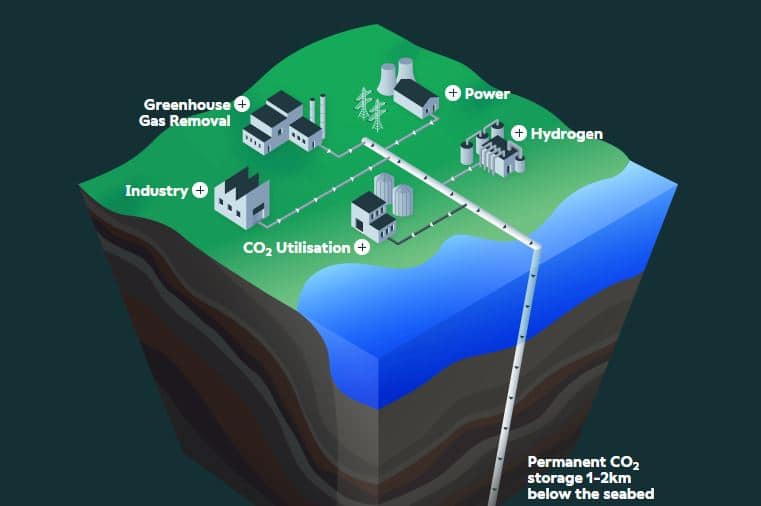 Net-Zero Business Daily: What problems are most important to solve—cost, speed, integration of carbon emissions with the capture technology, etc.?
Herbert: The main challenges facing CCUS at the moment are related to regulation and incentives.
The UK government has a stated ambition for CCUS to deploy at least two clusters by the mid-2020s, with a further two clusters operational by 2030 to achieve its Net Zero Strategy target. The selection of projects is progressing through the Cluster Sequencing process, with the Track 1 Transport & Storage clusters announced in October last year. The announcement on projects which will connect to these clusters is expected in the next few months.
The UK is fortunate to have advanced CCUS cluster proposals in key industrial regions. If the UK is to achieve its net-zero target, it is vital that all these clusters progress as soon as possible, and it is therefore crucial that the government provides clarity on the timeline for Track 2 and subsequent industrial clusters and the associated funding rounds to enable project deployment. CCSA is working with the industry and the government to establish a clear delivery plan to support the deployment of a sector capable of capturing and storing 50 million mt of CO2 per year by 2035.
Net-Zero Business Daily: What are the next steps in the development of the government's program?
Herbert: The UK government is in the process of defining the business models for CCUS and the funding envelope to support these. It is crucial that these are urgently advanced and are investable, to enable industry to make investment decisions in line with the government's CCUS and climate goals.
The Department for Business, Energy & Industrial Strategy's most recent update, published on 6 January, makes good progress on the development of the CO2 transport and storage regulated model, but there is a lot more detail to iron out around network development and operation, and in particular the role of non-pipeline transport. Further effort is also required on low-carbon hydrogen production business models and provision of an investable business model for greenhouse gas removal, including bioenergy with CCS and direct air capture with storage.
Another challenge, which affects all low-carbon technologies, is the question of building a supply chain and the associated skills required. The Engineering Construction Industry Training Board has noted that the number of skilled workers in oil and natural gas—those who are likely to make the move into energy transition projects—is declining as the world moves away from traditional energy sources. There is therefore a need for better alignment of the required skills needed for CCUS to ensure we have the workforce to develop and grow this crucial technology.
Net-Zero Business Daily: New technologies are emerging for the "capture" aspect of CCS. Can you comment on their potential for reducing costs?
Herbert: Achieving cost reduction in carbon capture is important in relation to deployment of technologies in the sector. Both the development of new processes, and the advancement of existing systems through the various stages of commercial deployment, are important elements in allowing cost reductions to be achieved.
There have been many developments in research related to enhancing capture technologies. A capture rate of 95% or more is now achievable. There are many developments in R&D focused on enhancing capture technologies, such as ALIGN-CCUS and LAUNCH.
Continued and growing collaboration between universities, research institutions, and industry are driving this innovation. The CCSA represents members developing a variety of diverse capture technologies, often spin-outs from research projects, and some of these are at a critical stage of trying to scale up from a pilot facility to a demonstration-scale facility. The challenge is they often fall through the cracks between research and innovation funding and the kind of deployment funding that is on offer in the UK cluster program.
Net-Zero Business Daily: It seems like there are bigger partnerships on projects now and a goal of moving from bespoke projects to more standard projects. This is similar to oil and producers using gathering lines.
Herbert: As mentioned earlier, the development of CCUS clusters—where multiple emitters from a variety of industries—to share CO2 transport and storage infrastructure, represents the most cost-effective way to achieve significant emissions reductions and economies of scale. In the future, the UK will have CCUS clusters all over the country, each one transporting captured CO2 offshore for permanent storage deep under the sea. Going forward, the UK will also be crucially placed to receive CO2 from countries which do not have storage capabilities and work with future developing European CCUS clusters.
Each of these clusters will require the construction of pipeline and capture assets, some newbuild and others retrofitted onto existing industrial assets. Alongside the development of CO2 networks, many industries will be looking to switch to hydrogen as a fuel, in many cases using hydrogen produced with CCS (blue hydrogen). These industries likewise will need the construction of new hydrogen production facilities, and distribution and storage assets—again, these are expected to be sited in the industrial clusters.
Net-Zero Business Daily: What would be a mark or two of success in the next five years in CCS installations that would tell us this technology will truly have a significant contribution to solving the carbon emissions problem?
Herbert: In five years' time we will have at least two clusters operational in the UK, with a further two clusters on the way to operation before the end of the decade. We will be halfway towards the ambition to capture up to 30 million mt of CO2/year by 2030. We will also be producing low-carbon hydrogen using CCUS, with the aim of 5 GW of hydrogen production capacity by 2030. In addition, we will have a strong pipeline of projects from other industrial regions and more dispersed sites looking to access the CO2 infrastructure.
This means that plans will be underway for UK network expansion. Ongoing exploration and appraisal activity will be critical to ensuring sufficient storage capacity can be brought forward to achieve 2035 and 2040 targets.
We are already starting to see industry's choices about where to invest being based on a region's ability and commitment to capture and store their carbon in the near future. The availability of net-zero clusters from the mid-2020s onwards is going to make a huge impact on inward investment in UK regions. In summary, we will have a world-leading low-carbon industry operating in the UK, as part of an exciting and fast moving global CCUS sector, which will be expanding at pace.
{"items" : [ {"name":"share","enabled":true,"desc":"<strong>Share</strong>","mobdesc":"Share","options":[ {"name":"facebook","url":"https://www.facebook.com/sharer.php?u=http%3a%2f%2fcleanenergynews.ihsmarkit.com%2fresearch-analysis%2fccus-in-the-uk-an-update-on-the-lessons-learned-and-what-the-f.html","enabled":true},{"name":"twitter","url":"https://twitter.com/intent/tweet?url=http%3a%2f%2fcleanenergynews.ihsmarkit.com%2fresearch-analysis%2fccus-in-the-uk-an-update-on-the-lessons-learned-and-what-the-f.html&text=CCUS+in+the+UK%3a+An+update+on+the+lessons+learned+and+what+the+future+holds+%7c+IHS+Markit+","enabled":true},{"name":"linkedin","url":"https://www.linkedin.com/sharing/share-offsite/?url=http%3a%2f%2fcleanenergynews.ihsmarkit.com%2fresearch-analysis%2fccus-in-the-uk-an-update-on-the-lessons-learned-and-what-the-f.html","enabled":true},{"name":"email","url":"?subject=CCUS in the UK: An update on the lessons learned and what the future holds | IHS Markit &body=http%3a%2f%2fcleanenergynews.ihsmarkit.com%2fresearch-analysis%2fccus-in-the-uk-an-update-on-the-lessons-learned-and-what-the-f.html","enabled":true},{"name":"whatsapp","url":"https://api.whatsapp.com/send?text=CCUS+in+the+UK%3a+An+update+on+the+lessons+learned+and+what+the+future+holds+%7c+IHS+Markit+ http%3a%2f%2fcleanenergynews.ihsmarkit.com%2fresearch-analysis%2fccus-in-the-uk-an-update-on-the-lessons-learned-and-what-the-f.html","enabled":true}]}, {"name":"rtt","enabled":true,"mobdesc":"Top"} ]}