Customer Logins
Obtain the data you need to make the most informed decisions by accessing our extensive portfolio of information, analytics, and expertise. Sign in to the product or service center of your choice.
Customer Logins
California outlines plan to reach net-zero emissions by 2045

The California Air Resources Board (CARB) has released a draft plan to explain how the state could reach net-zero emissions by 2045 or sooner through electrifying transportation and home heating, banning oil and natural gas drilling, carbon capture and sequestration (CCS) and direct air capture of carbon technologies, and more.
The draft 2022 Climate Change Scoping Plan, released on 11 May, identifies what CARB called "a technologically feasible, cost-effective and equity-focused path to achieve carbon neutrality over the next two decades."
The plan isn't a specific set of requirements, but more of a discussion document that could drive legislation, regulation, and investment for the world's fifth-largest economy. "The scoping plan is not meant to be a design or a change to an existing program, it is meant to be a high-level planning document that serves as a guidepost," Rajinder Sahota, CARB deputy executive officer of climate change and research, said during a press conference to announce the plan.
CARB reviewed several scenarios for reducing and sequestering carbon, assessing both current regulations and emerging technologies and their costs, and selected the least expensive option as the "proposed scenario," Sahota said.
Taking that least-cost, least innovative approach didn't sit well with environmental groups. "It's a limited document. It's not highly aspirational [and] it doesn't force CARB to take paths with any particular [emissions reduction] program," Brian Nowicki, California climate policy director for the Center for Biological Diversity, told Net-Zero Business Daily by S&P Global Commodity Insights.
"The way things are going in California [which is falling short of its 2030 goals] and the global real-world emissions levels and projections, it's clear that we need to be pulling every lever now," Nowicki said.
The draft scoping plan didn't win accolades from the energy industry either, which said that it raises costs and reduces energy choice and reliability. "CARB's plan would impose more bans, mandates, and expensive regulations that are designed to affect, as the report says, 'every aspect of how we work, play, and travel,'" said Kathleen Sgamma, executive director of the Western States Petroleum Association, in a statement.
Current reality and future goal
California emitted 418 million metric tons (mt) of CO2-equivalent in 2019 (the year used in CARB's analysis), second only in the US to Texas and its massive oil and petrochemicals industries. The major sources in California were transportation (40%), industrial power (21%), and electricity (14%), according to CARB.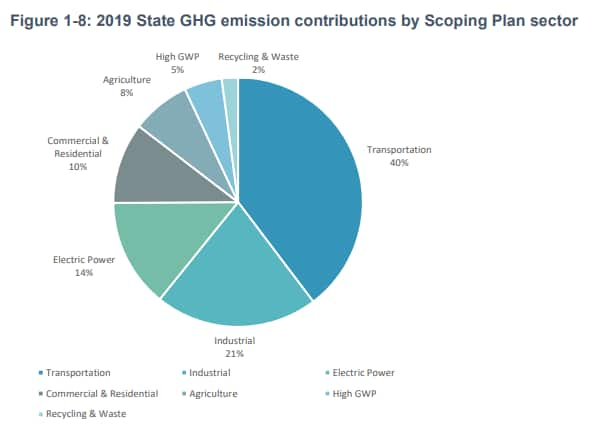 Source: California Air Resources Board
To bring those emissions down to zero, the state intends to touch on every source of emissions as well as support emerging technology for carbon capture. These efforts would move beyond the many measures already in effect, such as state's cap-and-trade program for GHG emissions, its Low Carbon Fuel Standard that encourages use of gas and biofuels in transport, and its mandate that automakers sell increasing percentages of zero-emission vehicles (ZEVs).
Language in the draft plan explains the state's expansive view of its ambitions, as well as its intent to influence governments around the world. "This is a plan that aims to shatter the carbon status quo and take action to achieve a vision of California with a cleaner, more sustainable environment and thriving economy for our children. When final, this ambitious plan will serve as a model for other partners around the world as they consider how to make their transition," CARB said.
Under CARB's "proposed scenario," modest amounts of gasoline and diesel would be used in aviation, marine, and trucking applications, while natural gas would be used for heating for buildings and industrial processes. Overall, fossil fuel use would be reduced by 91% by 2034.
The measures listed in the preferred scenario represent significant diversions from how any state in the US operates today. This includes:
100% of new light-duty vehicles would be ZEVs by 2035 and 100% of medium-duty and heavy-duty sales by 2040.
10% of aviation fuel demand by 2045 would be met by batteries or hydrogen fuel cells and "most or the rest" through sustainable aviation fuel.
Vehicle miles traveled would be reduced by 12% from 2019 to 2030 and by 22% by 2045.
All production of oil and gas would end by 2045, and carbon capture technology would be installed on "a majority" of refining operations.
All new residential buildings would have to be all-electric beginning in 2026, and commercial buildings in 2029. For existing buildings, 80% of replacement appliances would have to be electric by 2030, and 100% by 2035; for commercial buildings, the deadlines would be 80% by 2030 and 100% by 2045.
For chemicals and pulp and paper processing, hydrogen would be required for 25% of process heat by 2035 and either hydrogen or electricity by 2045. For most other manufacturing, 50% would be electrified by 2045.
For agriculture, 25% of energy demand would be electrified by 2030 and 75% by 2040.
Renewable natural gas would be blended with fossil gas at 20% by volume by 2040.
Rising percentages of methane from landfills and dairies would be captured, and 75% of organic waste now going to landfills would be diverted by 2045.
Importantly, however, the proposed decarbonization measures would not eliminate all GHG emissions. About 100 million mt/year of CO2e would still be emitted, out of the more than 400 million mt currently (see graph below).
To close that gap, CARB said the state would rely on CCS, direct air capture, and improving the ability of natural sinks to absorb carbon. The report identified petroleum refining, cement manufacturing, and blue hydrogen made from natural gas as prime candidates for pairing with CCS.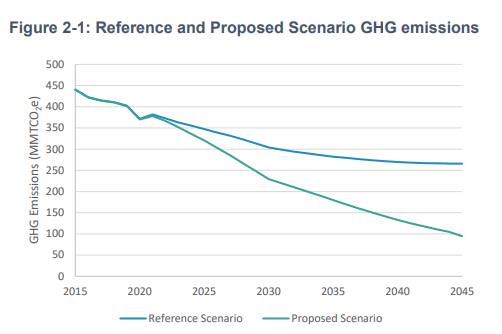 Source: California Air Resources Board
In a state that experiences wildfires on a regular basis, the plan includes major investments in restoring wetlands, conserving 30% of natural lands and coastal waters, and improving resilience on 2-2.5 million acres per year of forests, shrublands, and grasslands. "This focus will establish healthier forests that are more resistant to wildfires, and increased health benefits from reduced exposure to wildfire smoke," the state said.
Under the preferred scenario, CARB estimated that changes to energy generation and infrastructure (called "stock") would be about $17 billion more than the business-as-usual scenario, and another $12 billion would be spent on CCS and other carbon capture strategies. This would be partially offset by savings of $11 billion by consumers on fuel purchases.
At that net cost of $18 billion, the preferred scenario is much less costly than options to reach carbon neutrality by 2035, which would cost more than $100 billion above the business-as-usual approach, CARB said.
Next step
The scoping plan is updated every five years, making it a key time for the state to review its status and how far it has to go. CARB's analysis starts with the regulations and legislation that are in place, and thus it tends to be "a conservative document that's light on technology forcing and heavy on the vision of the maximum that could be done with tools at our disposal," Nowicki explained.
"CARB is assuming everything will work out, and that we can make up ground with something else if it doesn't," he said.
The problem with that type of thinking, Nowicki told Net-Zero Business Daily, is that it leaves no margin for error if projections don't work out. He pointed to CARB's expectation that CCS and direct air capture can take care of nearly 100 million mt/year of CO2e as an example of short-sighted thinking by the agency. "CARB is looking at CCS as a release valve [instead of] pushing harder on smokestack and tailpipe emissions that are such a deadly mix for communities as well as contributors to climate change," he said. "And they are relying on an unproven technology … without answering any questions about the risks and dangers associated with it."
The plan is now under a 45-day public comment period
It seems that CCS will be a point of contention when comments roll in. The California Environmental Justice Alliance slammed the plan because it continues use of fossil fuels and CCS to offset emissions. "CARB's climate plan paves the way for billions in public subsidies for ineffective, dangerous carbon capture projects that pad the profits of fossil fuel corporations," it said.
From the Western States Petroleum Association's (WSPA) viewpoint, fossil fuels will be essential for decades, and the plan needs significant revisions to reflect their benefits. Noting that inflation is at a 40-year high, Sgamma said CARB needs to look at how to reduce energy costs for consumers and business—a point that also was made by business groups such as the California chapter of the National Federation of Independent Business.
Sgamma said that a diversified energy portfolio is the answer, rather than a gas phaseout and an EV mandate. "Forcing people to pick certain jobs, certain cars, certain homes, and certain times to use energy is out of touch with how ordinary people live," she said.
The oil and gas industry has already demonstrated how it can reduce emissions substantially, with more innovation on the way, she said. "A cost-effective suite of options will bring more options for meeting our goals rather than hoping one pathway will work. We need an all-of-the-above approach to meet our climate goals," Sgamma said.
But Nowicki is concerned that the state—and the world—is running out of time. "We would much rather see California go all-in now, and then we can adjust in five years [in the next scoping plan], but in the meantime we can do everything full-on to get this problem under control," he said.
---
This article was published by S&P Global Commodity Insights and not by S&P Global Ratings, which is a separately managed division of S&P Global.
RELATED INDUSTRIES & TOPICS
{"items" : [ {"name":"share","enabled":true,"desc":"<strong>Share</strong>","mobdesc":"Share","options":[ {"name":"facebook","url":"https://www.facebook.com/sharer.php?u=http%3a%2f%2fcleanenergynews.ihsmarkit.com%2fresearch-analysis%2fcalifornia-outlines-plan-to-reach-netzero-emissions-by-2045.html","enabled":true},{"name":"twitter","url":"https://twitter.com/intent/tweet?url=http%3a%2f%2fcleanenergynews.ihsmarkit.com%2fresearch-analysis%2fcalifornia-outlines-plan-to-reach-netzero-emissions-by-2045.html&text=California+outlines+plan+to+reach+net-zero+emissions+by+2045+%7c+IHS+Markit+","enabled":true},{"name":"linkedin","url":"https://www.linkedin.com/sharing/share-offsite/?url=http%3a%2f%2fcleanenergynews.ihsmarkit.com%2fresearch-analysis%2fcalifornia-outlines-plan-to-reach-netzero-emissions-by-2045.html","enabled":true},{"name":"email","url":"?subject=California outlines plan to reach net-zero emissions by 2045 | IHS Markit &body=http%3a%2f%2fcleanenergynews.ihsmarkit.com%2fresearch-analysis%2fcalifornia-outlines-plan-to-reach-netzero-emissions-by-2045.html","enabled":true},{"name":"whatsapp","url":"https://api.whatsapp.com/send?text=California+outlines+plan+to+reach+net-zero+emissions+by+2045+%7c+IHS+Markit+ http%3a%2f%2fcleanenergynews.ihsmarkit.com%2fresearch-analysis%2fcalifornia-outlines-plan-to-reach-netzero-emissions-by-2045.html","enabled":true}]}, {"name":"rtt","enabled":true,"mobdesc":"Top"} ]}